Stress Management/Coping: Limited-English Proficient Mexican American Family Cancer CaregiversShow full item record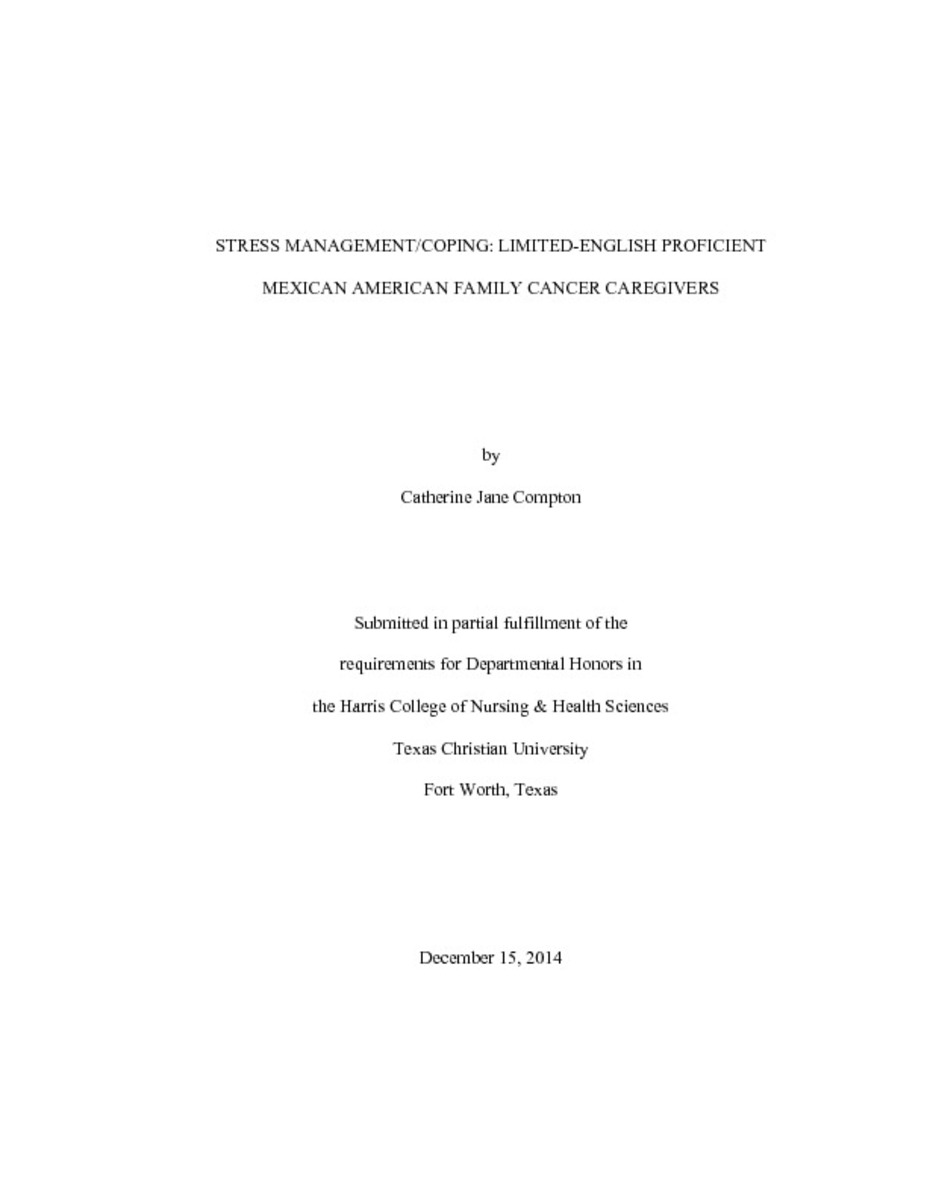 Title
Stress Management/Coping: Limited-English Proficient Mexican American Family Cancer Caregivers
Author

Compton, Catherine J.

Abstract
    The health literacy of minorities in the United States is of major concern to citizens and healthcare providers alike. Low health literacy, coupled with limited-English proficiency (LEP), leads to poor healthcare outcomes for Mexican Americans (MAs), particularly those with critical illnesses like cancer. This population faces vulnerability due to limited healthcare access and continuing cultural stigmas that affect healthcare outcomes. Mexican American family cancer caregivers (MAFCCs) who provide assistance to an ill family member are a population that suffers from low health literacy. Low health literacy and LEP increase role stress in caregivers' lives, yet few healthcare interventions exist to provide needed culturally sensitive care to these women. The student author collaborated with two experienced researchers in the field of MA cancer caregiving, Drs. Jo Nell Wells and Carolyn Spence Cagle, to extend a previously developed multi-disciplinary action program of support (MAPS). The student's focus was on developing a low health literacy and LEP educational booklet in Spanish to help MAFCCs manage role strain and stress management. The student author participated alongside Drs. Wells and Cagle to implement role-play situations with MA caregivers and state-certified health promoters (promotoras de salud) to evaluate the efficacy of the student-developed stress and coping booklet. Feedback indicated that the booklet effectively met MAFCC needs and promotora-desired ease of implementation. The booklet, titled Viva su vida: Manejando el estrés,is a pocket-sized guide that supplements the larger researcher-developed stress and coping module of the MAPS intervention. 
Link
https://repository.tcu.edu/handle/116099117/10298
Subject
promotoras

---

promotores

---

promotora de salud

---

caregivers

---

cancer

---

LEP

---

limited english proficiency

---

health literacy

---

healthcare

---

Mexican Americans

---

Mexican American Family Cancer Caregivers

---

low health literacy

---

low literacy

---

role strain

---

stress coping

---

stress management
This item appears in the following Collection(s)
Related items
Showing a few items related by title, author, creator and subject.
Barajas, Joselin

(

2016-05-19

)

Hispanics in the United States, the majority of which are Mexican American (MA), experience high cancer incidence and mortality. This often leads to home care by a MA female caregiver (MAFCG). MA cultural and linguistic ...

  Background and Significance: The Hispanic population is the largest and fastest-growing minority group in the United States (American Cancer Society, 2012). In this population, cancer is the leading cause of death ...