A REVIEW OF EFFICIENT MARKETS HYPOTHESIS: AN ANALYSIS OF EUGENE FAMA AND KEN FRENCH?S RESEARCHShow full item record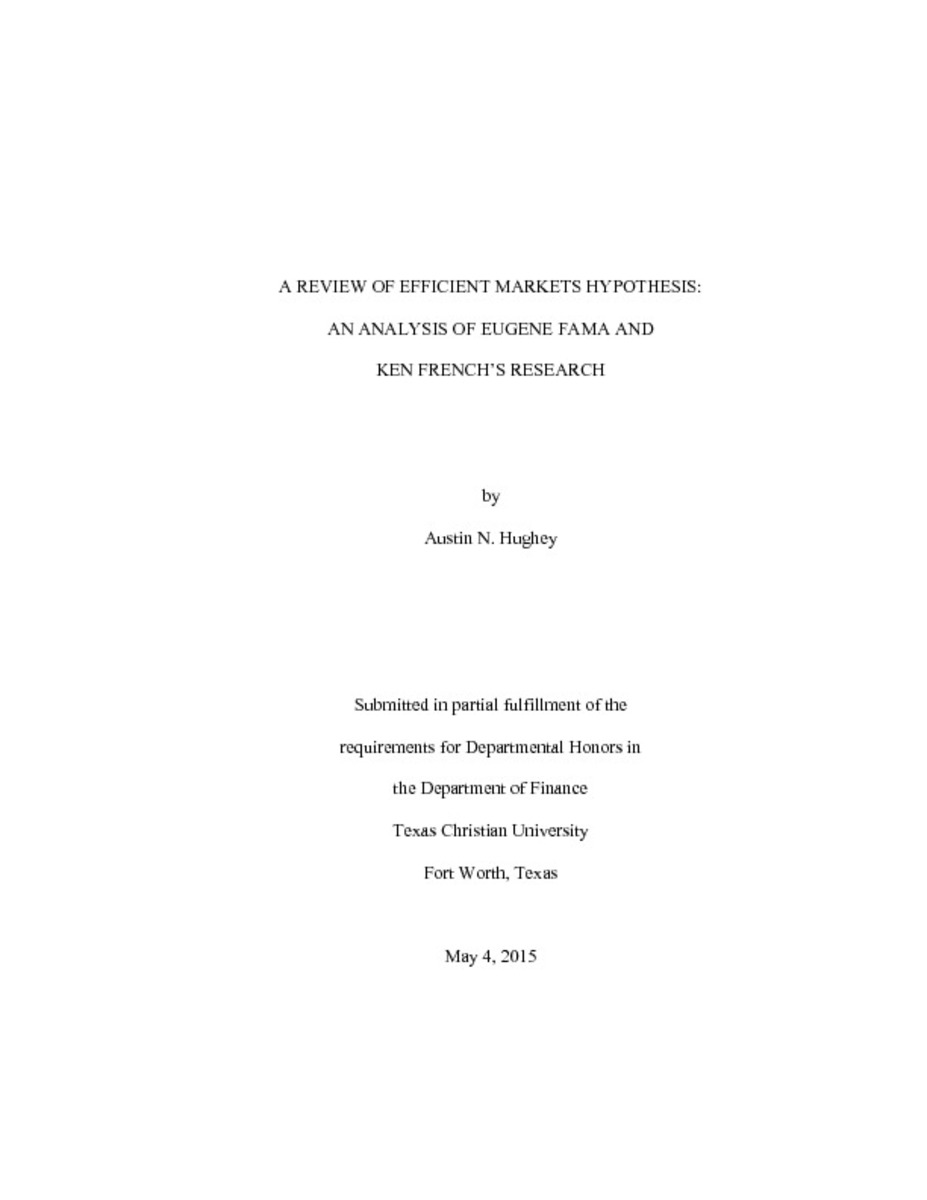 Title
A REVIEW OF EFFICIENT MARKETS HYPOTHESIS: AN ANALYSIS OF EUGENE FAMA AND KEN FRENCH?S RESEARCH
Author

Hughey, Austin

Abstract
The field of Finance has moved from the single factor model first created by Sharpe in 1964, into modern day with the Fama-French five-factor model. Each step in the chronology of empirically tested models of equilibrium adds more risky variables in an attempt to understand exactly how, we as humans, price risky assets. Each superseding model seems to offer more explanatory power, but how strong are the variables realistically and is it possible to achieve outperformance on the basis of these variables alone? This paper will test the research presented by Eugene Fama and Kenneth French in an attempt to understand if markets truly are efficient, or if it is possible to achieve statistically significant returns, implying consistent mispricing prevalent in the market.
Link
https://repository.tcu.edu/handle/116099117/10353
Subject
Efficient Markets Hypothesis

---

Eugene Fama

---

Kenneth French

---

Risk Factors

---

Models of Market Equilibrium
This item appears in the following Collection(s)
Related items
Showing a few items related by title, author, creator and subject.
  Many factors drive the growing brands of professional sports teams beyond their native borders. The popularity of premier sports teams in the global sports environment provides opportunity for major money to ...

The ALS Ice Bucket Challenge and KONY 2012 video campaigns exemplify the extensive amounts of potential that social media marketing can bring to a nonprofit organization. This study explores various elements of social media ...

Micheli, Anthony

(

2017-05-19

)

This study presents the issues inherent in the existing framework for evaluating alleged insider trading violations and proposes that the United States replace these rules and legal precedents with a statutory provision ...