Nursing Care For A Pregnant Woman With Type 1 DiabetesShow full item record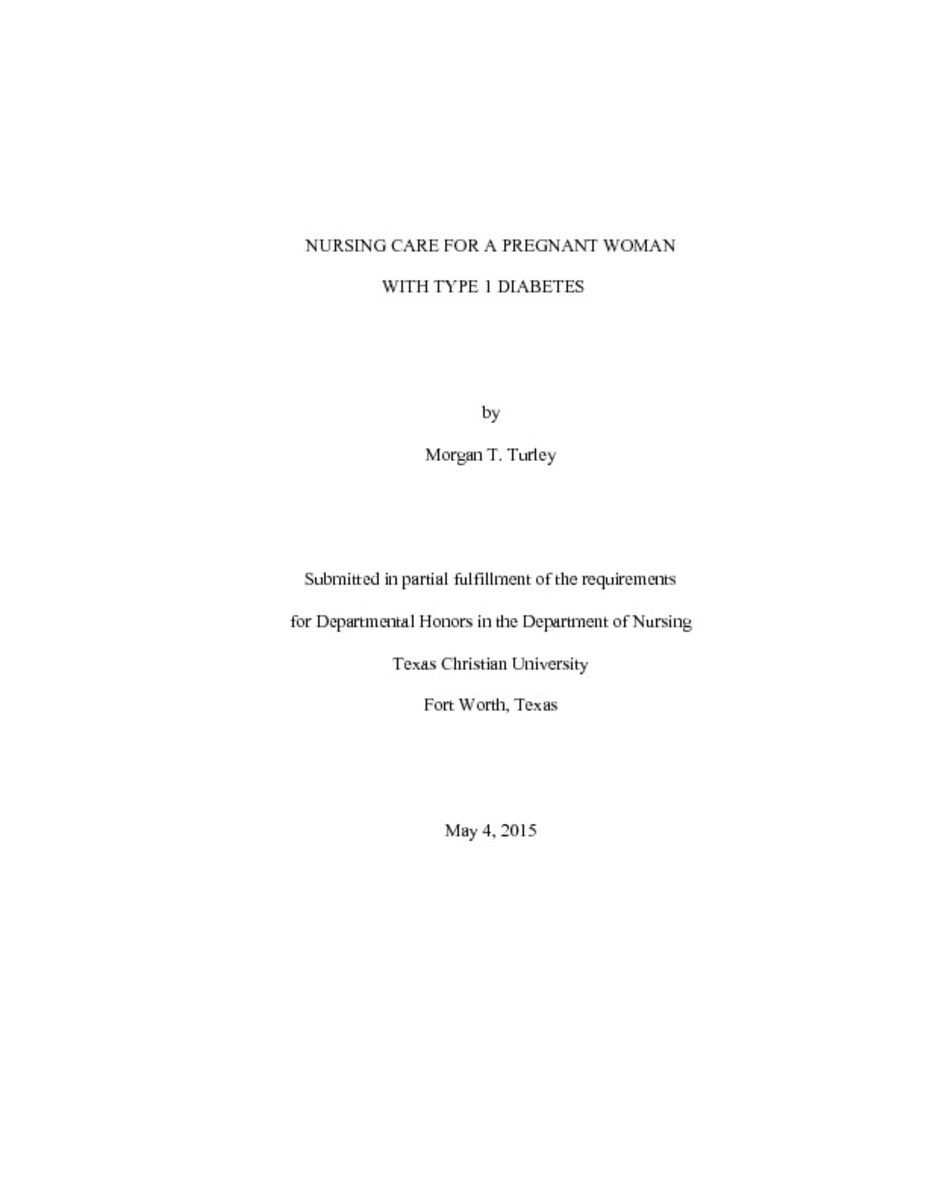 | | |
| --- | --- |
| Title | Nursing Care For A Pregnant Woman With Type 1 Diabetes |
| Author | Turley, Morgan |
| Date | 2015 |
| Abstract | The role of the health care provider during any woman's pregnancy is to provide the necessary resources for a confident mother and a healthy baby. For women who are diagnosed with type 1 diabetes, pregnancy is an added stress to the everyday task of managing this disease. This study focuses on psychological difficulties and coping mechanisms of pregnant women affected by type 1 diabetes. In this pilot study, four type 1 diabetic mothers answer questions about the characteristics of their health care team, their support systems, and any difficulties experienced through pregnancy and the postpartum period. Margaret Newman's (1999) theoretical framework maintains that wholeness includes elements of mental and physical health and is coupled with a patient's active adaptation during times of uncertainty. Newman's theory states that the definition of wholeness does not require complete physical wellness, but can be compensated for with mental wellness. This study's purpose is to distinguish difficulties in pregnancy for a type 1 diabetic and identify implications for care based on these women's healthcare experiences during pregnancy. |
| Link | https://repository.tcu.edu/handle/116099117/10451 |
| Department | Nursing |
| Advisor | Howington, Lynnette |
| Additional Date(s) | 2015-05-01 |
This item appears in the following Collection(s)
Related items
Showing a few items related by title, author, creator and subject.
Physical activity has been considered important for the management of diabetes, along with diet and medication. There has been lots of research examining the importance of physical activity for controlling type-2 diabetes, ...

Schuppenhauer, Mary Elizabeth

(

5/19/2022

)

The role of type 1 diabetes mellitus (T1DM) on the female cardiovascular system remains largely a mystery. However, it is widely accepted that insulin plays a role in cardiovascular protection. Hemoglobin A1C levels allow ...

Shah, Meena; Chandalia, Manisha; Adams-Huet, Beverley; Brinkley, Linda J.; Sakhaee, Khashayar; Grundy, Scott M.; Garg, Abhimanyu

(

2009-06-01

)

Objective: High levels of dietary fiber, especially soluble fiber, are recommended to lower serum cholesterol levels and improve glycemic control in patients with type 2 diabetes. It is not clear, however, how high levels ...