Hepatitis C Virus Protein NS5A Blocks Sendai Virus-Mediated Nuclear Translocation of the Transcription Factor NF-kBShow full item record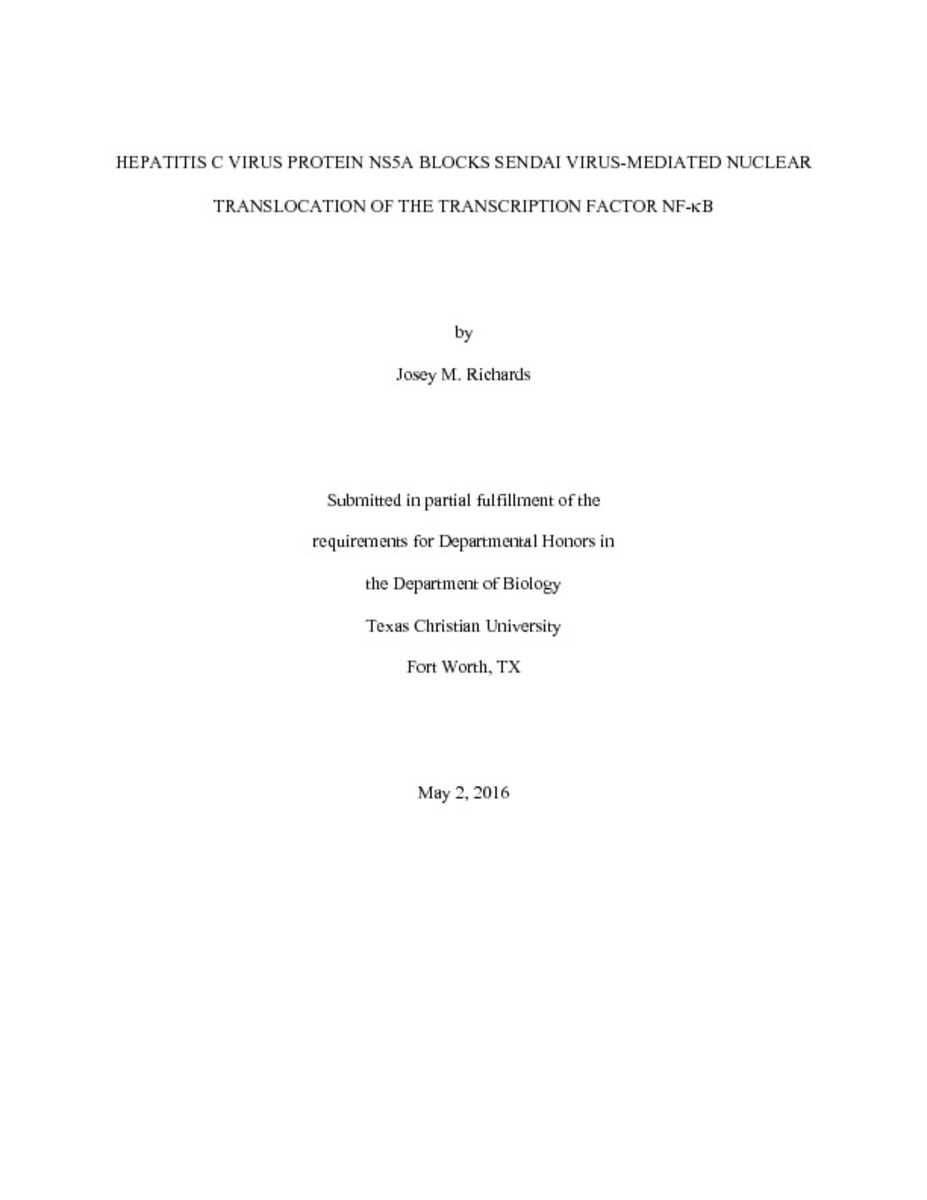 | | |
| --- | --- |
| Title | Hepatitis C Virus Protein NS5A Blocks Sendai Virus-Mediated Nuclear Translocation of the Transcription Factor NF-kB |
| Author | Richards, Josey |
| Date | 2016 |
| Abstract | Hepatitis C Virus (HCV) is an enveloped, positive-stranded RNA virus that infects liver cells, leading to liver damage and cancer. HCV infection causes Hepatitis C in an estimated 170 million people worldwide. Currently, there are treatment options for Hepatitis C but treatment is not 100% effective and instigates severe side effects. Further research into the life cycle and pathogenesis is necessary to develop better treatments and potentially a vaccine. HCV evades the host cell immune response through multiple mechanisms, one of which is through the inhibition of interferon-B expression by NS5A: K2040. When a cell detects viral infection, three transcription factors translocate from the cytoplasm into the nucleus to bind to the IFN-beta promoter: ATF-2, IRF-3, and NF-kB. Binding to the promoter turns on the IFN-beta gene and leads to IFNB expression. Therefore, HCV NS5A: K2040 could potentially prevent IFN-beta expression through inhibiting the translocation of one or more of the transcription factors. Using immunofluorescence analysis in HeLa cells, the cellular location of transcription factors before and after viral infection was examined. The results indicated that NS5A does not block the translocation of ATF-2 or IRF-3. However, NS5A prevented translocation of NF-KB indicating that NS5A attenuates IFN-beta expression through inhibition of the translocation of NF-KB. |
| Link | https://repository.tcu.edu/handle/116099117/11328 |
| Department | Biology |
| Advisor | Akkaraju, Giridhar |
| Additional Date(s) | 2016-05-19 |
This item appears in the following Collection(s)
Related items
Showing a few items related by title, author, creator and subject.
González-Parra, Gilberto; De Ridder, Filip; Huntjens, Dymphy; Roymans, Dirk; Ispas, Gabriela; Dobrovolny, Hana M.

(

2018-02-08

)

Influenza and respiratory syncytial virus (RSV) cause acute infections of the respiratory tract. Since the viruses both cause illnesses with similar symptoms, researchers often try to apply knowledge gleaned from study of ...

Hepatitis C Virus infects hepatocytes in humans. Infection with the virus yields a range of symptoms from asymptomatic to liver disease or hepatocellular carcinoma. The virus is estimated to be infecting 3% of the world's ...

Hepatitis C is a disease of the liver that is caused by the Hepatitis C virus. The Hepatitis C virus (HCV) chronically infects between 130-170 million people in the world making it a significant health burden. The HCV is ...