Investigating Frameworks: Can Negative Eco-Labels Motivate Consumers to Purchase?Show full item record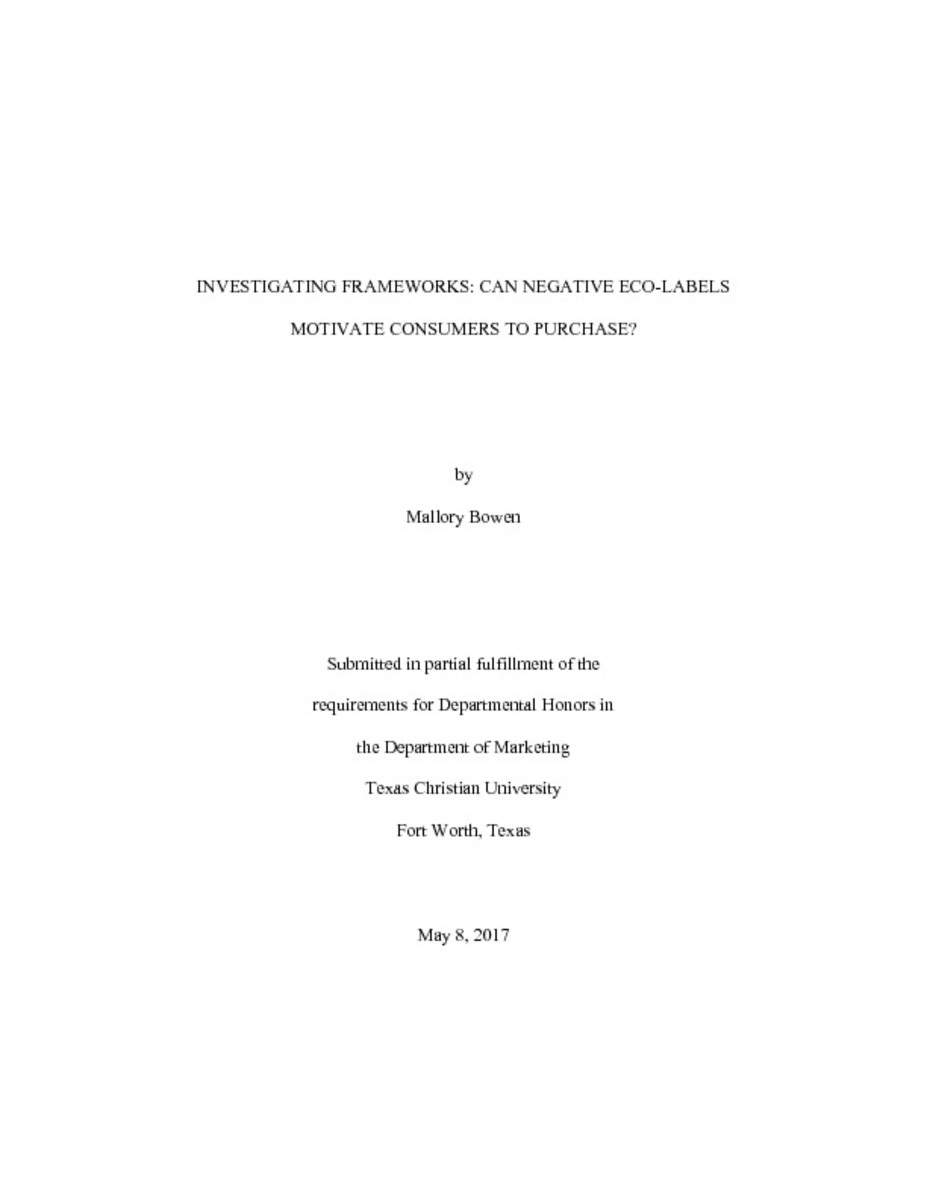 Title
Investigating Frameworks: Can Negative Eco-Labels Motivate Consumers to Purchase?
Author

Bowen, Mallory

Abstract
This study seeks to identify if a negative label manipulation can influence consumers to purchase an eco-friendly product more than a positive or no label. In addition, it seeks to identify how a negative and positive ecolabel affects how consumers trust and evaluate a products. The products in the study are low-involvement commodity products as determined by a pretest and include a carton of eggs and a bar of soap, while the ecolabel messages are variation of ?cage-free? and ?sustainably-harvested.? In today?s hyperconscious, environmentally sensitive environment, businesses should be more aware of the environmental friendliness that products create or lack. Marketers, in specific, have the knowledge to create package labels that communicate the eco-friendliness of a product in order to influence more environmentally conscious purchase decisions among consumers. In return, businesses will realize the demand for environmentally friendly products and create better products for the world at large. A key limitation to this study is that respondents did not perceive enough of a difference between positive and negative ecolabels on product packages to make large conclusions about the purchase behavior across ecolabel frameworks. Thus, future studies should be sure to create negative and positive labels that are noticeably different in the message framework. The results of the study show that consumers are more likely to purchase, trust, and have a higher evaluation for positive ecolabels on the soap product. Consumers are more likely to have a higher evaluation for a positive ecolabel on an egg product. Further studies need to be aware that other influences among respondents include differences across purchase involvement of products, interest in the environment, and overall understanding of the environmental message.
Link
https://repository.tcu.edu/handle/116099117/19923
Date
2017-05-19
Subject
Ecolabels

---

Labels

---

Sustainability Marketing

---

Consumer Decision Process

---

Purchase Intent

---

Negative versus Positive Message

---

Negative Frame

---

Negative Manipulation

---

Product Packaging

---

Negative Ecolabel

---

Cage-Free

---

Sustainably-Harvested
This item appears in the following Collection(s)
Related items
Showing a few items related by title, author, creator and subject.
O'Mara, Cailin

(

2016-05-19

)

This study explored the associations among young adult children?s perceptions of coparental communication (i.e. supportive and antagonistic), parents? negative disclosures, and relational outcomes in parent-child relationships ...

Davis, Katie

(

2016-05-19

)

This study develops a better understanding of corporate psychopathy and the impact of negative leadership behaviors exhibited by an executive on overall firm performance and employee well-being. The level of psychopathy, ...