Exploring The Feasibility of Adapting A Digital Nomadic LifestyleShow full item record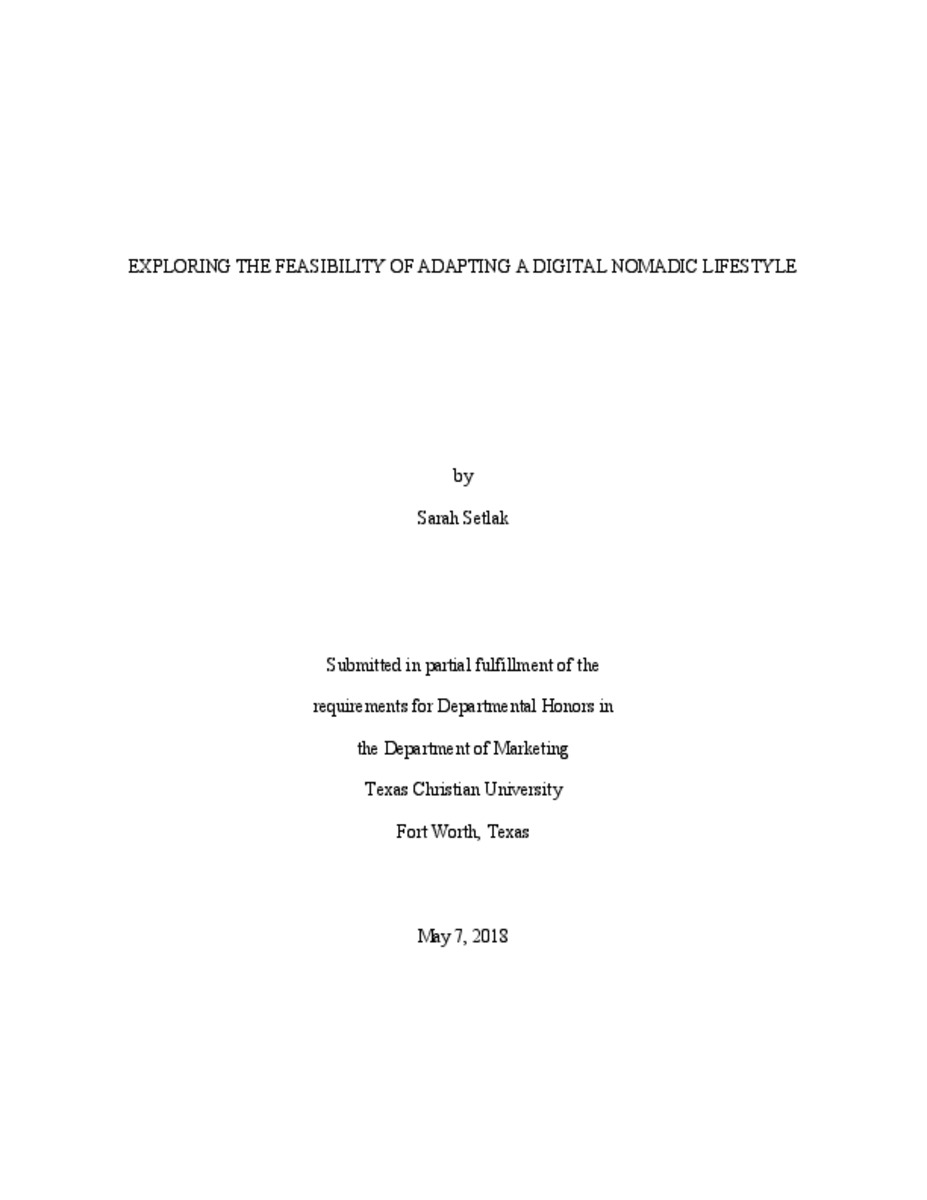 | | |
| --- | --- |
| Title | Exploring The Feasibility of Adapting A Digital Nomadic Lifestyle |
| Author | Setlak, Sarah |
| Date | 2018 |
| Abstract | The objective of this exploratory research was to identify factors that may impact the fesaibility of adapting a digital nomadic lifestyle. A literary review was completed in order to better identify the scope of digital nomadism today. Secondly, primary research was collected via interviews from ten digital nomads under IRB standards. Insights gathered from three different variables including planning preperation, monetization, and costs were explored in order to identify variables that may affect the feasibility of adapting a digital nomadic lifestyle. The results of the study identified tweleve possible barriers to entry to a digital nomadic lifestyle. |
| Link | https://repository.tcu.edu/handle/116099117/22419 |
| Department | Marketing |
| Advisor | Sherrod, Michael |
| Additional Date(s) | 2018-05-19 |
This item appears in the following Collection(s)
Related items
Showing a few items related by title, author, creator and subject.
Manno, Christopher Lee

(

2013

)

This dissertation examines 211 critical articles published by William Michael Rossetti in multiple Victorian periodicals over fifty years spanning 1848 to 1909. Innovative new digital technology is employed to sort qualitative ...

The present study explores how product type, channel selection, and situational involvement effect the personal importance, brand attitude, and perceived brand parity of various consumer buying decisions. The analysis aims ...

Throughout my entire education, I have witnessed the internet develop into a powerful tool. My thesis evolves around the direction the internet is taking, as it deals with video distribution. Coming to Texas Christian ...