Political-Based Variance in Female-Friendly Environment Across the United States: Effects on the Justice Process of Sexual AssaultShow full item record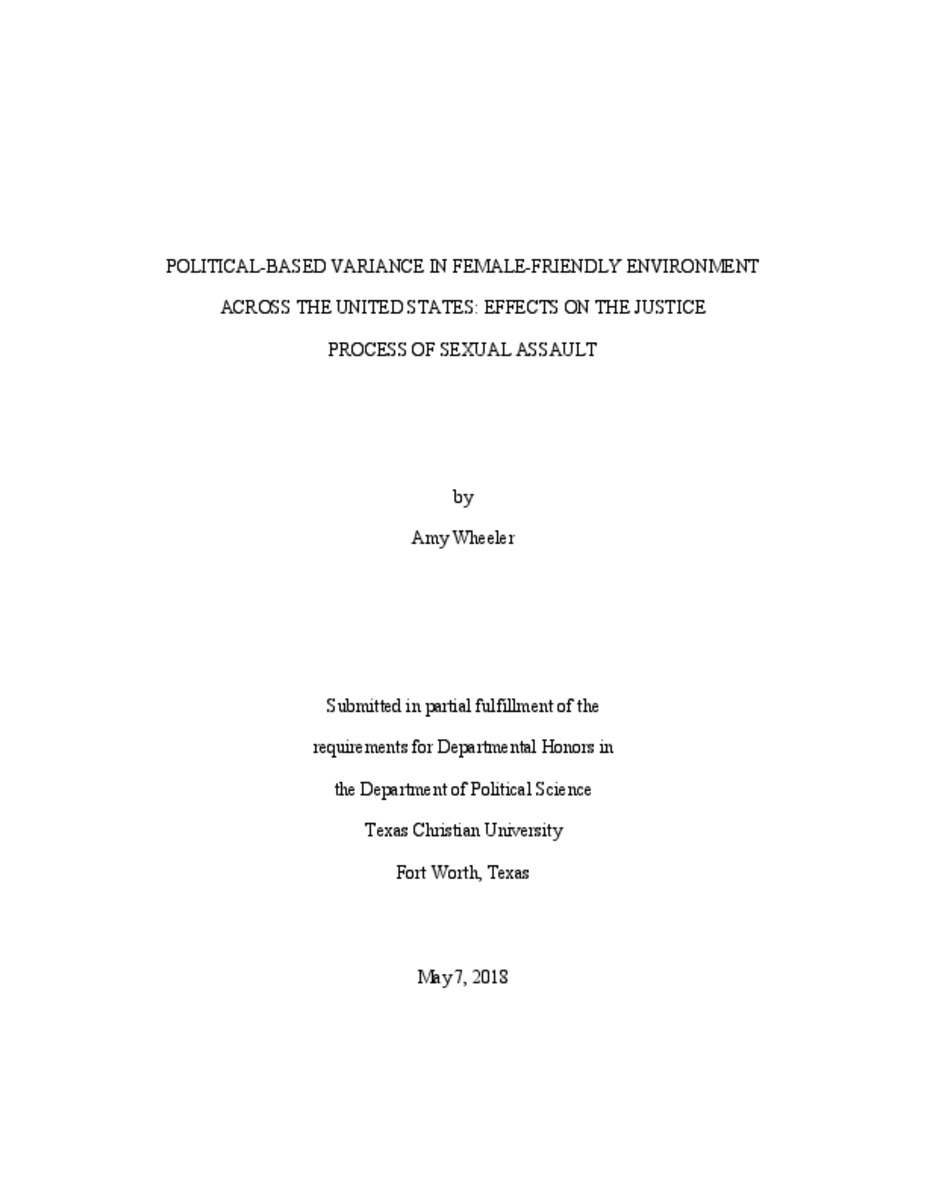 | | |
| --- | --- |
| Title | Political-Based Variance in Female-Friendly Environment Across the United States: Effects on the Justice Process of Sexual Assault |
| Author | Wheeler, Amy |
| Date | 2018 |
| Abstract | In the United States today, sexual assault is a crime that appears to flourish in certain social settings, institutions, and areas. Rape culture, which trivializes sexual violence and perpetuates rape myths, appears to be prevalent in these settings. In this paper, I explore these settings with a broader term: female-friendly environment. A female-friendly environment supports the equality, well-being, and empowerment of women; lacks societal attitudes of male dominance and superiority over women, and does not tolerate acts of violence against women. First, I analyze how partisanship contributes to female-friendly environment at the state level; more specifically, how political conservatism leads to the shaping of a social and political environment that is either ambivalent or hostile towards women. Second, I show the relationship between female-friendly environment and arrests for the crime of sexual assault. Lastly, I connect political conservatism to more arrests for sexual assault, due to "tough on crime" policies. This paper demonstrates the nuanced relationship between political conservatism, female-friendly environment, and arrests for sexual assault. Furthermore, it reveals the strength of the association between women's reproductive health policy and sexual assault, and the negative effects this association has on the justice system. |
| Link | https://repository.tcu.edu/handle/116099117/22422 |
| Department | Political Science |
| Advisor | Green, Joanne Connor |
| Additional Date(s) | 2018-05-19 |
This item appears in the following Collection(s)
Related items
Showing a few items related by title, author, creator and subject.
Are church leaders still relevant in politics? How do church leaders discuss political issues in their sermons? These are the two questions this study addresses as part of the broader literature of the influence of church ...

This study answers the following question: How does social media affect political polarization. It was posited that social media may be the mechanism by which the general public has transformed from Fiorina's non-polarized ...