Preparing Educators To Implement The P.O.E.M.S. Framework Of Multiple Strategy Comprehension InstructionShow full item record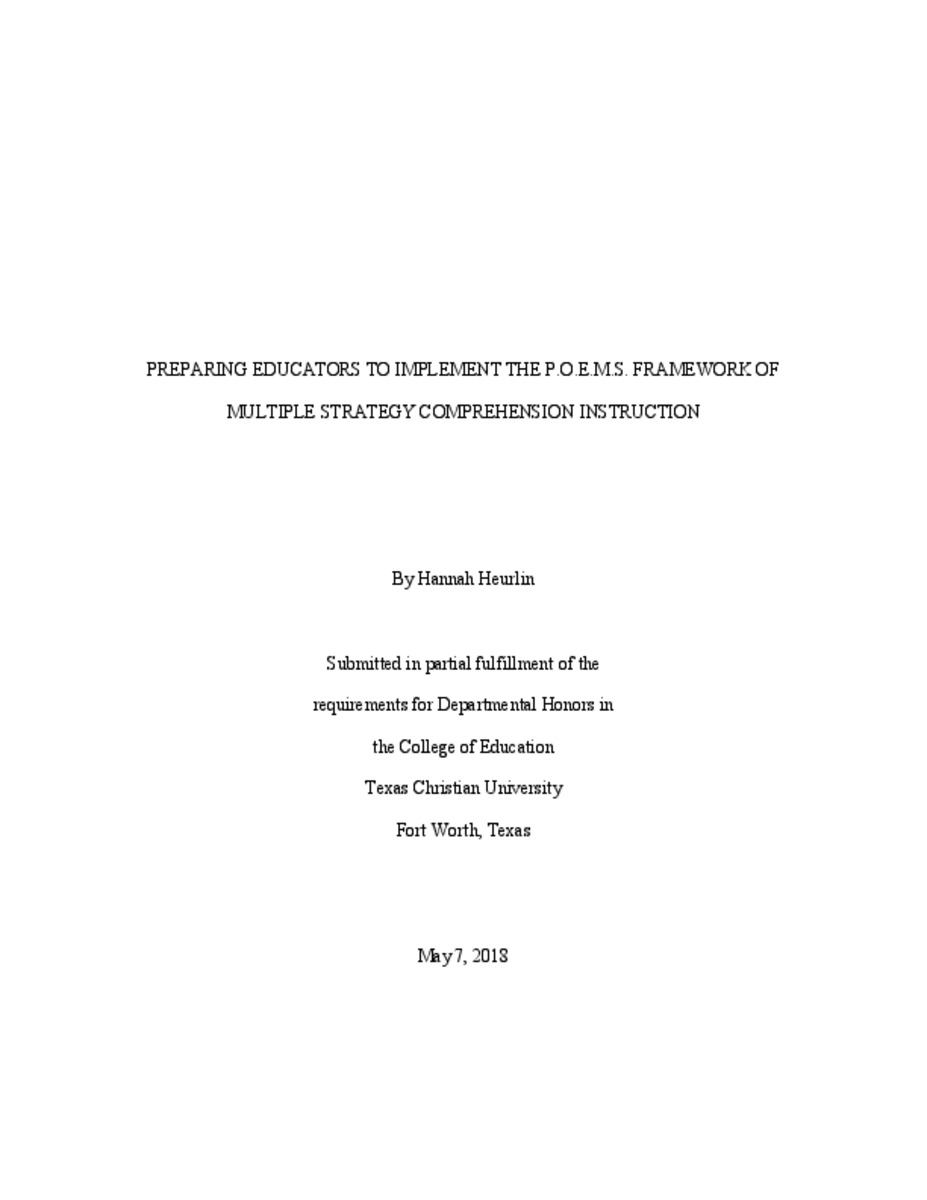 | | |
| --- | --- |
| Title | Preparing Educators To Implement The P.O.E.M.S. Framework Of Multiple Strategy Comprehension Instruction |
| Author | Heurlin, Hannah |
| Date | 2018 |
| Abstract | This paper reports the results of a design study conducted to refine and assess the impact of providing professional development to educators on the P. O. E. M. S. framework for comprehension instruction. The effects of receiving P.O.E.M.S. training was examined at a private school for elementary students with learning disabilities. High qualifies teachers (n = 6) were presented a one-day workshop with the option of ongoing coaching, and completed pre/post surveys on their sense of teaching competence (i.e., knowledge and self-efficacy) and their instructional planning to assess if the training had any impact. In addition, lesson plans developed prior and 6 weeks following training were examined to evaluate whether aspects of P.O.E.M.S. were reflected. Findings and implications of these activities are discussed. |
| Link | https://repository.tcu.edu/handle/116099117/22428 |
| Department | Education |
| Advisor | Lindo, Endia |
| Additional Date(s) | 2018-05-19 |
This item appears in the following Collection(s)
Related items
Showing a few items related by title, author, creator and subject.
The primary purpose of the present research was to lay the foundation for the development of a cognitive process based learning strategy training program. The following cognitive processes were identified and discussed in ...

Thakkar, Vishal Jayesh

(

5/3/2021

)

Adequate language and reading skills are essential to our daily life. However, these are difficult to acquire, especially in adulthood. There are classroom-focused and computer-based training programs that aim to improve ...