Role of the central amygdala in loss-induced emotional self-medicationShow full item record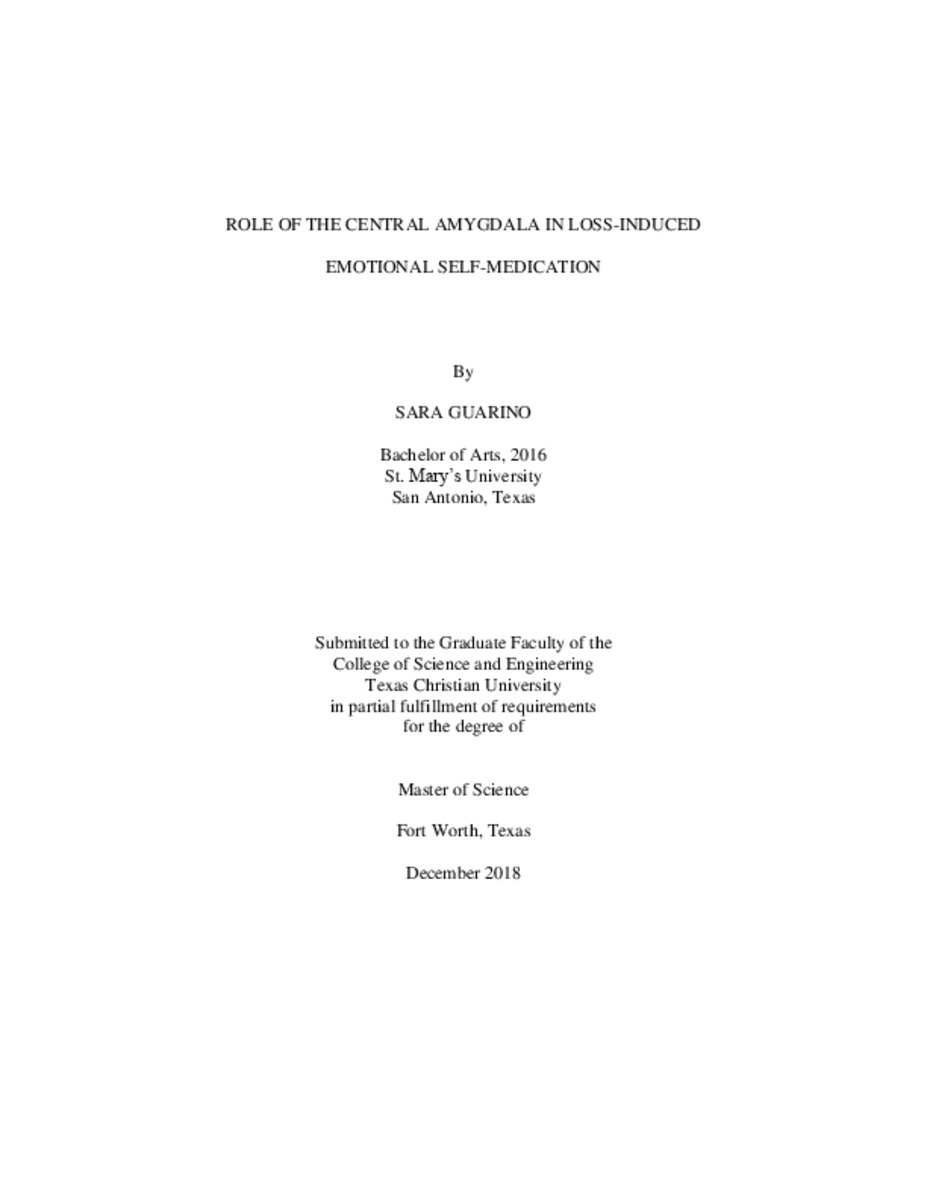 Title
Role of the central amygdala in loss-induced emotional self-medication
Author

Guarino, Saraauthor.

Date
2018
Genre
Thesis
Degree
Master of Science
Abstract
The present experiment was designed to explore the role of the central amygdala (CeA) in the hypothesized neural circuit underlying reward loss, and its relationship with the emotional self-medication (ESM) hypothesis utilizing the DREADD technique to remotely control neural activity. Rats received intracranial infusion of inhibitory DREADDs to allow for transient inactivation of the CeA, obtained via systemic injection of Clozapine N-Oxide (CNO), the activator drug for DREADDs. Animals were exposed to a 32-to-2% sucrose downshift in the consummatory successive negative contrast (cSNC) situation. After each cSNC session, animals were given simultaneous access to ethanol and water in a 1-h, two-bottle preference test. During the preshift phase (sessions 1-10), animals had access to either 32% (32/CNO and 32/VEH) or 2% (2/CNO and 2/VEH) sucrose. During the postshift phase (sessions 1-15), 32% groups were downshifted to 2% sucrose, whereas 2% groups were unshifted. Prior to downshifted sessions 11-13, animals received an i.p. injection of either CNO or vehicle. At the end of the 15-day two-task behavioral paradigm, animals were tested on the open-field task for two consecutive days in alternate dark and light conditions. The results indicated that CeA inactivation prior to reward devaluation session eliminated the cSNC effect (32/CNO), a hint of ESM effect was present in animals that experienced the reward devaluation under normal CeA activity (32/VEH), but not in animals for which the CeA was inhibited (32/VEH), and open-field activity showed a trend, albeit nonsignificant, toward increased activity in animals with inhibited CeA activity (32/CNO).

---

One important contribution of this experiment involves the use of the DREADD technique to achieve transient inactivation of brain regions. This approach produced behavioral consequences in the cSNC task similar to those obtained in previous research using lidocaine microinfusions. The results of this study suggest that the DREADD approach is a valuable method to manipulate neural activity to further explore the role of these brain regions in our hypothesized reward loss circuitry.
Link
https://repository.tcu.edu/handle/116099117/22831
Department
Psychology
Advisor
Papini, Mauricio R.
This item appears in the following Collection(s)