Effect Of The Hepatitis C Virus Protein, Ns5a, On Sendai Virus-Mediated Activation Of Transcription Factor, Irf-3Show full item record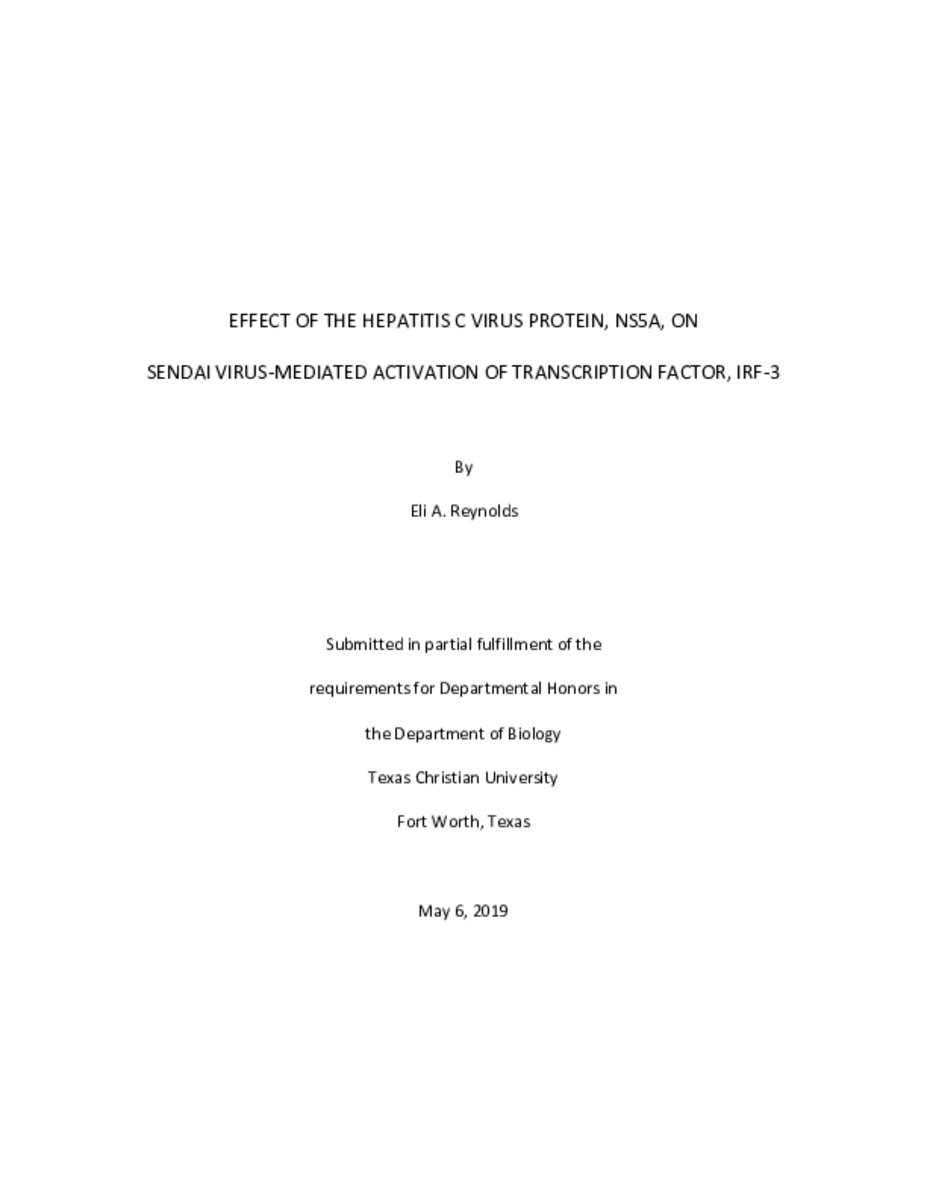 | | |
| --- | --- |
| Title | Effect Of The Hepatitis C Virus Protein, Ns5a, On Sendai Virus-Mediated Activation Of Transcription Factor, Irf-3 |
| Author | Reynolds, Eli |
| Date | 2019 |
| Abstract | Hepatitis C is a disease of the liver that is caused by the Hepatitis C virus. The Hepatitis C virus (HCV) chronically infects between 130-170 million people in the world making it a significant health burden. The HCV is 9.6 kb single-stranded RNA virus and a member of the Flaviviridae family of viruses which include Zika and Dengue. It is a smaller virus with a mature virion size between 50-80 nm. With a specific tropism for liver cells, the diseases of Hepatitis C are accordingly associated with the liver. The two predominant diseases related to HCV infection are cirrhosis and hepatocellular carcinoma. These are both a result of chronic infection which occurs in about 80% of cases. In order to establish a chronic infection, the virus has evolved the ability to inhibit the innate immune response leading to a greater likelihood of reproduction and survival. Our specific interest is the mechanism by which HCV evades the host immune response. In previous studies we have shown that NS5A 10A, a mutant protein of NS5A, inhibits the activation of the IFN-beta promoter which serves a key role in the innate immune response. However, the specific mechanism of this inhibition is not fully understood. In this paper we investigate precisely how the NS5A 10A protein interferes with the activation of the IFN-beta promoter through studying the effect of NS5A on the transcription factors that activate the IFN-beta promoter. |
| Link | https://repository.tcu.edu/handle/116099117/26988 |
| Department | Biology |
| Additional Date(s) | 2019-05-19 |
This item appears in the following Collection(s)
Related items
Showing a few items related by title, author, creator and subject.
Crenshaw, Molli Jones

(

2009

)

Hepatitis C Virus (HCV) is an enveloped, positive-stranded RNA virus that infects liver cells, leading to liver damage and cancer. HCV infection causes Hepatitis C in an estimated 170 million people worldwide. Currently, ...

González-Parra, Gilberto; Dobrovolny, Hana M.

(

2015-09-14

)

Respiratory syncytial virus (RSV) is the most common cause of bronchiolitis and pneumonia in children younger than 1 year of age in the United States. Moreover, RSV is being recognized more often as a significant cause of ...