The Effect of Parkinson's Disease on Prosody in Connected SpeechShow full item record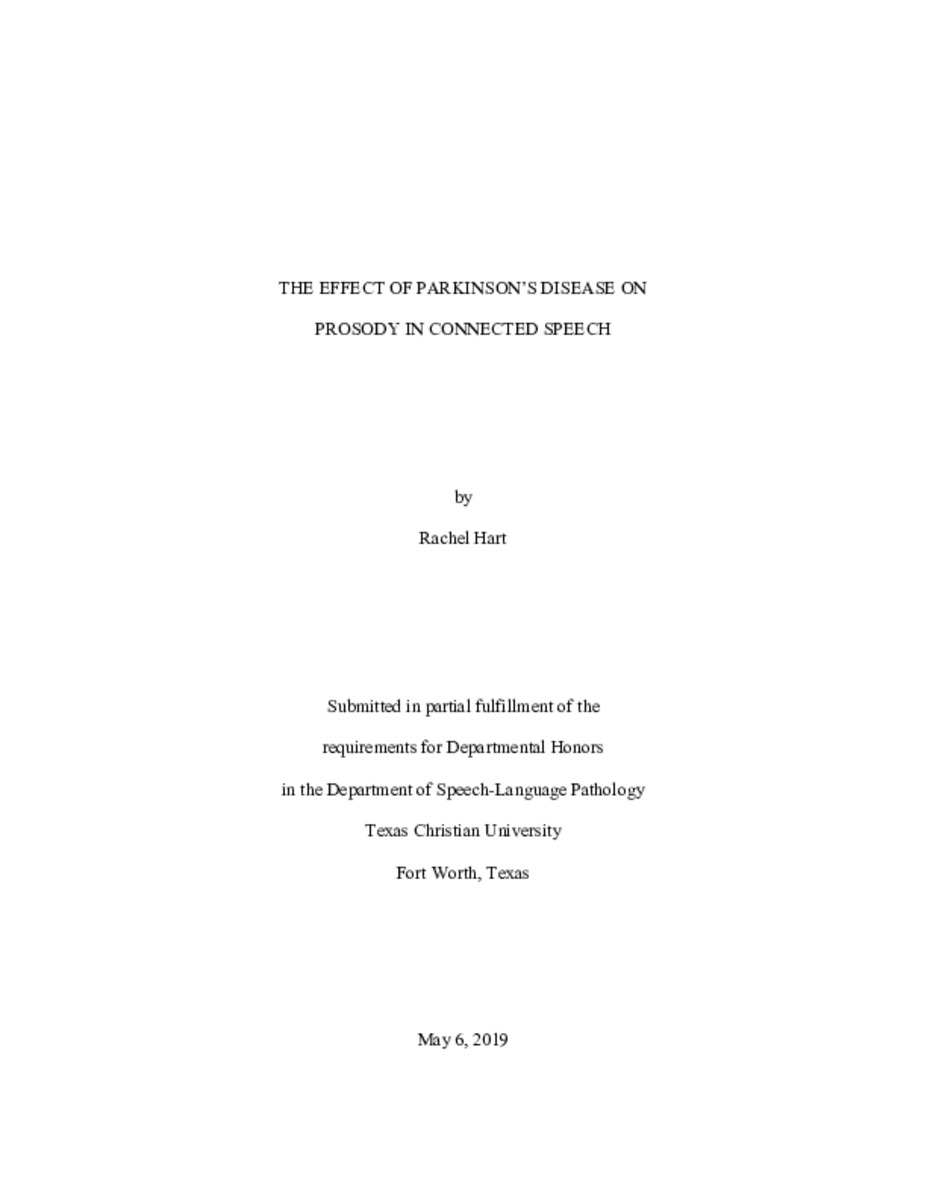 | | |
| --- | --- |
| Title | The Effect of Parkinson's Disease on Prosody in Connected Speech |
| Author | Hart, Rachel |
| Date | 2019 |
| Abstract | Dysprosody is a feature of disordered communication among individuals with Parkinson's disease (PD). Unfortunately, the literature does not quantify the extent to which dysprosody contributes to overall communication impairment associated with the disease. The purpose of this research is to examine: 1) whether the prosody of connected speech in adults with Parkinson's disease is different than that of neurologically healthy older adults, and 2) whether prosody varies across different speaking conditions. Adults with PD (n = 20) and without PD (n = 20) completed three connected speech tasks. Average changes in 1) frequency and 2) intensity from stressed to unstressed syllables in multisyllabic words, as well as 3) speech rate were measured across speaking conditions. Two-way ANOVAs revealed statistically significant differences across all three dependent variables (p < 0.05). Post-hoc testing identified within-subjects or between-subjects differences across all variables, suggesting that some adults with PD may tend to vary prosody more robustly than their healthy adult counterparts in certain speech contexts. These findings somewhat contradict the literature and may be attributed to compensatory strategies employed by subjects with less severe PD. Replication with a larger sample size is necessary to determine clinical significance; however, if merited, these results may suggest that prosody is of lesser initial concern in patients with PD than are other aspects of communication decline. |
| Link | https://repository.tcu.edu/handle/116099117/27001 |
| Department | Communication Sciences and Disorders |
| Additional Date(s) | 2019-05-19 |
This item appears in the following Collection(s)
Related items
Showing a few items related by title, author, creator and subject.
PURPOSE: The purpose of this study was to investigate the presence and progression of self-perceived speech and swallowing impairments in newly diagnosed people with Parkinson's disease (PD) longitudinally across 6 years. ...

Dumican, Matthew J.; Watts, Christopher R.

(

2020-07-28

)

Background: Dysphagia in Parkinson's disease (PD) is a common manifestation, particularly in advanced disease stages. However, the pathophysiology and time course of dysphagia progression remains unclear in non-advanced ...

Nejtek, Vicki A.; James, Rachael N.; Salvatore, Michael F.; Alphonso, Helene M.; Boehm, Gary W.

(

2021

)

Importance Epidemiologists report a 56% increased risk of veterans with (+) mild traumatic brain injury (mTBI) developing Parkinson's disease (PD) within 12-years post-injury. The most relevant contributors to this high ...