Mercury Contamination of Spiders and Fish in Two Forks of the Trinity River: Implications for the use of Spiders as Sentinels of Mercury Contamination of FishShow full item record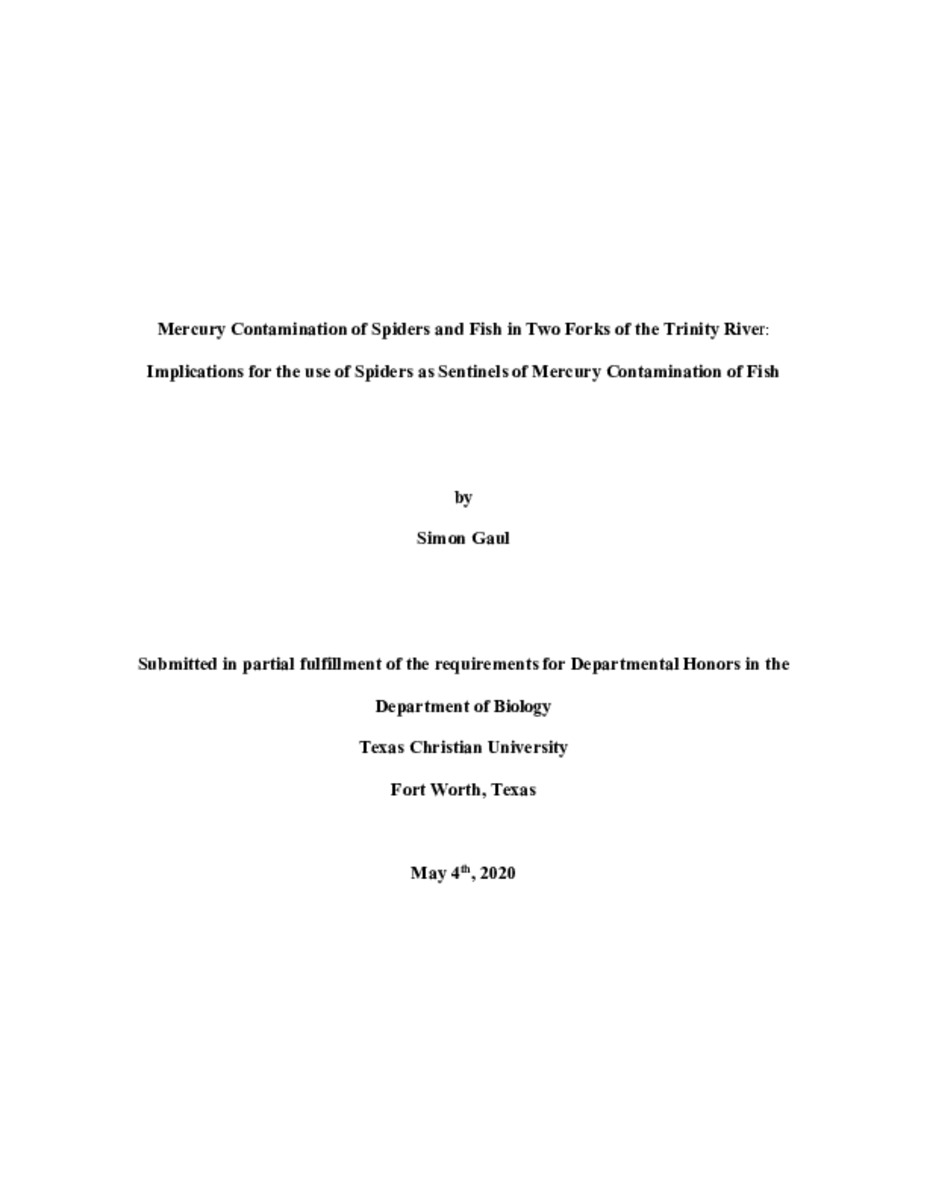 | | |
| --- | --- |
| Title | Mercury Contamination of Spiders and Fish in Two Forks of the Trinity River: Implications for the use of Spiders as Sentinels of Mercury Contamination of Fish |
| Author | Gaul, Simon |
| Date | 2020 |
| Abstract | Mercury (Hg) is one of the most important contaminants in the environment. However, it is very difficult to know which ecosystems are most contaminated with mercury because there are millions of river miles and millions of ponds and lakes and sampling these water bodies is very labor intensive and time consuming. Therefore, scientists have attempted to identify sentinel species that have the potential to be a biological monitor for contaminants in their surroundings. One organism being considered as a sentinel species for MeHg contamination of aquatic systems are Tetragnathid spiders that live along shorelines of rivers and lakes. The purpose of my study was to test whether fish from the two forks of the river have differences in their Hg that would be predicted by differences in the Hg of the Tetragnathid spiders previously collected along two forks of the Trinity River. Bluegill (Lepomis macrochirus) were collected using hook and line from the Clear Fork and West Fork of the Trinity river and analyzed for their mercury concentration. I found that concentration of Hg in Bluegill increased with fish length due to bioaccumulation of mercury as fish age and grow (ANCOVA, p = 0.002) and that concentrations of Hg in Bluegill from the Clear Fork were significantly higher than those from the West Fork (ANCOVA, p<0.001), with trends closely mimicking the results of the previous Tetragnathid spider study. My study demonstrated that Hg contamination of Tetragnathid spiders can predict differences of Hg contamination of fish in different rivers and that shoreline spiders have the potential for monitoring Hg contamination of fish in different water bodies. |
| Link | https://repository.tcu.edu/handle/116099117/40260 |
| Department | Biology |
| Advisor | Chumchal, Matthew |
| Additional Date(s) | 2020-05-19 |
| NOTE: | Full text permanently unavailable by request of author. Contact author for access. |
This item appears in the following Collection(s)
Related items
Showing a few items related by title, author, creator and subject.
Todd, Andrew Charles

(

2022-04-19

)

Riparian spiders have been proposed as sentinels of aquatic mercury (Hg) contamination since they accumulate Hg through the consumption of emergent aquatic insects. The objective of this study was to assess the effect of ...

Mercury (Hg) in the environment is one of the largest environmental problems facing the world. When mercury is converted to the bioavailable form called methylmercury (MeHg), it poses a significant risk to vertebrates and ...

Methyl mercury (MeHg) is a highly toxic environmental contaminant found in all waterbodies. Mercury (Hg) is primarily from anthropogenic emissions that are deposited into watersheds and water bodies. In aquatic ecosystems, ...