Mercury Contamination of Spiders and Fish in Two Forks of the Trinity River: Implications for the use of Spiders as Sentinels of Mercury Contamination of FishShow full item record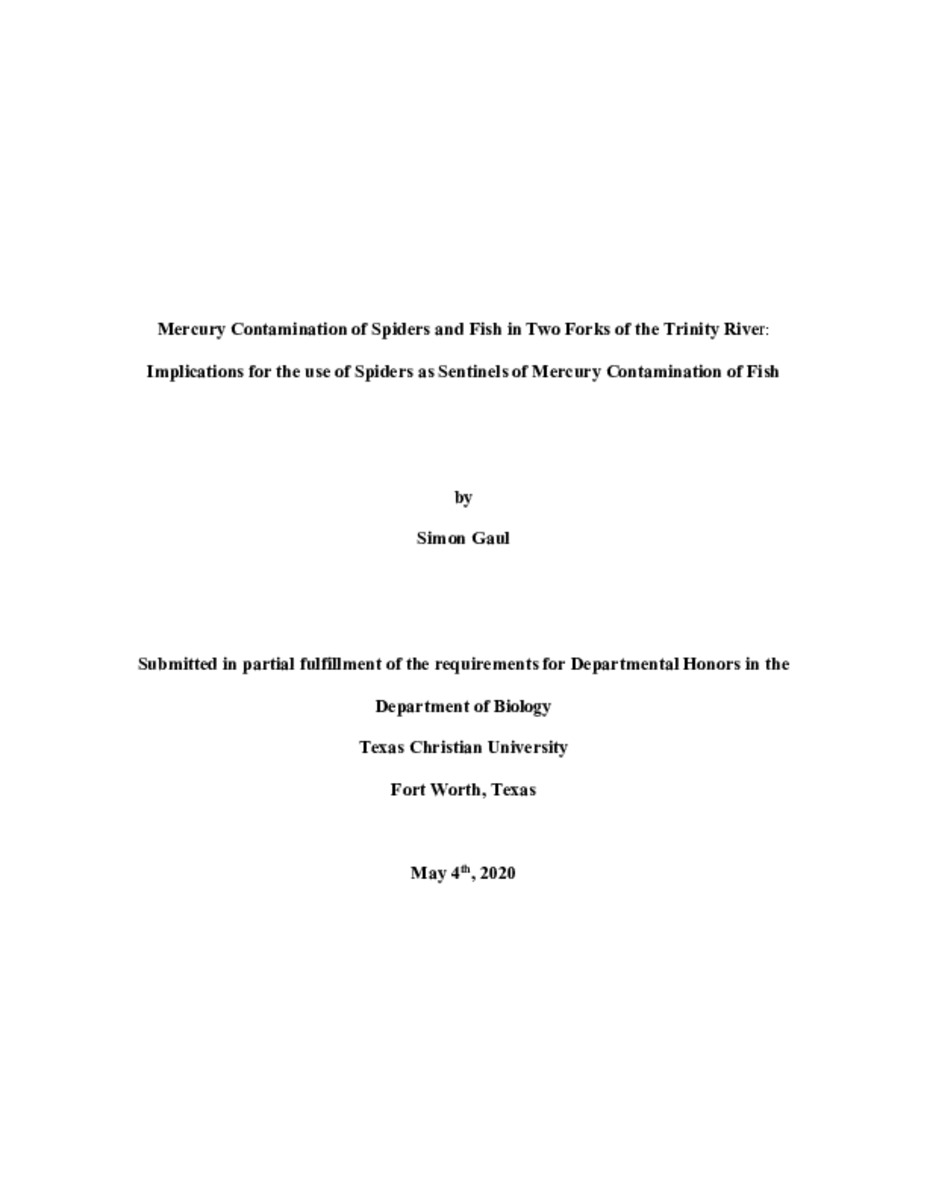 Title
Mercury Contamination of Spiders and Fish in Two Forks of the Trinity River: Implications for the use of Spiders as Sentinels of Mercury Contamination of Fish
Author

Gaul, Simon

Abstract
Mercury (Hg) is one of the most important contaminants in the environment. However, it is very difficult to know which ecosystems are most contaminated with mercury because there are millions of river miles and millions of ponds and lakes and sampling these water bodies is very labor intensive and time consuming. Therefore, scientists have attempted to identify sentinel species that have the potential to be a biological monitor for contaminants in their surroundings. One organism being considered as a sentinel species for MeHg contamination of aquatic systems are Tetragnathid spiders that live along shorelines of rivers and lakes. The purpose of my study was to test whether fish from the two forks of the river have differences in their Hg that would be predicted by differences in the Hg of the Tetragnathid spiders previously collected along two forks of the Trinity River. Bluegill (Lepomis macrochirus) were collected using hook and line from the Clear Fork and West Fork of the Trinity river and analyzed for their mercury concentration. I found that concentration of Hg in Bluegill increased with fish length due to bioaccumulation of mercury as fish age and grow (ANCOVA, p = 0.002) and that concentrations of Hg in Bluegill from the Clear Fork were significantly higher than those from the West Fork (ANCOVA, p<0.001), with trends closely mimicking the results of the previous Tetragnathid spider study. My study demonstrated that Hg contamination of Tetragnathid spiders can predict differences of Hg contamination of fish in different rivers and that shoreline spiders have the potential for monitoring Hg contamination of fish in different water bodies.
Link
https://repository.tcu.edu/handle/116099117/40260
Date
2020-05-19
Subject
mercury

---

tetragnathid

---

spiders

---

sentinel
Files in this item
Name:

Gaul__Simon-Honors_Project.pdf

Size:

273.9Kb

Format:

PDF
This item appears in the following Collection(s)
Related items
Showing a few items related by title, author, creator and subject.
Gann, Gretchen Lee Gann

(

[Fort Worth, Tex.] : Texas Christian University,

,

2014

)

"Mercury (Hg) is a global environmental contaminant that is deposited from the atmosphere and converted to methyl mercury (MeHg) in aquatic ecosystems. Historically Hg was thought to pose a risk to aquatic but not terrestrial ...

  Mercury (Hg) is emitted into the atmosphere primarily from human sources such as coal-burning power plants. After Hg is deposited into aquatic ecosystems it is transformed by bacteria to an extremely toxic form, ...

Methyl mercury (MeHg) is a highly toxic contaminant found in water bodies throughout the world because of the widespread atmospheric deposition of inorganic mercury (Hg). In aquatic ecosystems, bacteria convert Hg into ...