Domestic Determinants of Climate Change Mitigation CommitmentShow full item record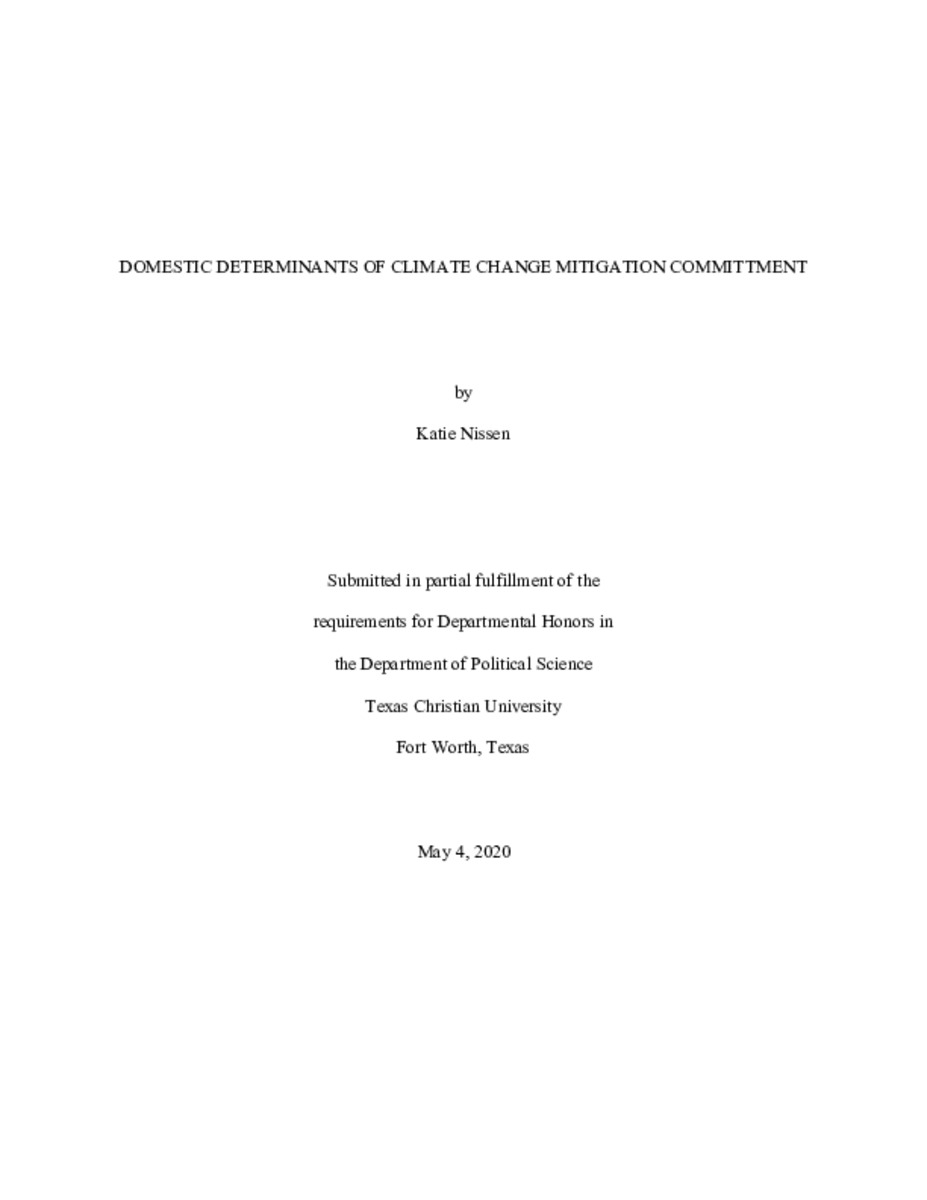 Title
Domestic Determinants of Climate Change Mitigation Commitment
Author

Nissen, Katie

Abstract
Climate change is the most pressing global issue. Despite the increasingly credible threats associated with this phenomenon, countries have chosen vastly different levels of mitigation efforts. While some countries are leaders in reducing the human impact on the climate, others tend to disagree about the credibility of climate science in politically meaningful ways. Previous research on this topic has focused primarily on international cooperation, but there has been less analysis of the domestic attributes driving countries? mitigation attitudes. Consequently, this paper aims to uncover what motivates the global variance in levels of climate change mitigation efforts from a domestic standpoint. To analyze these factors, I employ comparative case studies of Sweden, Austria, the United States to assess the impact of cultural, economic, and geographic factors from the Kyoto Protocol through the present. Ultimately, I argue that public opinion and climate change denialism tend to have the largest effect on a country?s willingness to undertake mitigation efforts. Economic factors also play a large role, while the relationship between geographic vulnerability and policy is less clear.
Link
https://repository.tcu.edu/handle/116099117/40298
Date
2020-05-19
Subject
climate change

---

climate change policy
This item appears in the following Collection(s)
Related items
Showing a few items related by title, author, creator and subject.
Damico, Brooke Danielle

(

2020

)

ABSTRACT This study focused on the way economically dominant states cooperate in international climate change negotiations, focusing on the role of domestic politics. Specifically, the idea that environmental condition, ...

Miller, Matt

(

2016-05-19

)

Political polarization is widespread and well documented in Congress, and has been growing throughout the past two decades. This large divide is highly evident on climate change issues specifically, as almost all Democrats ...