The Relationship Between Trauma Symptoms and the Quality of the Parent-Child Relationship in Adoptive FamiliesShow full item record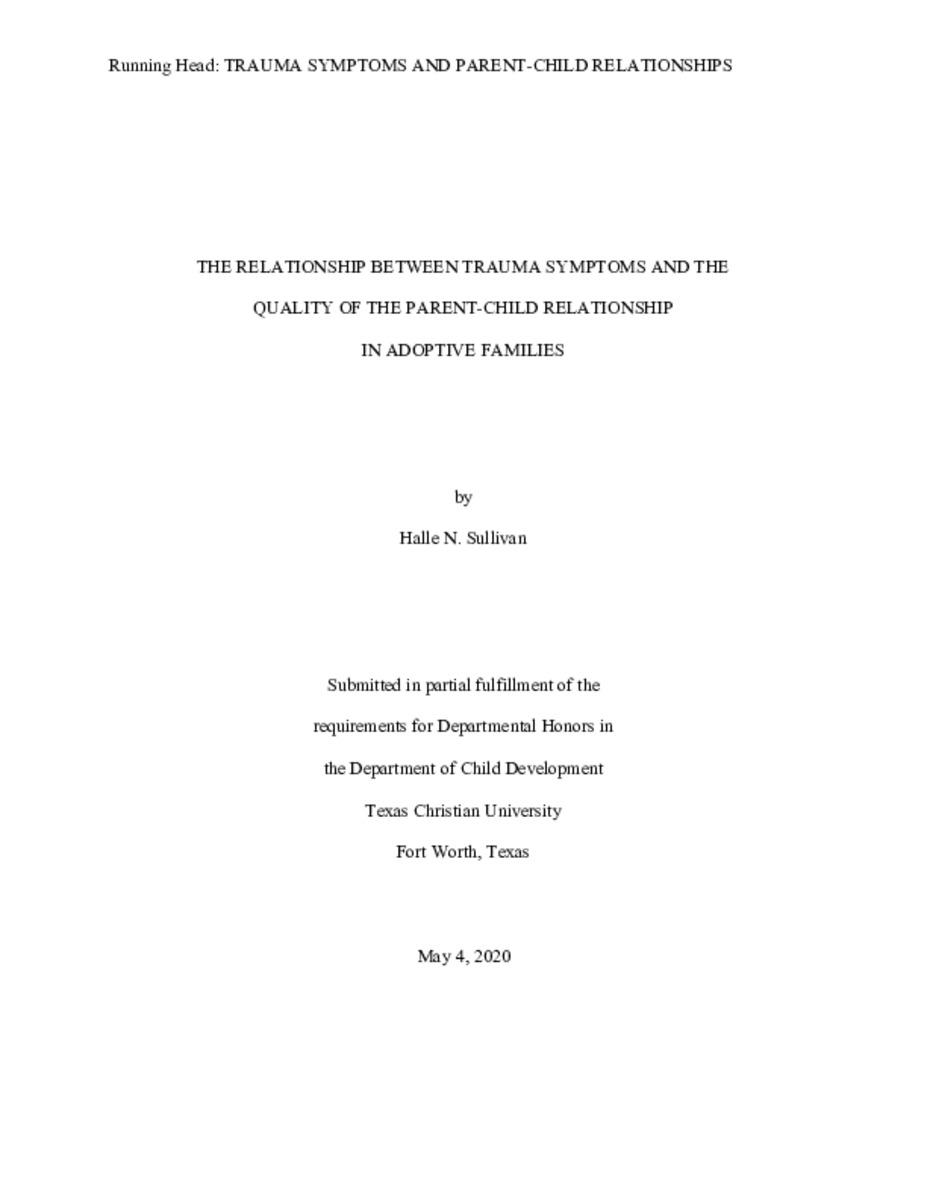 | | |
| --- | --- |
| Title | The Relationship Between Trauma Symptoms and the Quality of the Parent-Child Relationship in Adoptive Families |
| Author | Sullivan, Halle |
| Date | 2020 |
| Abstract | Children who are adopted often experience early-life trauma, resulting in dysregulation and trauma-related emotional and behavioral problems. When these children are brought into adoptive homes, these trauma-related symptoms could negatively affect the attachment relationship by adversely impacting the parent's perspective on the parent-child relationship. The current study examined the relationship between trauma symptoms in children who were adopted and the quality of the parent-child relationship within these families. Participants included adoptive families who were participating in a therapeutic camp intervention. We analyzed secondary data gathered at a baseline (i.e., prior to the intervention) from a larger study to assess the relationship between trauma-related symptoms and quality of the parent-child relationship. Trauma symptoms of the adopted child, including anxiety, depression, anger, and post-traumatic stress arousal, were significantly correlated with parenting communication, confidence, and frustration. Specifically, the more trauma symptoms an adopted child exhibited, the poorer the quality of the parent-child relationship. Understanding this relationship and the bidirectional effects of trauma on adopted children and adoptive parents could result in better therapeutic interventions for families with adopted children, leading to better outcomes for both adopted children and adoptive parents. |
| Link | https://repository.tcu.edu/handle/116099117/40322 |
| Department | Psychology |
| Advisor | Call, Casey |
| Additional Date(s) | 2020-05-19 |
This item appears in the following Collection(s)
Related items
Showing a few items related by title, author, creator and subject.
Asbury, Edward Trey

(

2001

)

A model for the prediction of marital and parental satisfaction was created using degree of children's special need and family type as the predictors. The three family types examined included families with biological ...

Edwards, Jennifer Renea

(

2010

)

In response to increasing demands on treatment providers to enhance service delivery and improve client outcomes, agencies within the substance abuse treatment field are placing emphasis on the adoption and implementation ...