Escape in the strong quantum regime [electronic resource] /Show full item record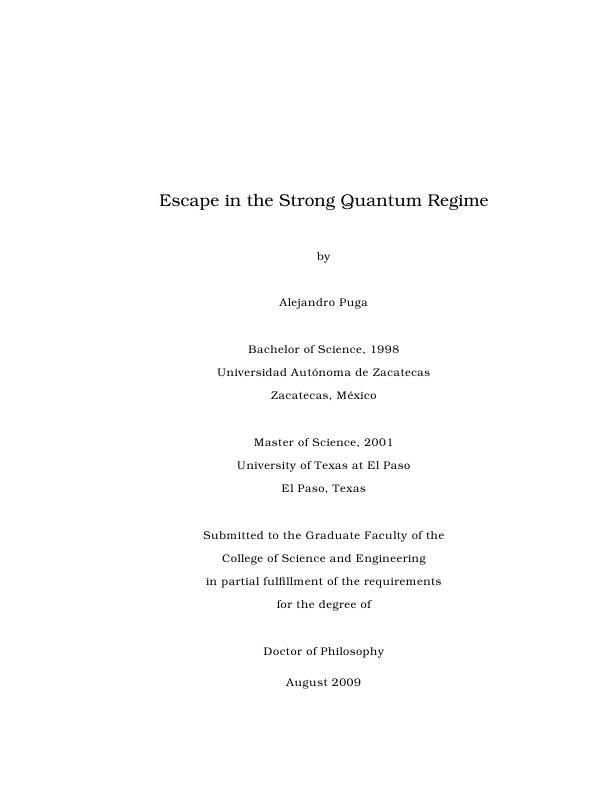 Title
Escape in the strong quantum regime [electronic resource] /
Author

Puga, Alejandro

Description
Title from dissertation title page (viewed Nov. 2, 2009).

---

Includes abstract.

---

Thesis (Ph.D.)--Texas Christian University, 2009.

---

Department of Physics and Astronomy; advisor, Bruce N. Miller.

---

Includes bibliographical references.

---

Text (electronic thesis) in PDF.

---

Physicists have used billiards to understand and explore both classical and quantum chaos. Recently, in 2001, a group at the University of Texas introduced an experimental set up for modeling the wedge billiard geometry called optical billiard in two dimensions. For the temperature range that was explored, this experiment is more closely related with classical rather than quantum chaos. The motivation for the present work was born from the idea of laying the foundations of a quantum treatment for optical billiards. We call it ``The Escape Problem'', and approach it by applying the concept of a Transparent Boundary Condition (TBC). Since a four-dimensional phase space is computationally very difficult to investigate, here we will explore a pair of one-dimensional examples. First, as a benchmark, we will consider the classical regime by analyzing a "gas of particles'' limited to stay inside a one dimensional box of length L. The focus of our effort is the solution of the corresponding Quantum Initial Value Problem (QIVP). We employ a recently developed numerical method and test it for a simple situation with an exact, analytic solution. The numerical method introduces a novel way to solve a diffusion type equation by implementing discrete transparent boundaries conditions (DTBCs) recently developed by mathematicians. The method is then extended to include a linear, external potential.
Link
https://repository.tcu.edu:443/handle/116099117/4181
Date
2009
Subject
Quantum theory.

---

Chaotic behavior in systems.

---

Schrodinger equation.

---

Boundary value problems.
This item appears in the following Collection(s)