A Novel Method for Drug Delivery: Plant-Derived Porous Silicon Embedded in Biocompatible Porous FilmsShow full item record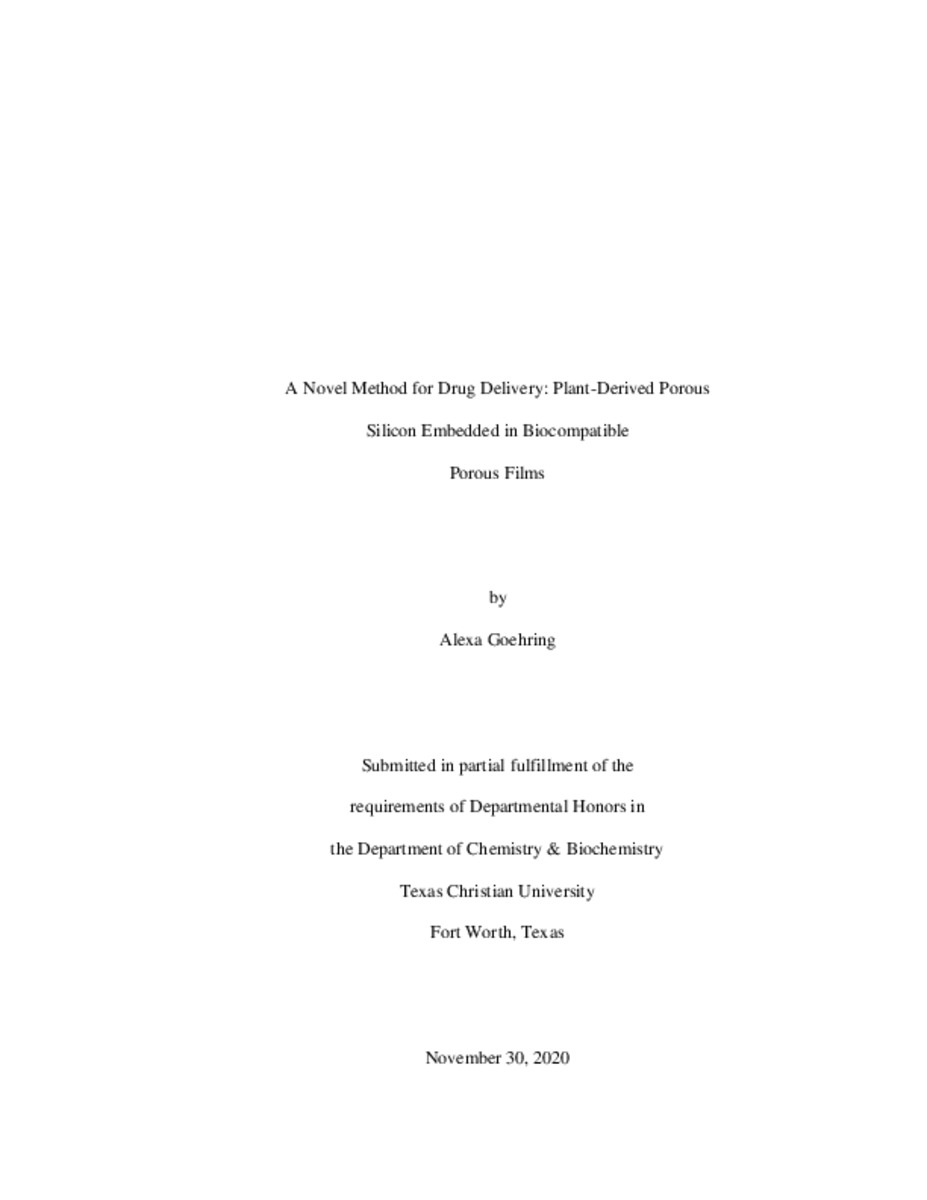 Title
A Novel Method for Drug Delivery: Plant-Derived Porous Silicon Embedded in Biocompatible Porous Films
Author

Goehring, Lexi

Abstract
Drug delivery is the process by which medications are administered to the body. This is complex due to the difficulty of determining compounds that have the proper biocompatibility and permissibility to our human cells and tissues. Many medications are taken orally; however, there are situations where intravenous injection or subcutaneous delivery is required. Biocompatible porous films are advantageous media for drug delivery as they have low toxicity and high compliance with biological systems. They can also be loaded with drug-containing nanoparticles in an effort to release them into targeted sites. Silicon nanoparticles have unique properties as opposed to bulk silicon; these include biodegradability, larger surface area and biocompatibility. This allows them to be loaded with multiple drugs and alter the release kinetics of each into the biological system. In this project, porous films were made using two different procedures containing the biocompatible polymer polycaprolactone (PCL were made using two different procedures. The percentage of the polymer in the precursor solution was altered to achieve films with uniform pore size and pore shape. Loading the film with the porous silicon (pSi) allows for two-stage drug delivery and the film was refined by adjusting the percentage of the polymer in the solvent. Physical entrapment and functionalization of the pSi particles were performed to attach them to the depths of the pores to ideally achieve a high percentage pore fill which will maximize drug release. Multiple methods were employed to reduce the aggregations of pSi particles and evaluate the interactions between pSi particles and the porous film. The pSi particles were then loaded with camptothecin (CPT)- a small hydrophobic anticancer drug with fluorescent properties- to detect the drug release kinetics of CPT in pSi particles. This, in addition to evaluating the encapsulation efficiency of CPT, was attempted in an effort to determine the amount of the drug that would be administered via pSi particles in this drug delivery media.
Link
https://repository.tcu.edu/handle/116099117/44331
Date
2020-11-18
Subject
porous silicon

---

porous films

---

polymers

---

drug delivery
This item appears in the following Collection(s)
Related items
Showing a few items related by title, author, creator and subject.
Huang, Xuezhen

(

[Fort Worth, Tex.] : Texas Christian University,

,

2010

)

Kalluri, Jhansi Rani,author.

(

2018

)

Porous silicon (pSi), with its nanoscale architecture, acts as a promising resorbable biomaterial for a broad variety of applications: biosensors, orthopedic tissue engineering, and controlled drug delivery. The most ...