A STUDY OF A ONE WORLD EVERYBODY EATS CAFÉ AND HOW IT AFFECTS FOOD INSECURITY AND A SENSE OF COMMUNITY IN COLLEGE STUDENTSShow full item record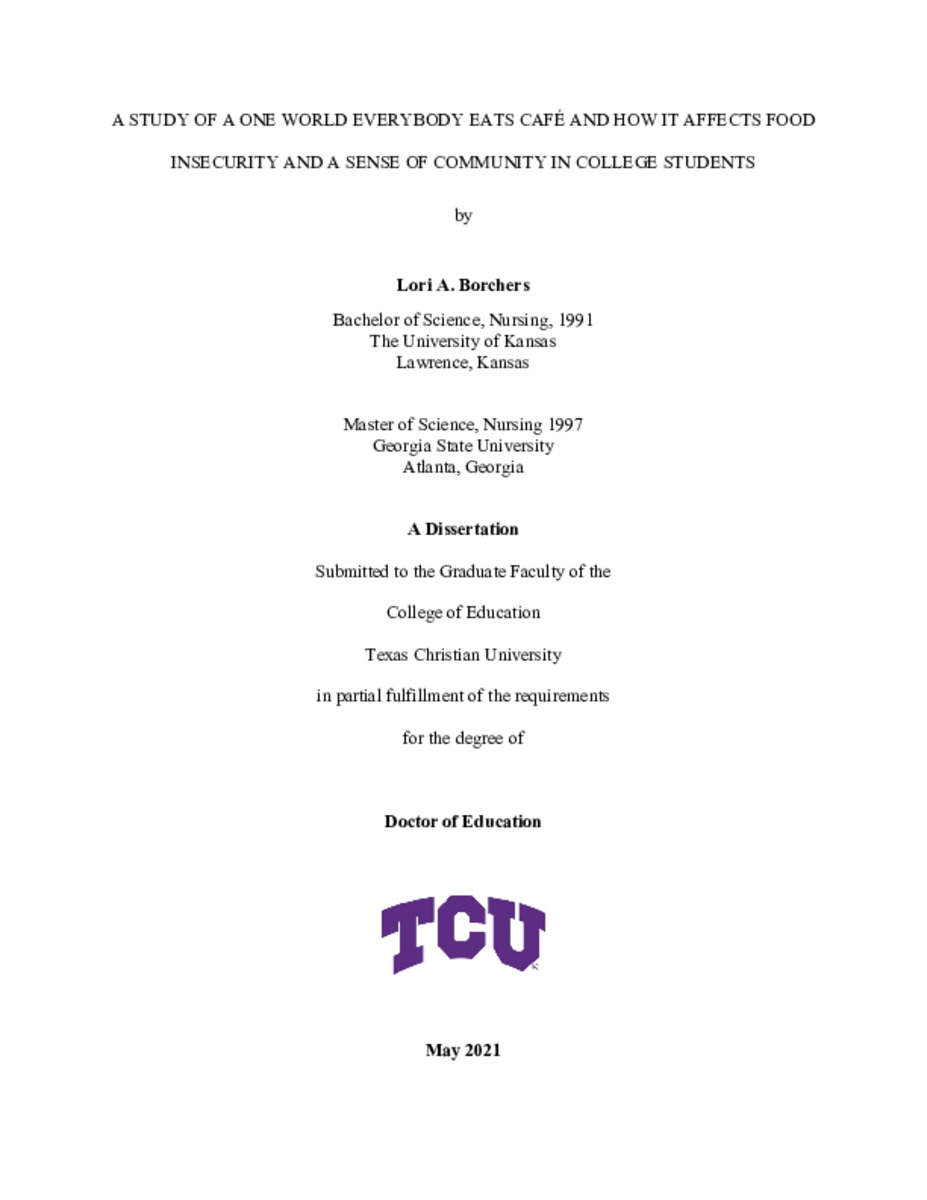 Title
A STUDY OF A ONE WORLD EVERYBODY EATS CAFÉ AND HOW IT AFFECTS FOOD INSECURITY AND A SENSE OF COMMUNITY IN COLLEGE STUDENTS
Author
Borchers, Lori
Abstract
For more than a decade, food insecurity rates among college students at all kinds of institutions have been higher than that of the general population of the United States. Far from simply being hungry, food insecure students feel shame and stigma because of their predicament, often withdrawing from social life with food secure friends. Ultimately their studies suffer, and colleges become concerned not just because of their academic performance, but because these food insecure students become more likely to withdraw for the college altogether. This dissertation examines the impact of a One World Everyone Eats café on the food insecurity of college students. While food pantries and other methods exist to distribute food to college students, the One World Everyone Eats café follows a philosophy of seven core values. Among these values is that people who eat at the café pay only what they can afford for a meal, volunteers contribute time and labor to run the café, and the community is encouraged to work and dine. In this way, people who are food secure and food insecure cannot be readily distinguished from each other in the café. This kind of welcoming environment, forming a distinct community within the café, can serve to erase the isolation and stigma that food insecure students feel. Surveys show the value that students place on both the food they receive at the café as well as the sense of community that the develop from eating and volunteering at the café. The results of this study provide a basis for more research at other cafés and eating establishments, and provide possible approaches for college administrators to alleviate food insecurity among their students.
Link
https://repository.tcu.edu/handle/116099117/47707
Date
2021-04-22
Subject
Social sciences education

---

Education

---

Educational sociology

---

Community cafes

---

Food security

---

Pay-what-you-can cafes
This item appears in the following Collection(s)
Related items
Showing a few items related by title, author, creator and subject.
Gandarilla, Daniel

(

2021-04-11

)

The Corporate University (CU) phenomenon has rapidly proliferated within the field of adult education. Despite this growth in investment, the CU has yet to receive appropriate academic attention as critical component of ...

Ginn, Tasha Coble

(

2021-04-30

)

The ongoing educational attainment gap between Black and white students is daunting to educational researchers and practitioners. Simultaneously, many have unrest about the promises of Brown v. Board compared to the actual ...

Edwards, Michael Eric

(

2021-04-20

)

Charitable giving has been a critical resource for higher education dating back to the Academy of Socrates and Plato. It continued through the establishment of Oxford, Cambridge, Harvard, and Yale, and in 2020, American ...