The Development And Validation Of A Family Coping Expectations Measure: Socialized Responses To Adverse Life Experiences And Their Associations With Personal And Relational WellnessShow full item record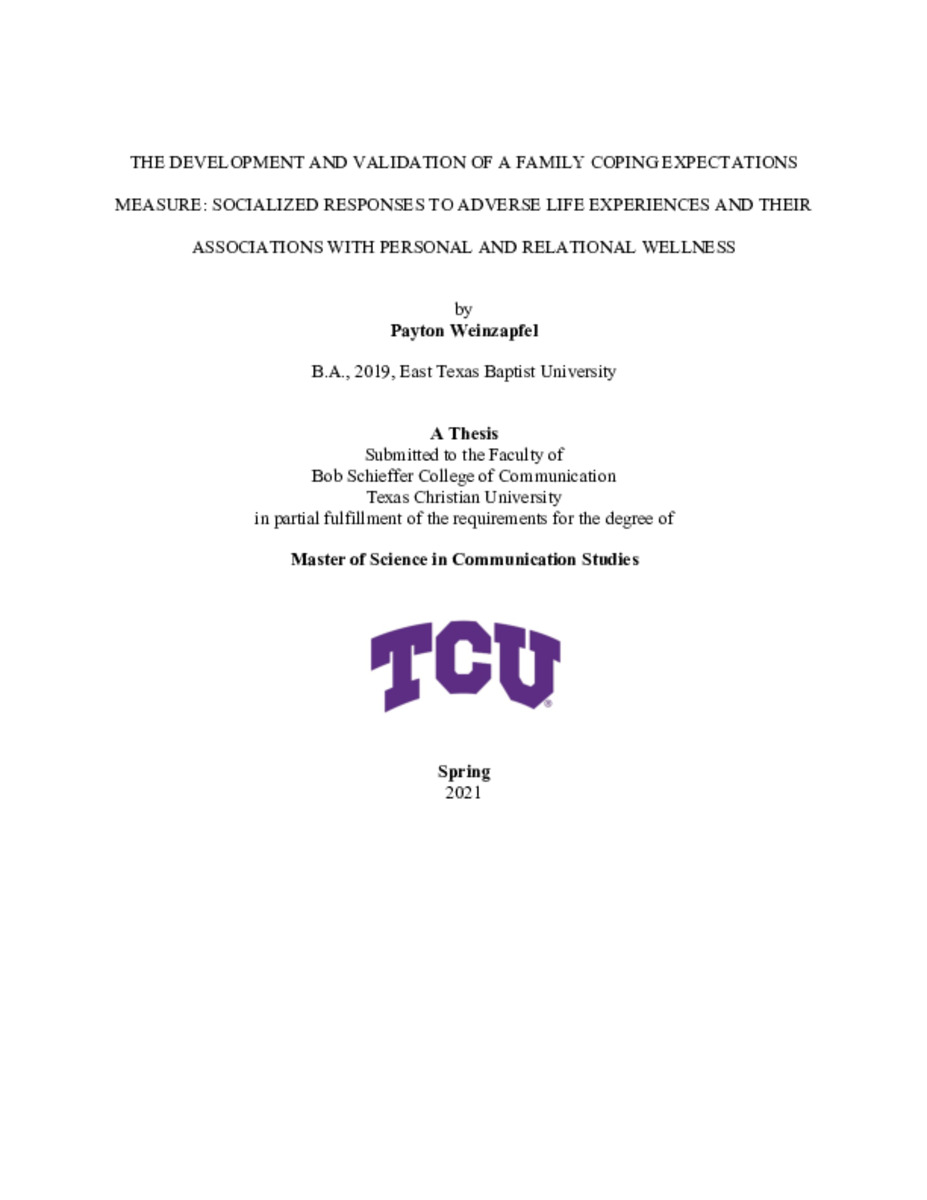 | | |
| --- | --- |
| Title | The Development And Validation Of A Family Coping Expectations Measure: Socialized Responses To Adverse Life Experiences And Their Associations With Personal And Relational Wellness |
| Author | Weinzapfel, Payton Olivia |
| Date | 2021 |
| Genre | Thesis |
| Degree | Master of Science |
| Abstract | Drawing upon family communication patterns theory and extant theories of family coping and resiliency, in this study, I developed and validated a new measure of family coping expectations. Participants included 505 adults who reported on their family's expectations for how to communicate and cope with stress and adversity. Results produced a 27-item measure that assessed adults' perceptions of their family's coping expectations across four dimensions: rely on family support, avoid outside help, pretend you're OK, and cope as we cope. Tests of concurrent and discriminant validity supported the construct validity of the FCE scale and revealed meaningful associations with mental well-being and relational satisfaction. |
| Link | https://repository.tcu.edu/handle/116099117/48006 |
| Department | Communication Studies |
| Advisor | Schrodt, Paul |
This item appears in the following Collection(s)
Related items
Showing a few items related by title, author, creator and subject.
Clark, Rachel

(

2023-05-19

)

Communication skills are vital for children to learn, grow, build relationships, and solve problems. Autistic children have unique communication challenges. There is very little research on communication in families with ...

This study explored the association between genealogical communication, family communication patterns, and family satisfaction. The theoretical framework was built using previous research on family kinkeepers, family ...

Makenna Decker, Haley

(

2021

)

Using communication accommodation theory (CAT) and the communication theory of identity (CTI), this study investigated (a) the degree to which parents' nonaccommodation is associated with sexual minority (SM) adult children's ...