Sn3O4@TiO2 Core-Shell Surfaces Prepared by Liquid-Phase Deposition for Photoelectrochemical Cell ApplicationShow full item record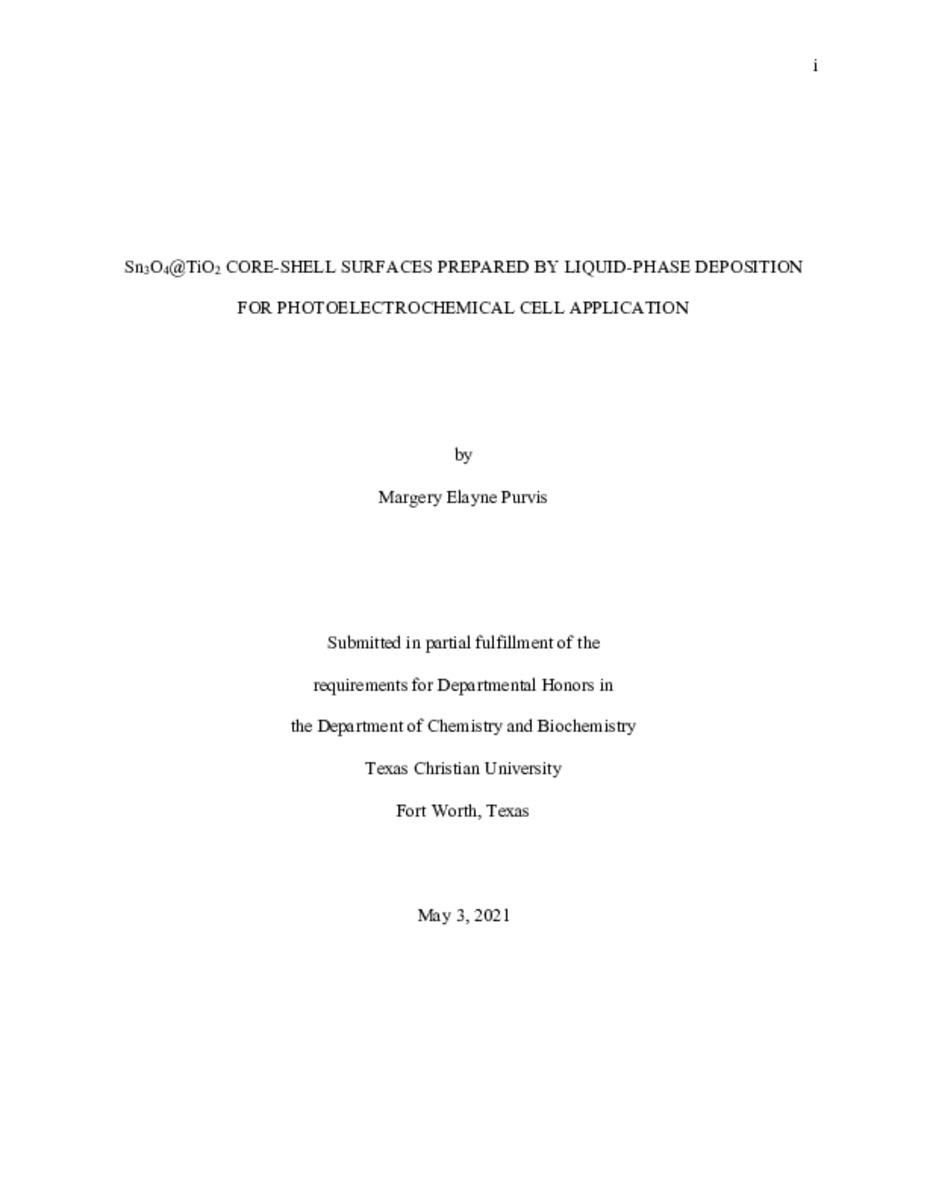 | | |
| --- | --- |
| Title | Sn3O4@TiO2 Core-Shell Surfaces Prepared by Liquid-Phase Deposition for Photoelectrochemical Cell Application |
| Author | Purvis, Maggie |
| Date | 2021 |
| Abstract | Dye-sensitized solar cells represent a promising way to harness solar energy. Core-shell dye-sensitized solar cells are an effective strategy for improving the photoelectrochemical performances of these devices. DSSCs offer lower production cost than the traditional crystalline silicon solar cells and are relatively simple to fabricate. Traditionally, mesoporous titanium(IV) oxide has been used in DSSCs with good results. However, other oxide materials are also of interest and can have more favorable characteristics than their titanium counterparts. In this study, heterovalent tin oxide photoanodes are fabricated and used in dye-sensitized solar cells. Core-shell photoanodes are prepared by adding a shell layer of TiO2 prepared via liquid-phase deposition on top of a heterovalent tin oxide layer. Liquid-phase deposition of titanium(IV) oxide is a fast and low-cost alternative to atomic layer deposition that still allows for control of layer thickness. The thickness and other surface characteristics of the liquid-phase deposition are optimized prior to their use in dye-sensitized solar cells. The Sn3O4@TiO2 core-shell design is an ideal composition due to the thermodynamically favorable energy gradient from the band gap structure of the species that encourages the flow of electrons from the dye to the shell and the core. The Sn3O4@TiO2 dye-sensitized solar cells demonstrate improved photoelectrochemical performance over Sn3O4 DSSCs. However, Sn3O4@TiO2 dye-sensitized solar cells are significantly outperformed by the traditional mesoporous TiO2 devices. |
| Link | https://repository.tcu.edu/handle/116099117/49061 |
| Department | Chemistry and Biochemistry |
| Additional Date(s) | 2021-05-19 |
This item appears in the following Collection(s)
Related items
Showing a few items related by title, author, creator and subject.
Sherman, Benjamin D.; McMillan, Nelli Klinova; Willinger, Debora; Leem, Gyu

(

2021

)

If generated from water using renewable energy, hydrogen could serve as a carbon-zero, environmentally benign fuel to meet the needs of modern society. Photoelectrochemical cells integrate the absorption and conversion of ...

The dye-sensitized solar cells (DSSCs) are a possible alternative tool to harvest solar energy instead of the traditional silicon-based solar cells. DSSCs offer various advantages, such as good energy conversion efficiencies ...

Huang, Xuezhen; Gonzalez-Rodriguez, Roberto; Rich, Ryan M.; Gryczynski, Zygmunt; Coffer, Jeffery L.

(

2013-05-14

)

A general method for the formation of a broad family of silicon nanotube arrays (Si NTAs) relevant to diverse fields - ranging from energy storage to therapeutic platforms - is described. Such nanotubes demonstrate a ...