Queer/ing intimacies: radical love and friendship in Chicana feminist literatureShow full item record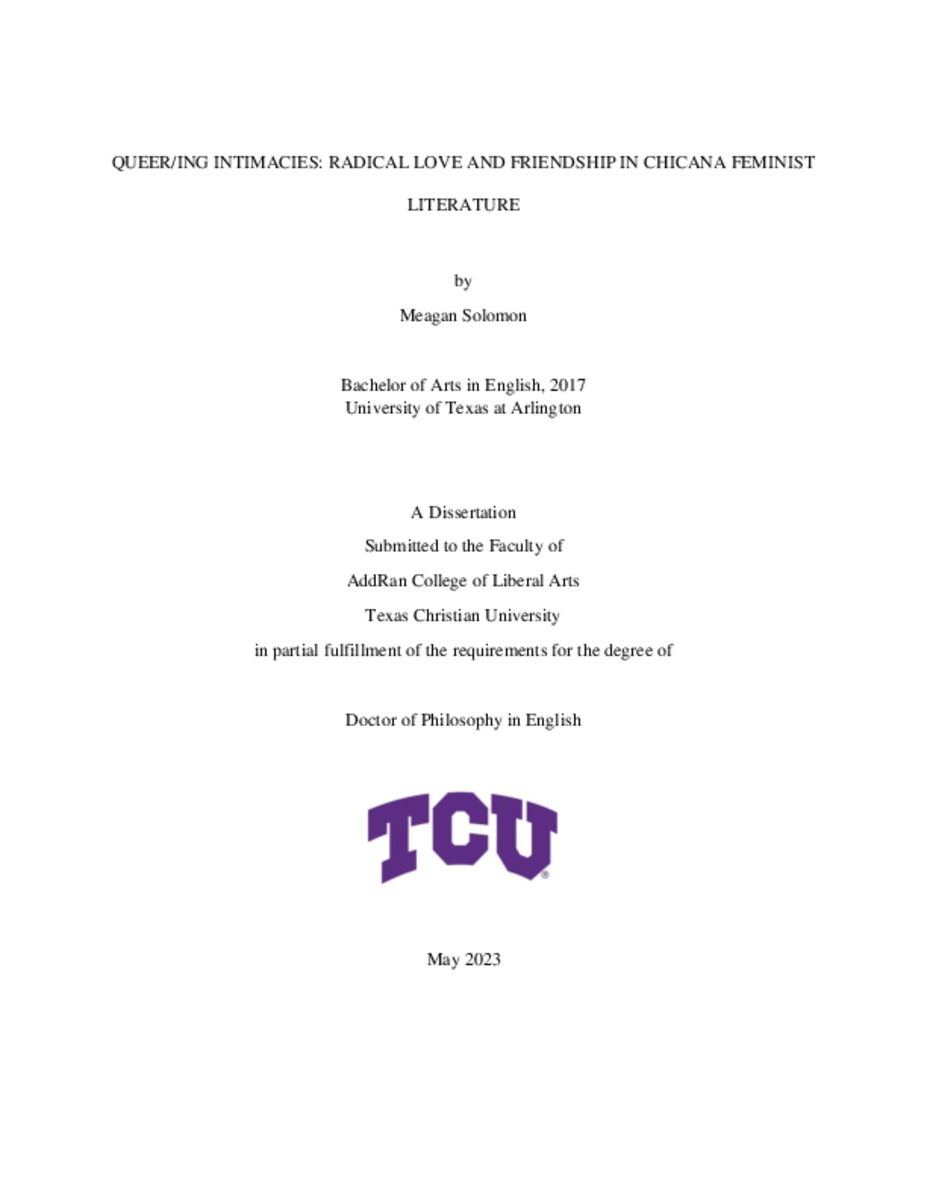 Title
Queer/ing intimacies: radical love and friendship in Chicana feminist literature
Author
Solomon, Meagan
Date
2023-05-01
Genre
Dissertation
Abstract
Queer/ing Intimacies: Radical Love and Friendship in Chicana Feminist Literature challenges colonial and heteropatriarchal conceptions of intimacy that limit our capacity to fully understand ourselves and each other. While sexual politics and sexual identities are the primary lenses from which most scholars engage queer Chicanx/Latinx studies, my exploration of Chicana feminist literature has revealed expansive representations of queer relationality that may encompass, but are not fundamentally defined by, sex or sexual attraction. In this project, I focus on and theorize intimacy rather than sexuality alone because intimacy attends to affective and psychic forms of relationality that are often undervalued or ignored by sex-centered approaches to queer studies. In response, this project asks: How can we read and understand queer relationality beyond the realm of sexuality? How do intimate friendships and platonic networks of care challenge heteronormative structures and colonial logics? How do politicized sites of emotional and spiritual connection foster queer intimacy? And to what ends? Focusing on the lesser-studied areas of queer love and friendship, I argue that Chicana feminist renderings of queer intimacy: 1. challenge limiting definitions of "queer" tethered to sexual desire, 2. intervene in colonial relationship formations organized around cisgender-heterosexual reproduction, and 3. elevate queer love and friendship as sites of social disruption and reimagining. Joining the fields of lesbian feminist studies, decolonial feminist studies, and queer a/sexuality studies, this project forwards queer futures that honor both sexual and nonsexual queer intimacies and their radical interventions against heteronormativity.
Description
aleph-7210489
Link
https://repository.tcu.edu/handle/116099117/58231
Department
English
Advisor
Colón, David

---

Robbins, Sarah
Files in this item
Name:

SolomonMeagan_dissertation.pdf

Size:

764.7Kb

Format:

PDF
This item appears in the following Collection(s)
Related items
Showing a few items related by title, author, creator and subject.
Hammil, Carrie Esther

(

1972

)

The Celestial Journey, as a specific type of dream vision, pervades much of English literature, especially between 1300 and 1700. The concept of the Harmony of the Spheres Is usually Inseparable from the celestial Journey ...

This essay seeks the origins of the American Western myth in the complementary media of painting and fiction which together provided the unknowing Easterner with an idea of the American West. Illustrated magazines were ...

Pilkington, William T.

(

1969

)

Southwestern literature is a division of American literature and culture that has been somewhat neglected in recent years. Though there are signs that it is currently the center of renewed interest, the react ion during ...