In their own words: foreign language teacher trainers' narrativesShow full item record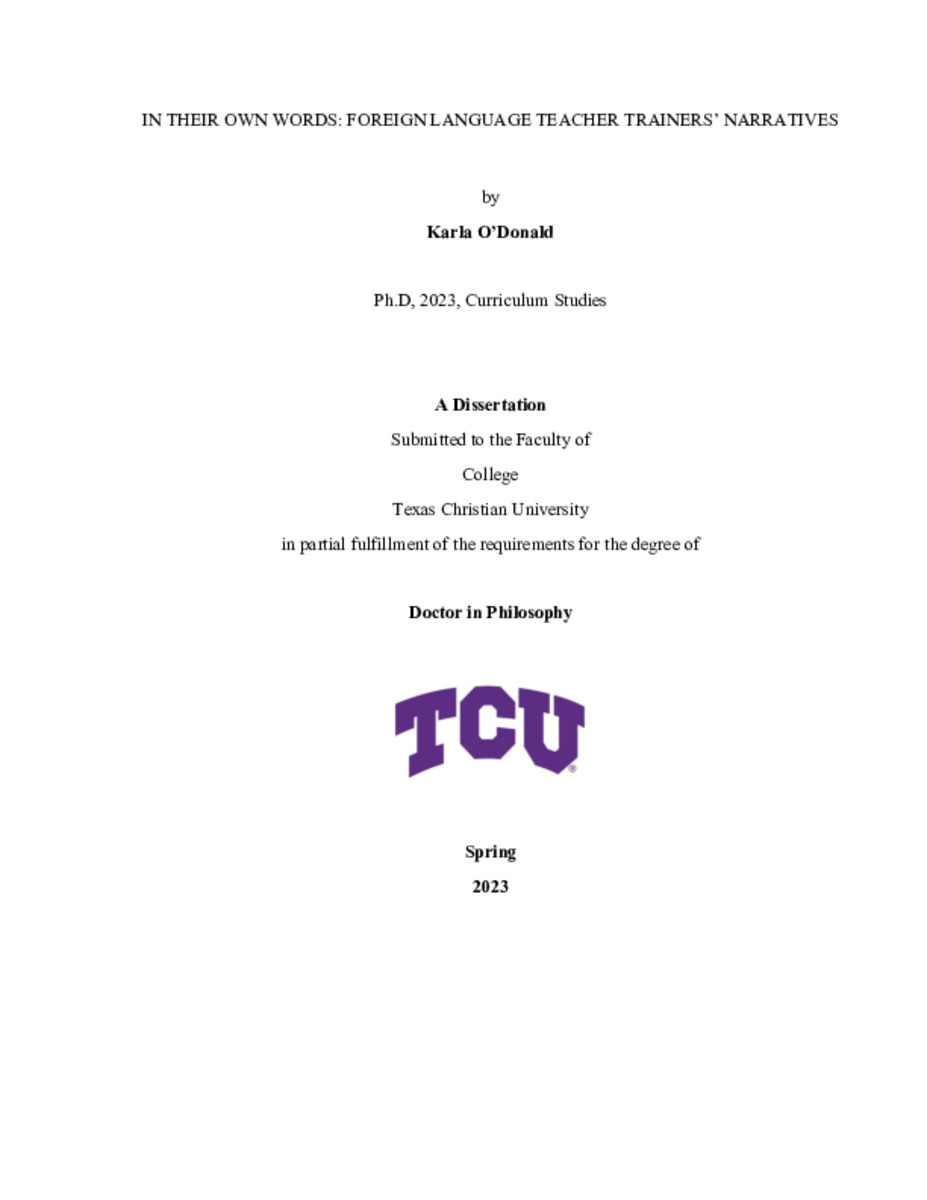 | | |
| --- | --- |
| Title | In their own words: foreign language teacher trainers' narratives |
| Author | O'Donald, Karla |
| Date | 2023-05-04 |
| Genre | Dissertation |
| Abstract | The purpose of this study is to capture the stories of foreign language teacher educators and examine their professional paths, which will provide a more complete perspective and understanding of the field of foreign language teaching and learning in the United States. Utilizing Anzaldúas' theories and methodologies helps frame foreign language teacher educators' experiences, allowing us to learn and understand their stories that will provide the field with a comprehensive view of the key roles, tasks, and functions these individuals perform and how these narratives impact the overall development of the field. Consequently, there will be opportunity for all members of the field to reflect upon and evaluate their own professional and personal objectives and goals. |
| Description | aleph-7210484 |
| Link | https://repository.tcu.edu/handle/116099117/58305 |
| Department | Education |
| Advisor | Huddleston, Gabriel |
Files in this item
Name:

ODonaldKarla_dissertation.pdf

Size:

1.221Mb

Format:

PDF
This item appears in the following Collection(s)
Related items
Showing a few items related by title, author, creator and subject.
Roy-Evans, Tabatha

(

2023-05-04

)

The purpose of this qualitative research study is to examine the effect of teachers' study of the Currere Writing Process on teachers' views of students and teachers' collective memory of the data meeting process. The ...

Gravelle, Elizabeth de

(

2015

)

Over the last several decades, teachers have been the subjects of countless American commercial films. Infecting popular culture as box office hits, these teacher-centric movies have a huge influence on public perception ...