Investigation Of Gene Delivery Via Silicon Nanotubes Using The Reporter Gene EgfpShow full item record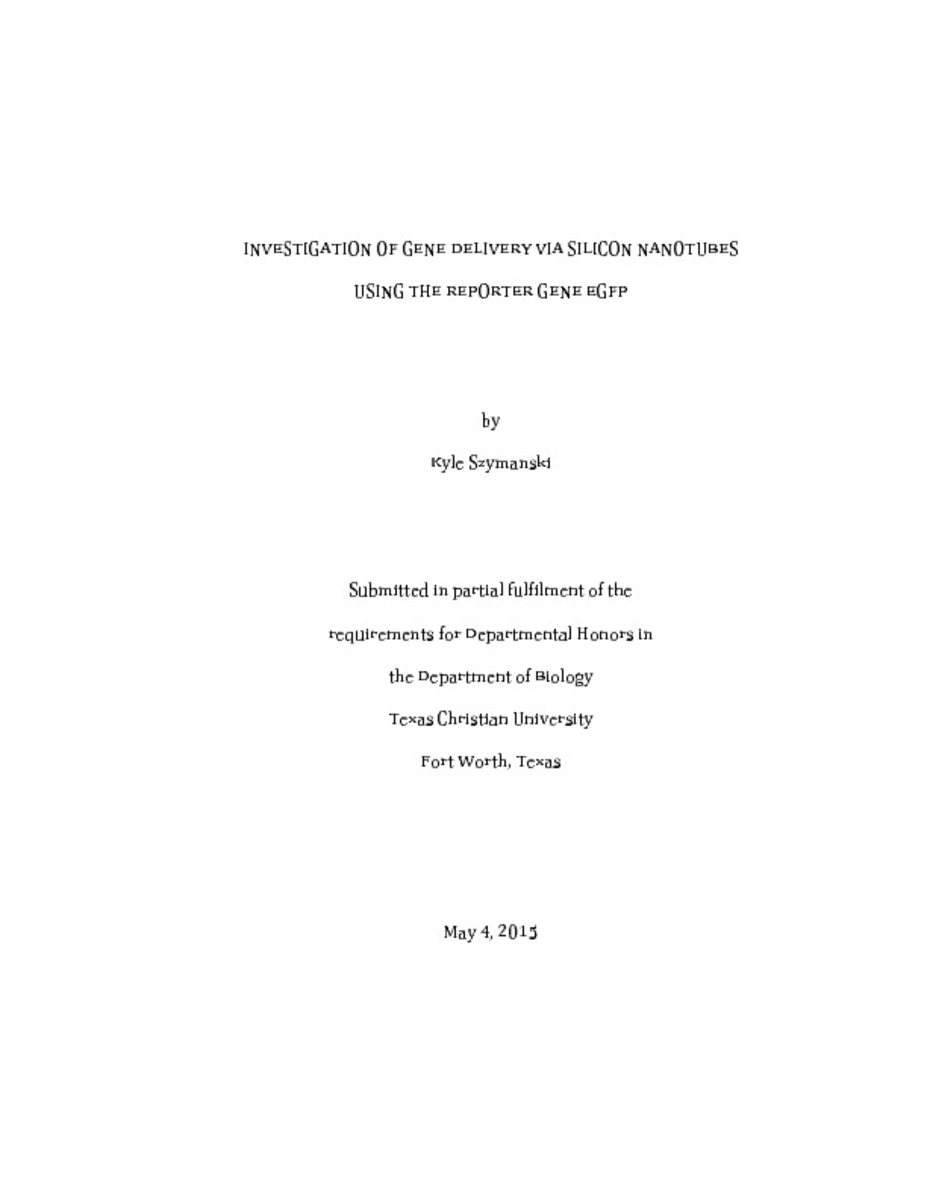 | | |
| --- | --- |
| Title | Investigation Of Gene Delivery Via Silicon Nanotubes Using The Reporter Gene Egfp |
| Author | Szymanski, Kyle |
| Date | 2015 |
| Abstract | With the rising prominence of nanotechnology, materials such as silicon nanotubes offer great potential in a wide variety of fields. On such a small scale, the physical and chemical properties of the constituent elements are dramatically changed. Our research investigates the potential of silicon nanotubes as gene delivery vectors. As a non-viral vector, many of the harmful and potentially fatal side effects from traditional gene therapy are absent. Offering a viable treatment plan for diseases with little to no current treatment, silicon nanotubes show great promise in the clinical setting. Our group sought to use a reporter gene, eGFP, linked to the silicon nanotubes. Cells that took up the nanotubes should express the GFP protein, resulting in a measurable green fluorescence. Our research has shown, using the fluorescent tag FITC, the nanotubes interact with 293 HEK cells. Further studies are underway to effect delivery of the eGFP gene to 293HEK cells and validate the use of silicon nanotubes as a gene delivery vector. |
| Link | https://repository.tcu.edu/handle/116099117/10447 |
| Department | Biology |
| Advisor | Akkaraju, Giridhar |
| Additional Date(s) | 2015-05-01 |
This item appears in the following Collection(s)
Related items
Showing a few items related by title, author, creator and subject.
The observed phenotypic differences that arise from alternative expression of genes between the sexes, sometimes referred to as sex-bias in gene expression, can have dramatic implications on the wellbeing of organisms ...

Many species from fruit flies to humans exhibit sexual dimorphism. Much of this phenotypic variation can be attributed to differential expression of genes between males and females, also known as sex-bias gene expression. ...