Interact: A Theatre Experience for the Modern AudienceShow full item record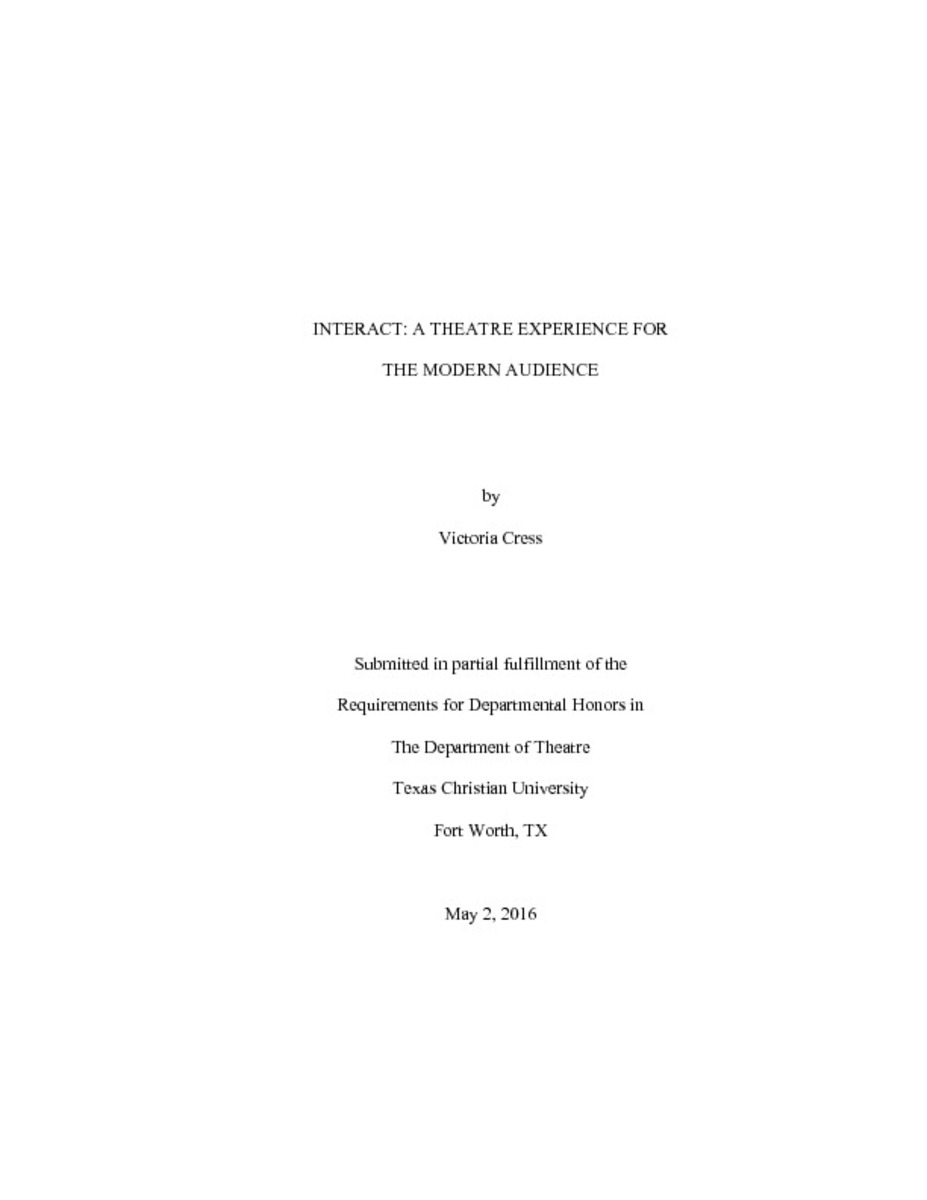 | | |
| --- | --- |
| Title | Interact: A Theatre Experience for the Modern Audience |
| Author | Cress, Tori |
| Date | 2016 |
| Abstract | If traditional theatre is a reflection of life, interactive theatre goes one step further and can be classified as an imitation of life. In a world dominated by immediate gratification and artificial closeness due to the inescapable presence of the Internet, modern audiences crave a non-traditional theatre experience. Interactive and improvisational productions seek to fill this void through immediacy, audience involvement, and creative thinking. Techniques from this theatrical genre are being applied in business, education, and many other fields due to its ability to bring people together, spark new and exciting ideas, and create unique, memorable experiences. In order to gain more insight into the interactive theatre experience, my literary research culminated in the production of "Birthday Party," an interactive, improvisational theatre event that was performed at the end of February 2016 in Fort Worth, TX. During the course of five weeks, my six actors improved their improvisational skills and developed characters with backgrounds, shared memories, and secrets. At the performances, guests were invited in to the world of Daniel Duncan's twenty-third birthday party and were encouraged to engage with the characters and the environment personally. Through the research, production, and reflection processes, I was able to dive into the power of this unique theatrical medium and its effect on modern audiences. The life-likeness of the characters, encouragement of participation, and necessary flexibility of both actors and audience alike created a memorable, connected, and personal experience that can touch every walk of life. |
| Link | https://repository.tcu.edu/handle/116099117/11323 |
| Department | Theatre |
| Advisor | Parker, Harry |
| Additional Date(s) | 2016-05-19 |
This item appears in the following Collection(s)
Related items
Showing a few items related by title, author, creator and subject.
This project is an exploration into the success and improvement of drama-play programs for individuals on the Autism Spectrum. I outline the social aspects of Autism Spectrum Disorder and how principles of theatricality ...

This paper details my experiences choreographing the musical A Day in Hollywood, A Night in the Ukraine for Theatre TCU. I will document how my interest as a choreographer first piqued and the steps I took to in order to ...

This paper details my experience with this creative project. The scope of this project is research on Irving Berlin that will then inform an interpretive process that was originally going to culminate in a public performance. ...