The Perceived Threat and Resolvability of Serial Arguments as Predictors of Relational Uncertainty in Romantic RelationshipsShow full item record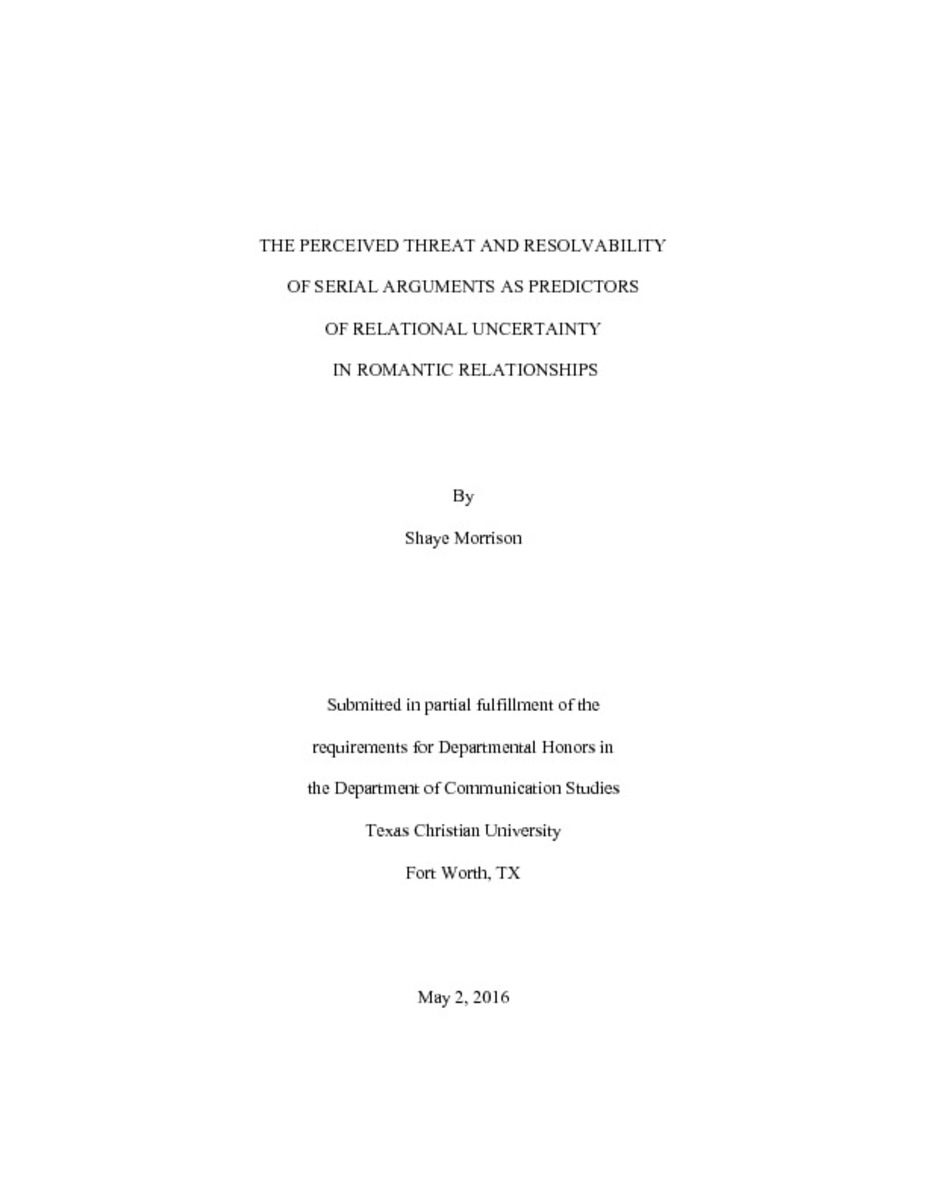 | | |
| --- | --- |
| Title | The Perceived Threat and Resolvability of Serial Arguments as Predictors of Relational Uncertainty in Romantic Relationships |
| Author | Morrison, Shaye |
| Date | 2016 |
| Abstract | This study explored the degree to which the perceived threat and resolvability of a serial argument predicted relational uncertainty in a romantic relationship (i.e., self, partner, and relationship uncertainties). Using an online survey, data was collected from 147 individuals who were currently participating in a romantic relationship. Results revealed a positive relationship between argument frequency and relationship uncertainty, a positive relationship between the perceived threat of the argument to the relationship and all three forms of relational uncertainty, and an inverse relationship between the perceived resolvability of the issue and all three forms of relational uncertainty. Most notably, interaction effects emerged for perceived threat by perceived resolvability for participants' reports of self and partner uncertainties, such that the resolvability of the issue diminished the strength of the positive association between the perceived threat of the argument and self and partner uncertainties. Overall, this study found meaningful results that extend extant models of serial argumentation in personal relationships. |
| Link | https://repository.tcu.edu/handle/116099117/11373 |
| Department | Communication Studies |
| Advisor | Schrodt, Paul |
| Additional Date(s) | 2016-05-19 |
This item appears in the following Collection(s)
Related items
Showing a few items related by title, author, creator and subject.
Several principles drawn from the recent literature regarding cognitive and interactionist psychology guided the current investigation of specific and general expectancy concepts and illicit drug use. Primary attention was ...

Hollweg, Charles Lewis

(

1973

)

The research was an attempt to demonstrate the efficacy of Individual Differences Scaling (INDSCAL) in developing a quantitative spatial model of perceived social relationships in groups. INDSCAL is based on the assumption ...

Introduction: People with Parkinson's disease (PWPD) experience voice difficulties in the form of hypophonia. The dissertation aimed to describe the psychosocial consequences of this disorder in PWPD. More specifically, ...