Environmental Health Literacy Promotion Within the TCU Campus CommunityShow full item record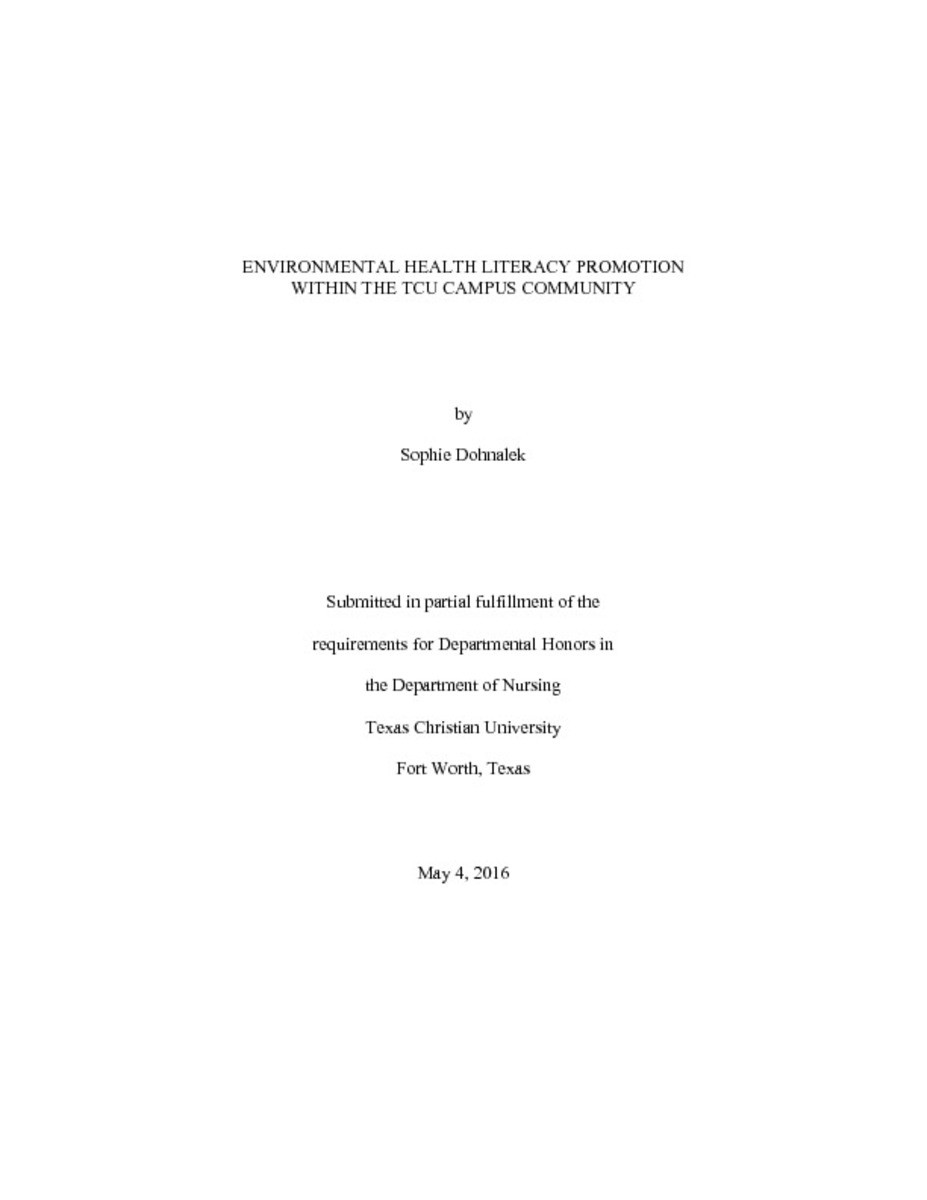 Title
Environmental Health Literacy Promotion Within the TCU Campus Community
Author

Dohnalek, Sophie

Abstract
An emerging field, environmental health literacy (EHL) aims to equip the public with information and risk communication tools that are applicable and easily understood. This study aimed to determine whether environmental health (EH) education impacts student, faculty, and staff's likelihood to reduce or stop the use of products that are known to negatively impact health. To address the need for improved EHL, education sessions to promote EHL took place on an urban private university campus among students, faculty, and staff. Students, faculty, and staff on the TCU campus participated in an EH education session. Pender's (1982) Health Promotion Model and evidence from the Agency for Toxic Substances and Disease Registry (ATSDR) informed session development. Each session consisted of a presentation, hands-on demonstration, and group discussion. Participants completed baseline surveys, and discussion questions were recorded and transcribed. The investigator used descriptive and content analysis methods to evaluate these data. Twenty-seven participants (17 students, 10 faculty/staff) attended one of 5 group sessions. Of those, 81.5% reported no prior EH education; however, 77.8% indicated awareness of natural alternatives. An estimated 95% of participants felt the lesson motivated them to make informed choices and educate others. Key barriers to applying EHL in daily life included lack of understanding and education on the topic (37%), cost (33.3%), and brand familiarity (26%). Education sessions promoted EHL among students, faculty, and staff. These sessions have the potential to improve understanding of EH, and the overall health of the community by empowering individuals to make informed choices.
Link
https://repository.tcu.edu/handle/116099117/19905
Date
2017-05-19
Subject
environmental health

---

literacy

---

health promotion

---

hazards
This item appears in the following Collection(s)
Related items
Showing a few items related by title, author, creator and subject.
American health care spending is at an all-time high. The U.S. spends more than any other developed nation on health care, yet health outcomes are far from reciprocal. Americans are not inherently less healthy nor do they ...

    The health literacy of minorities in the United States is of major concern to citizens and healthcare providers alike. Low health literacy, coupled with limited-English proficiency (LEP), leads to poor ...

Bowman, Katelyn

(

2016-05-19

)

The focus of this paper is to study the Affordable Care Act?s effects on small businesses including compliance mandates and the options available. Looking at the Small Business Health Option Programs, I question the option ...