Life After Sports: An Exploration of the Academic Challenges Facing Student-AthletesShow full item record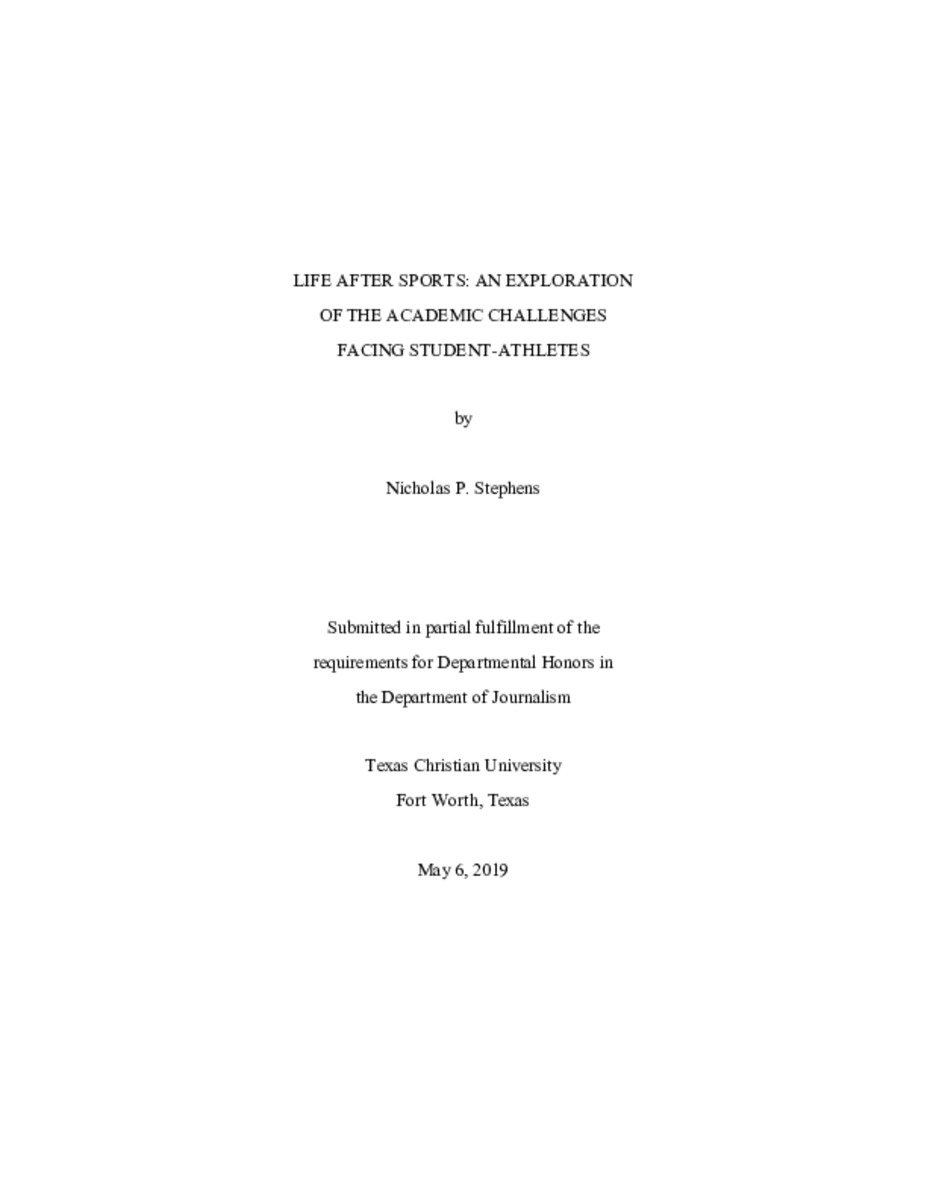 | | |
| --- | --- |
| Title | Life After Sports: An Exploration of the Academic Challenges Facing Student-Athletes |
| Author | Stephens, Nick |
| Date | 2019 |
| Abstract | Any complaints from student-athletes regarding their college experience are often brushed aside in favor of the narrative that everything is handed to them. This is especially true in Division I revenue-generating sports, where student-athletes often receive full athletic scholarships to attend school and are treated favorably on campus. Yet the lengths to which athletic departments are willing to go to achieve success often negatively affect the academic endeavors of student-athletes. Academic scandals have abounded in recent years at programs like Auburn and North Carolina and studentathletes often find their academic needs devalued in favor of athletic ones. The purpose of this report is to recognize the academic challenges facing student-athletes, identify three potential causes and make recommendations to alleviate these problems. The three challenges addressed are overly demanding athletic schedules, eligibility-based education and academic clustering. The report is based in academic research and supplemented by interviews with former Texas Christian University football players. Research focuses on student-athletes in revenue-generating sports (football and basketball) at Division I institutions. |
| Link | https://repository.tcu.edu/handle/116099117/27050 |
| Department | Journalism |
| Additional Date(s) | 2019-05-19 |
This item appears in the following Collection(s)
Related items
Showing a few items related by title, author, creator and subject.
The purpose of this study was to gain a better understanding of the relationship that exists between the football success of the seventeen NCAA Division-1 FBS private universities and the US News and World Report college ...

Bansal, Sandeep; Bansal, Minakshi; White, Stanley

(

2021

)

Purpose: Students have diverse learning preferences that can impact the achievement of learning outcomes. However, there is a lack of unequivocal evidence for an association between the learning preferences and academic ...