Breaking Barriers: Trailblazing Women in Sports MediaShow full item record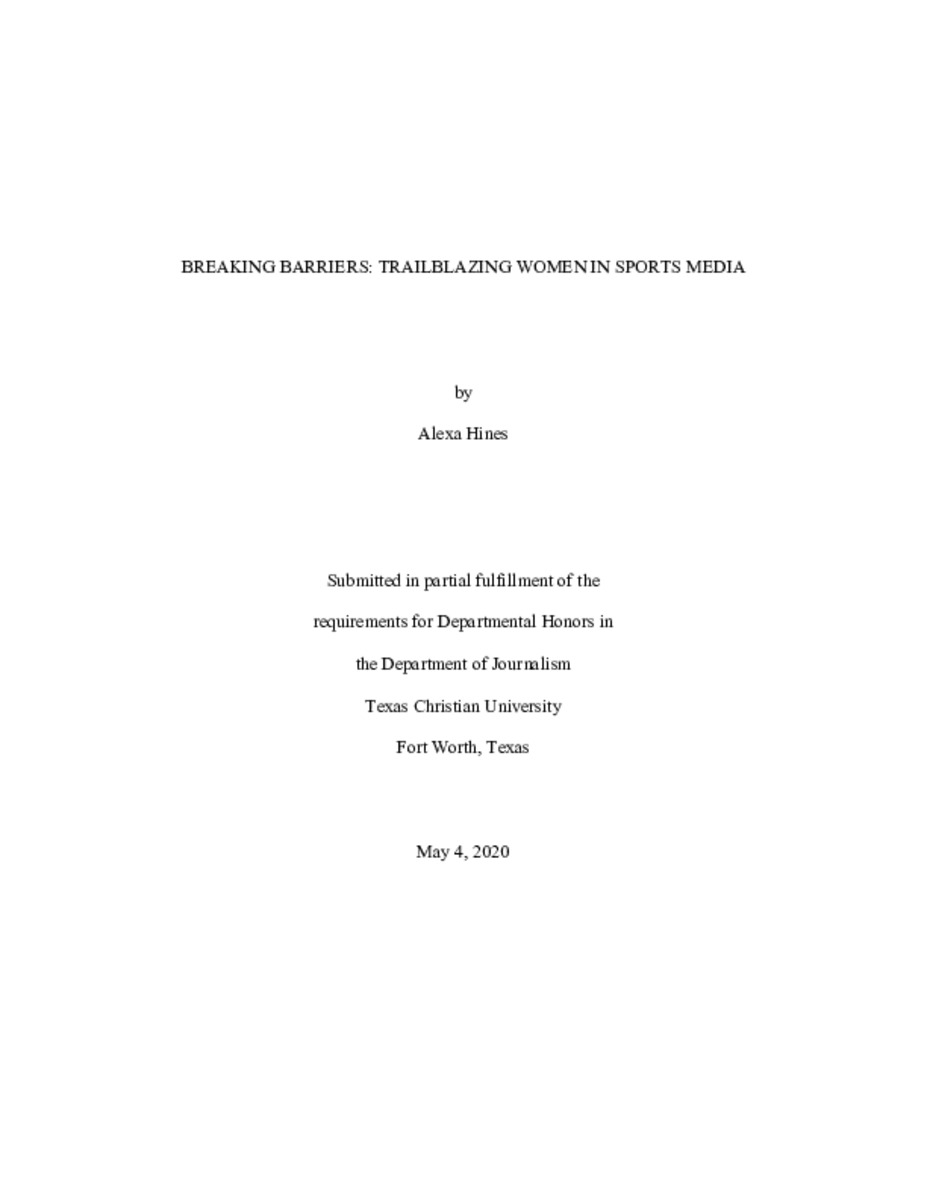 Title
Breaking Barriers: Trailblazing Women in Sports Media
Author

Hines, Alexa

Abstract
Women in sports media are continuing to make strides, years after the first women entered the industry. Two trailblazers in the female sports media world are Lesley Visser and Melissa Ludtke. The two of them are considered the leaders for women in sports media. In everyday life, women have received equality in many aspects, in part due to acts like Title IX. However, there are still reflections of inequality and discrimination of females in sports media today, whether it be the female athletes or the female reporters. In this research, the moments discussed in each sports journalist?s section will touch upon breaking barriers and the implications these women faced being a trailblazing female in this industry. These women have faced bias, underrepresentation and, at times, a hostile culture. Based on research and personal one-on-one interviews, I approach Visser and Ludtke in an exploration of their history, where women in sports media stand today and where women could be headed. Women have persevered in this male-dominated industry, but there are some who still feel that they don?t belong in this men?s club.
Link
https://repository.tcu.edu/handle/116099117/40282
Date
2020-05-19
Subject
women

---

sports

---

sports media

---

barriers

---

trailblazers

---

journalism
This item appears in the following Collection(s)
Related items
Showing a few items related by title, author, creator and subject.
  Many factors drive the growing brands of professional sports teams beyond their native borders. The popularity of premier sports teams in the global sports environment provides opportunity for major money to ...

Sun, Rebecca

(

2018-12-18

)

Mental toughness is an increasingly important area of study due to trait desirability. Many variables influence the development of hardiness within an individual. The variables that define mental toughness in this study ...