CONFLICT OF INSTITUTIONS: FOREIGN PORTFOLIO INVESTMENT AS AN IMPETUS FOR LEGAL EDUCATION REFORM IN KOREAShow full item record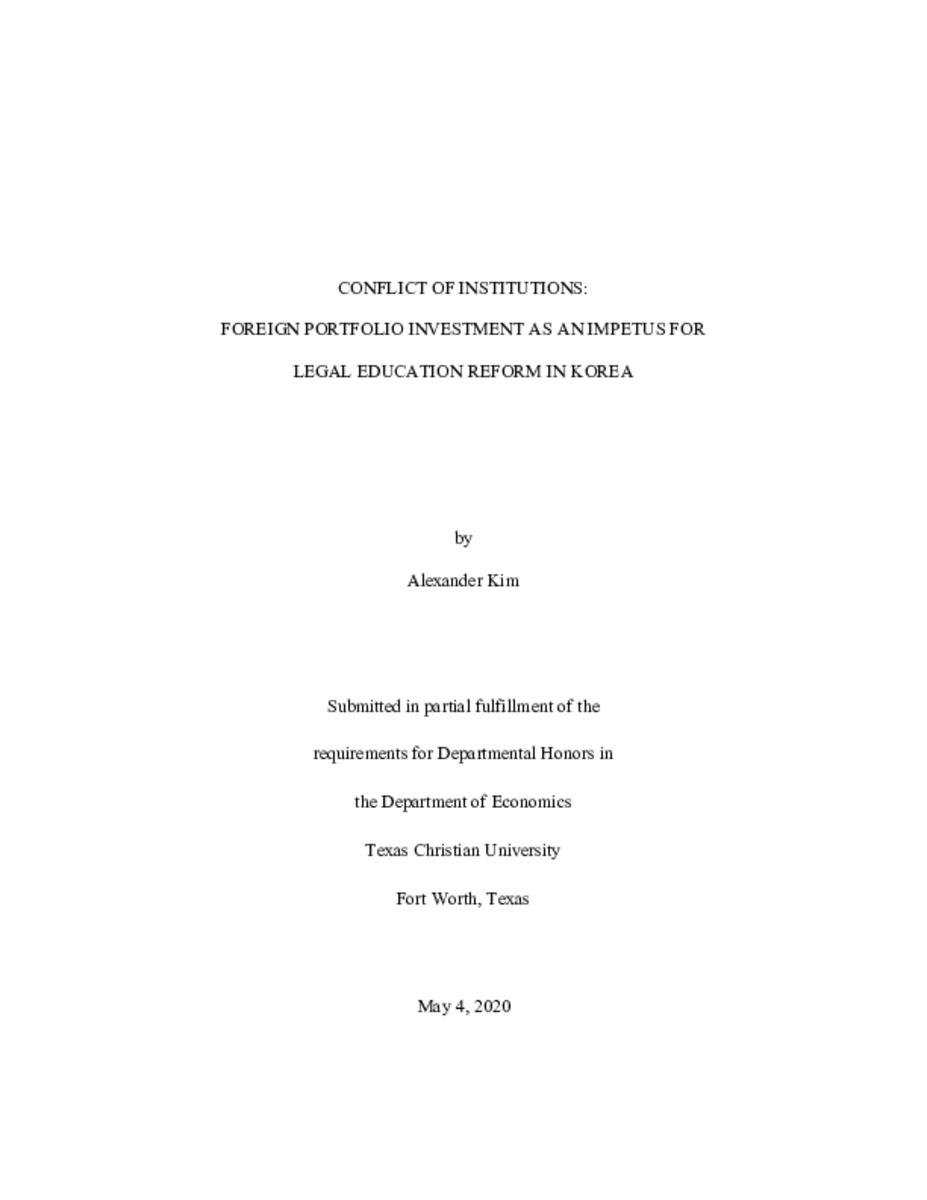 Title
CONFLICT OF INSTITUTIONS: FOREIGN PORTFOLIO INVESTMENT AS AN IMPETUS FOR LEGAL EDUCATION REFORM IN KOREA
Author

Kim, Alex

Abstract
In 2004, the Supreme Court of Korea endorsed a plan to completely restructure the country's legal education system from an undergraduate, formalist one to a graduate-level, "American-style" law school system. However, this plan was just the last of a series of similar proposals since 1995, each of which was rejected by the judiciary and Korean legal community as a whole. By providing historical and contextual evidence, this paper puts forward the argument that the Neoliberal reforms of the 1990s succeeded in attracting foreign portfolio investment, but had a limited impact on Korea's longstanding social and legal institutions. Foreign investors did not share the same informal norms or assumptions with their domestic counterparts, causing a variety of conflicts in the Korean financial system. As foreign portfolio investment continued to rise and peaked in 2004, these issues intensified and created demand for greater versatility in the Korean legal profession to help resolve some of these conflicts, making education reform inevitable. Thus, the Korean experience affirms the importance of society's institutional framework in the development of its legal system and illustrates how an already established system can evolve in response to major political and economic changes.
Link
https://repository.tcu.edu/handle/116099117/40330
Date
2020-08-19
Subject
Korea

---

Law

---

Law School

---

Legal Education

---

Asian Financial Crisis

---

Reform

---

Institution

---

Confucianism

---

Legal Tradition

---

Legal

---

Lawyer

---

Foreign Investment

---

Foreign Portfolio Investment

---

Economics
This item appears in the following Collection(s)
Related items
Showing a few items related by title, author, creator and subject.
Kleinknecht, Wolfram

(

1981

)

The United States has reached a turning point with regard to its drug policy. Not only are the majority of Americans in favor of marijuana policy reform, but four states and the District of Columbia have legalized the ...