ApoE Allele Frequencies and Regional Richness of Intracellular Pathogens and Extracellular PathogensShow full item record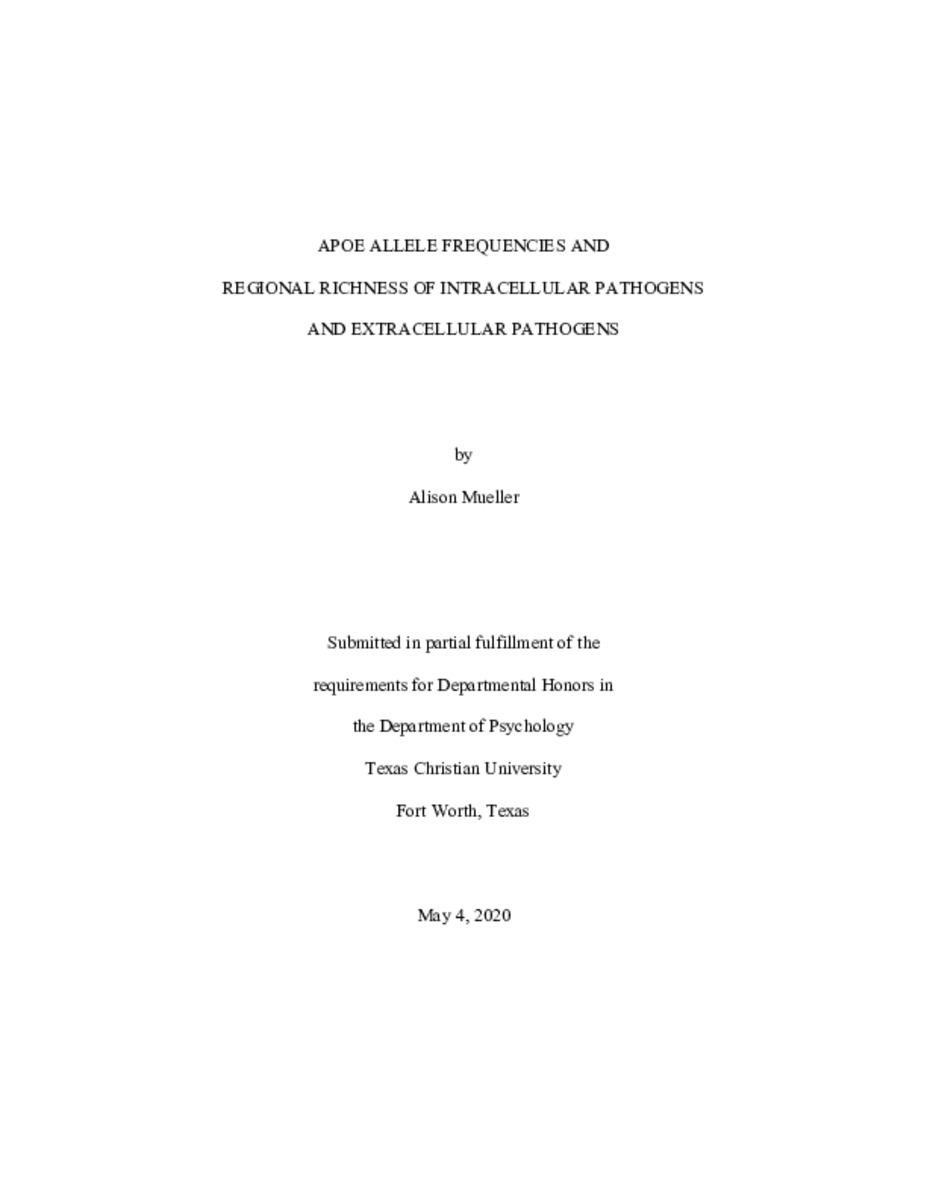 Title
ApoE Allele Frequencies and Regional Richness of Intracellular Pathogens and Extracellular Pathogens
Author

Mueller, Alison

Abstract
Research into the genetic factors that contribute to human health and longevity has found that individual?s apolipoprotein E (APOE) genotype is linked to their risk for developing Alzheimer?s disease and cardiovascular diseases. Despite its negative impact on health and longevity, the E4 allele is nonetheless maintained by selection in various frequencies worldwide. I examined which APOE allele frequencies are higher in populations living in regions rich in intracellular versus extracellular pathogens. Consistent with hypothesis that the E4 allele promotes inflammation and may boost antiviral immune defenses, I predicted that populations inhabiting regions high in intracellular pathogen richness would exhibit higher frequencies of E4 alleles than those living in regions with lower numbers of intracellular pathogens. Neither intracellular nor extracellular pathogen richness predicted E2 allele frequency, higher extracellular pathogen richness predicted greater E3 allele frequency, and lower extracellular pathogen richness and higher intracellular pathogen richness predicted greater E4 allele frequency. The results of the current research corroborate previous findings suggesting that the E4 allele provides immunological benefits, particularly in regards to antiviral immunity and suggests that an intracellular rich environment may impose a selection pressure that increases the frequency of this allele.
Link
https://repository.tcu.edu/handle/116099117/40331
Date
2020-05-19
Subject
ApoE

---

pathogen richness

---

immune function
This item appears in the following Collection(s)
Related items
Showing a few items related by title, author, creator and subject.
Finch, Miranda

(

2020-05-19

)

Several studies have shown that males and females differ with regard to their ability to survive pathogen infections. However, fewer studies have compared male and female immune responses following pathogen exposure. The ...

Campuzano, Althea; Castro-Lopez, Natalia; Martinez, Amanda J.; Olszewski, Michal A.; Ganguly, Anutosh; Wager, Chrissy Leopold; Hung, Chiung-Yu; Wormley, Floyd L.

(

American Society for Microbiology

,

2020-02-25

)

Caspase recruitment domain-containing protein 9 (CARD9) is a critical adaptor molecule triggered by the interaction of C-type lectin receptors (CLRs) with carbohydrate motifs found in fungi. Consequently, clinical and ...

Jeffrey Gassen; Prokosch, Marjorie L.; Makhanova, Anastasia; Eimerbrink, Micah J.; White, Jordon D.; Proffitt Leyva, Randi P.; Peterman, Julia L.; Nicolas, Sylis C.; Reynolds, Tania A.; Maner, Jon K.; McNulty, James K.; Eckel, Lisa A.; Nikonova, Larissa; Brinkworth, Jessica F.; Phillips, Melody D.; Mitchell, Joel B.; Boehm, Gary W.; Hill, Sarah E.

(

Public Library of Science

,

2018-09-20

)

Here, we present a mechanistically grounded theory detailing a novel function of the behavioral immune system (BIS), the psychological system that prompts pathogen avoidance behaviors. We propose that BIS activity allows ...