Components of decision-making strategies for college students [electronic resource] /Show full item record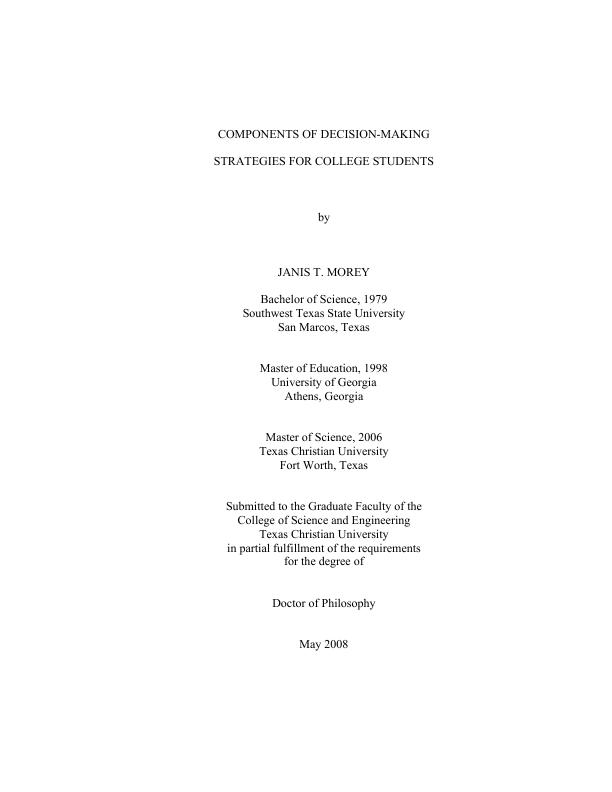 Title
Components of decision-making strategies for college students [electronic resource] /
Author

Morey, Janis T

Abstract
Previous research on college students' decision-making has shown they sometimes make impulsive, emotionally influenced, risk-taking and sensation-seeking decisions without fully understanding their decisions or the consequences. Utilizing decision-making components, this study addresses questions of group differences in response to training for decision description, decision mapping, multiple social perspective-taking (SPT), and incubation. The study was conducted in the fall of 2007 with a sample of Texas Christian University undergraduates (n = 283; males = 77, females = 206) enrolled in Psychology coursework. Findings for participants whose intervention included SPT were significantly better able to develop and evaluate decision options, and develop coherent plans for effective decision-making advice than students who did not receive SPT training. Theoretically, it seems likely that SPT participants viewed the strategy as a priming device, bringing out what was already known, rather than providing a new learning experience. Participants receiving decision mapping reported they learned from the intervention and found it useful, but that learning did not translate into being able to enhance their ability to give decision-making advice. Additionally, neither SPT nor mapping contributed to the students' decision-making confidence levels. The study addresses a major gap in the college student decision-making literature and provides some preliminary evidence to suggest that the effectiveness of college students' decision-making ability will likely increase when provided with simple, yet powerful strategies. Implications and future research needs are also discussed.
Description
Title from dissertation title page (viewed Mar. 22, 2010).

---

Includes abstract.

---

Thesis (Ph.D.)--Texas Christian University, 2008.

---

Department of Psychology; advisor, Timothy Hubbard.

---

Includes bibliographical references.

---

Text (electronic thesis) in PDF.
Link
https://repository.tcu.edu:443/handle/116099117/4086
Date
2008
Subject
Decision making.

---

Social perception.

---

College students.
This item appears in the following Collection(s)