Divine queenship and Psalm 45 [electronic resource] /Show full item record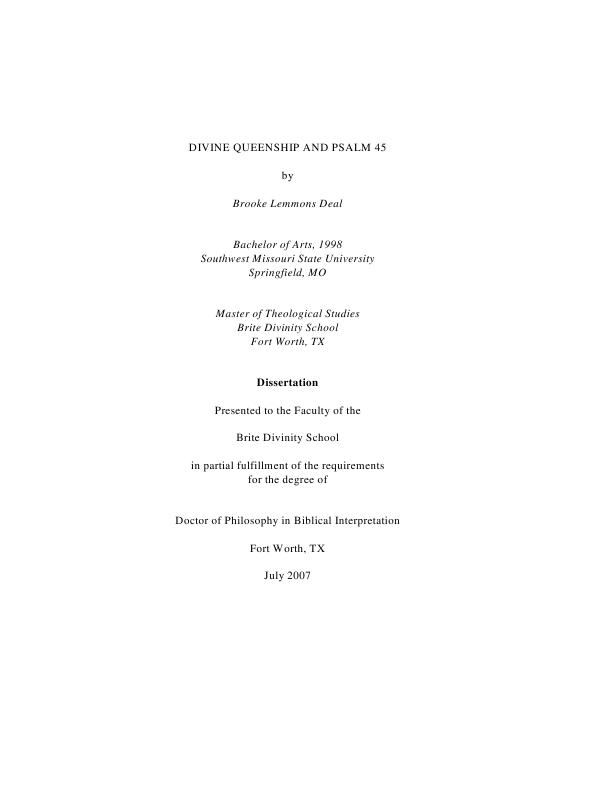 Title
Divine queenship and Psalm 45 [electronic resource] /
Author

Deal, Brooke Lemmons

Description
Title from dissertation title page (viewed Apr. 13, 2010).

---

Includes abstract.

---

Thesis (Ph.D.)--Brite Divinity School, Texas Christian University, 2009.

---

"Dissertation presented to the Faculty of the Brite Divinity School in partial fulfillment of the requirements for the degree of Doctor of Philosophy in Biblical Interpretation."

---

Dissertation advisor: Toni Craven.

---

Includes bibliographical references.

---

Text (electronic thesis) in PDF.

---

Queen mothers were arguably an integral part of the cult of YHWH/Asherah in ancient Israel/Judah, although authors of the Deuteronomistic History refused to acknowledge this phenomenon. Most of these women are ignored by the biblical authors, and if mentioned, their evaluations by the authors of the Deuteronomistic History mostly hinged on the approval or disapproval of their sons' reigns. Clearly within this corpus it is impossible to discern the true nature of the queen mothers' duties within cult and court, yet archaeology and ancient Near Eastern parallels reveal a much different story--one that becomes evident in the only marriage text in the Psalter, Ps 45. Within the text of Ps 45, a queen mother segal presides at the marriage of her son, a ritual that appears to be rooted in the hieros gamos ceremonies prevalent throughout the ancient Near East. She appears in a position equal to her son and stands at his right hand; her son is called Elohim and is anointed by his adoptive father, YHWH. Aramaic inscriptions from the ancient city of Hatra in modern Iraq have linked the term segal with a goddess who may have been synonymous with goddesses such as Ishtar or Asherah. Therefore, the queen mother, or segal of Ps 45 appears to have occupied a prominent position within the state cult and within this marriage ceremony. Her role reflects that of Asherah, the wife of YHWH, as determined by archaeology, Canaanite mythology, and my own reading of Ps 45.
Link
https://repository.tcu.edu:443/handle/116099117/4136
Date
2009
Subject
Bible. Commentaries.

---

Women in the Bible.

---

Women in Judaism.
This item appears in the following Collection(s)