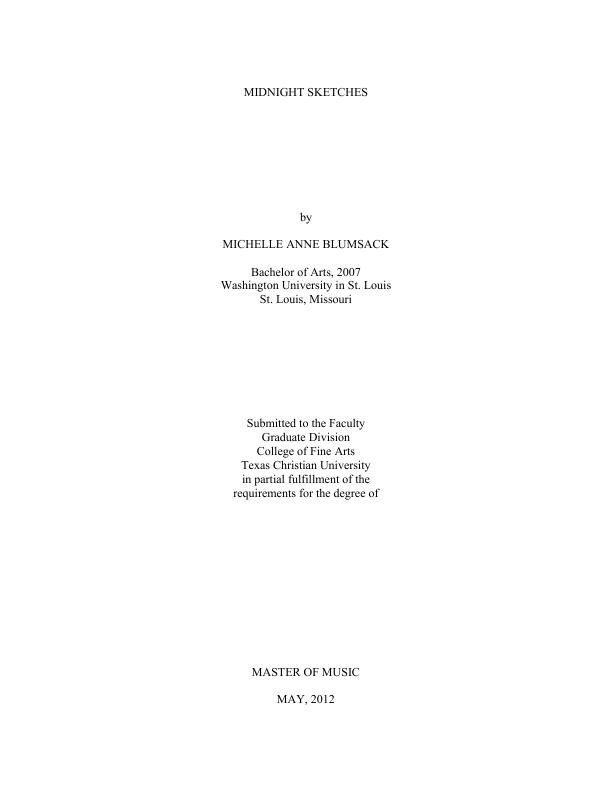 Title
Midnight sketches [electronic resource]
Author

Blumsack, Michelle Anne

Abstract
Midnight Sketches is a set of pieces for small orchestra. Each sketch stands alone as a journey through a different type of dream. Rather than a specific program for each movement, a general idea is suggested to the listener who then is free to embark on his own aural journey through dreamlike textures and soundscapes. The two movements presented here each capture positive, "happy" dreams. The first movement, "Reverie," French for "daydream," illustrates a Romantic, pastoral, and almost stereotypical "dream." Much of the piece was composed using Lydian scales and extended tertian harmonies. It begins with a simple harp and flute lullaby and blossoms into sweeping, full textures with lush Romantic harmonies. The lullaby returns at the end. The second movement, "Tourner," French for "to turn," illustrates a dream in which the environment seems to be spinning around the dreamer. He then enters into a peaceful, magical space, represented by a tonal, chorale-like middle section. The spinning motion returns at the end, only at a slower tempo, bringing the dreamer back down to earth.
Description
For orchestra.

---

Title from thesis title page (viewed May 9, 2012).

---

Thesis (M.M.)--Texas Christian University, 2012.

---

College of Fine Arts; advisor, Blaise Ferrandino.

---

Text (electronic thesis) in PDF.
Link
https://repository.tcu.edu:443/handle/116099117/4375
Date
2012
Subject
Orchestral music Scores.
This item appears in the following Collection(s)