James Monroe and historical legacy [electronic resource] /Show full item record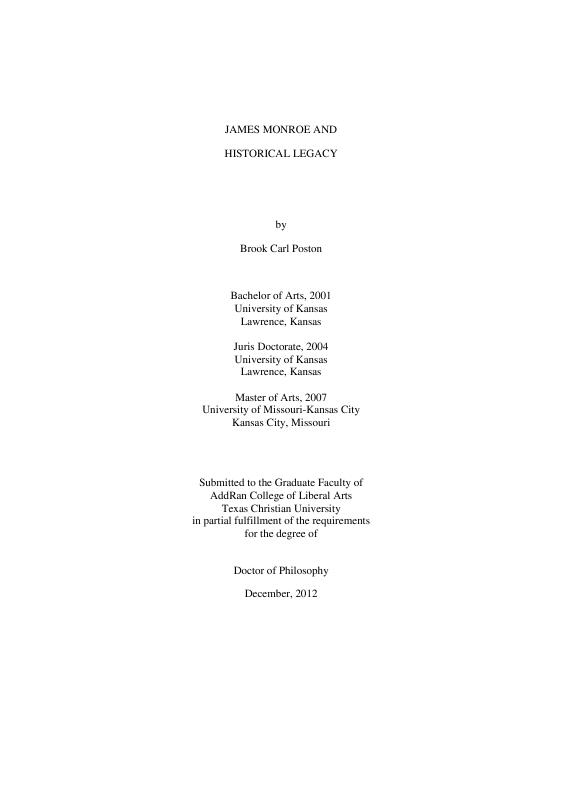 Title
James Monroe and historical legacy [electronic resource] /
Author

Poston, Brook Carl

Description
Title from dissertation title page (viewed Dec. 18, 2012).

---

Includes abstract.

---

Thesis (Ph.D.)--Texas Christian University, 2012.

---

Department of History; advisor, Gene Allen Smith.

---

Includes bibliographical references.

---

Text (electronic thesis) in PDF.

---

This work examines James Monroe's attempt to craft his historical legacy. The American founders believed that they had created a new form of government dedicated to the protection of liberty. They dedicated their political lives to the promotion of this new kind of liberal republicanism. Thomas Jefferson taught James Monroe that his personal legacy would be inexorably tied to the American experiment. Monroe dedicated his life to championing the republican cause. Monroe believed that his particular part in the promotion of the cause would be to help spread republican ideas around the globe. As a young minister to France during that nation's Revolution in the 1790s, Monroe's first attempt to spread republicanism nearly destroyed his career. For the rest of his life Monroe believed that the United States had not done enough to support the republican cause in France. During the next two decades as Monroe made his way up the political ladder he came to understand that only by first achieving high political office could he acquire the power to cement his legacy as a republican champion. Monroe finally tried to make up for his and the country's failure in Revolutionary France and secure his legacy with the Monroe Doctrine. Monroe saw the Doctrine as his last, best chance to cement his legacy as a champion of the republican cause. He hoped to use it as a signal to the world that the United States would support any people who hoped to throw off the shackles of monarchy and follow in the footsteps of the United States by embracing the republican experiment. He hoped that championing the republican experiment in the west would be his legacy to the world. It would allow him to stand beside men like his mentor Jefferson and be remembered as the Revolution's greatest diplomat helping to spread republicanism around the globe.
Link
https://repository.tcu.edu:443/handle/116099117/4423
Date
2012
Subject
Monroe, James, 1758-1831 Political and social views.

---

Monroe doctrine.

---

Presidents United States Biography.

---

United States Politics and government 1783-1865.
This item appears in the following Collection(s)