"Home is where the maker is" [electronic resource] : rhetorical genre in the homemaking blog /Show full item record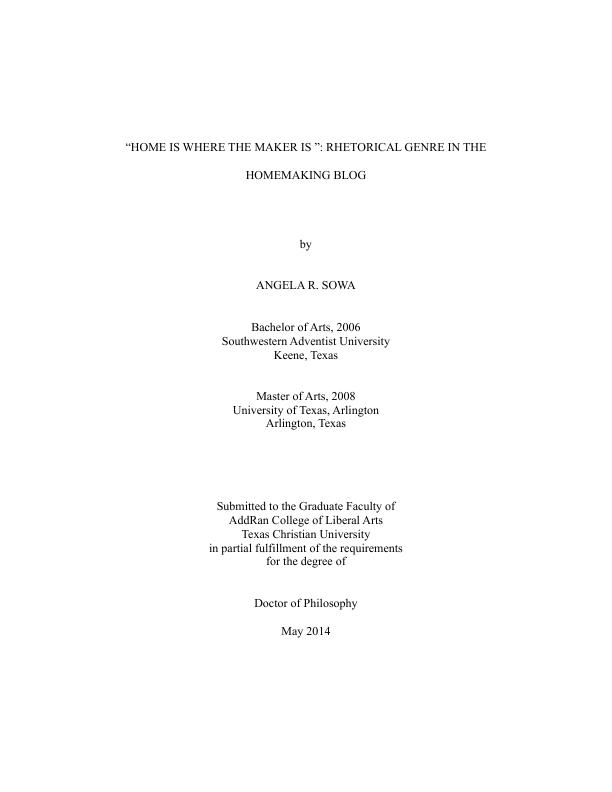 Title
"Home is where the maker is" [electronic resource] : rhetorical genre in the homemaking blog /
Author

Sowa, Angela Renae

Description
Title from dissertation title page (viewed Jun. 17, 2014).

---

Includes abstract.

---

Thesis (Ph.D.)--Texas Christian University, 2014.

---

Department of English; advisor, Charlotte Hogg.

---

Includes bibliographical references.

---

Text (electronic thesis) in PDF.

---

Conservative women bloggers constitute a growing force, both economically and ideologically, in the United States. However, despite their influence, they are seldom subjects of academic research, and their public writings remain largely unexamined, particularly in the field of rhetoric. Because of their cultural importance and their academic underrepresentation, conservative women bloggers are an ideal demographic for study. This project seeks to explore the intersections between these women's online writing and rhetorical genre theory, a lens that enables us to see the complex systemic and individual rhetorical choices these women make. Based in qualitative data drawn from 78 homemaking blogs, this study works to deepen understanding of how one particular virtual community works to uphold, reinforce, and police ideology through genre. Drawing on work from Amy Devitt, Anis Bawarshi, Anne Freadman, Michael Warner, and Dale Sullivan, among others, this project examines how, through homemaking blogs, conservative Christian women construct a virtual community, reinforce common ideologies, and police the boundaries of their community. The rhetorical choices these authors make, and the ways in which the blogs' readers reinforce or challenge such choices, create discursive spaces from which complex rhetorical and generic acts emerge. The study of such spaces enriches our understanding of women's literate lives, as well as adding to and complicating our understanding of how genres function in new media.
Link
https://repository.tcu.edu/handle/116099117/4552
Date
2014
Subject
Women conservatives United States Blogs.

---

Christian women United States Blogs.

---

Homemakers Blogs.

---

Blogs United States.

---

Rhetoric.

---

Literary form.

---

Internet Social aspects.
This item appears in the following Collection(s)