The double bass in the Chinese symphony orchestra and the national orchestraShow full item record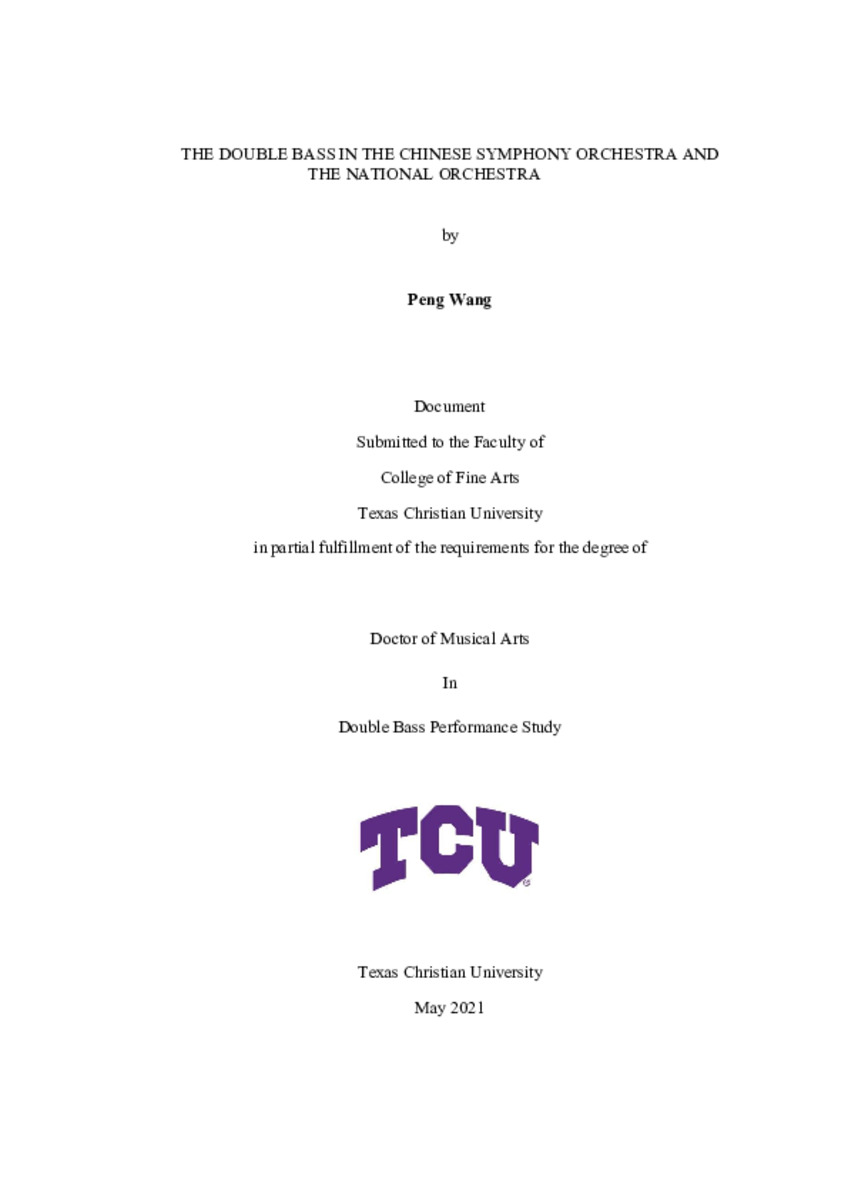 Title
The double bass in the Chinese symphony orchestra and the national orchestra
Author

Peng, Wang

Date
4/15/2021
Genre
Dissertation
Degree
Doctor of Musical Arts
Abstract
This study provides information on how the double bass was introduced to China as well as the development of the double bass in Chinese national orchestras and Western-style symphony orchestras in China. The cultural exchange between China and other countries and how Western musicians and missionaries brought the instrument to China is described in this document. Also, the document includes a discussion of some of the first orchestras and musical institutions in China before 1949 and the presence of Western musicians teaching and playing music in China. The researcher offers accounts of the double bass' development after 1949, the double bass in Chinese symphony orchestras, exchange activities between Chinese and foreign symphony orchestras, orchestral training, and use of the double bass in different genres of music, such as Chinese Revolutionary Modal Opera. Furthermore, the document will concentrate on the double bass in Chinese "national orchestras", including research on the continuing development of various bass stringed instruments in Chinese national orchestras.
Link
https://repository.tcu.edu/handle/116099117/47690
Department
Music
Advisor
Adkins, Elisabeth

---

Lu, Yuan Xiong
This item appears in the following Collection(s)
Related items
Showing a few items related by title, author, creator and subject.
Briggs, Matthew,1991-

(

2015

)

This double concerto was born out of my reaction to the complete lack of repertoire for the celesta. I added the bassoon to provide the celesta with musical support; its timbre works well with that of the celesta, providing ...