Developmental Language Disorders: A Survey Of Knowledge From Professionals Working Within The Justice SystemShow full item record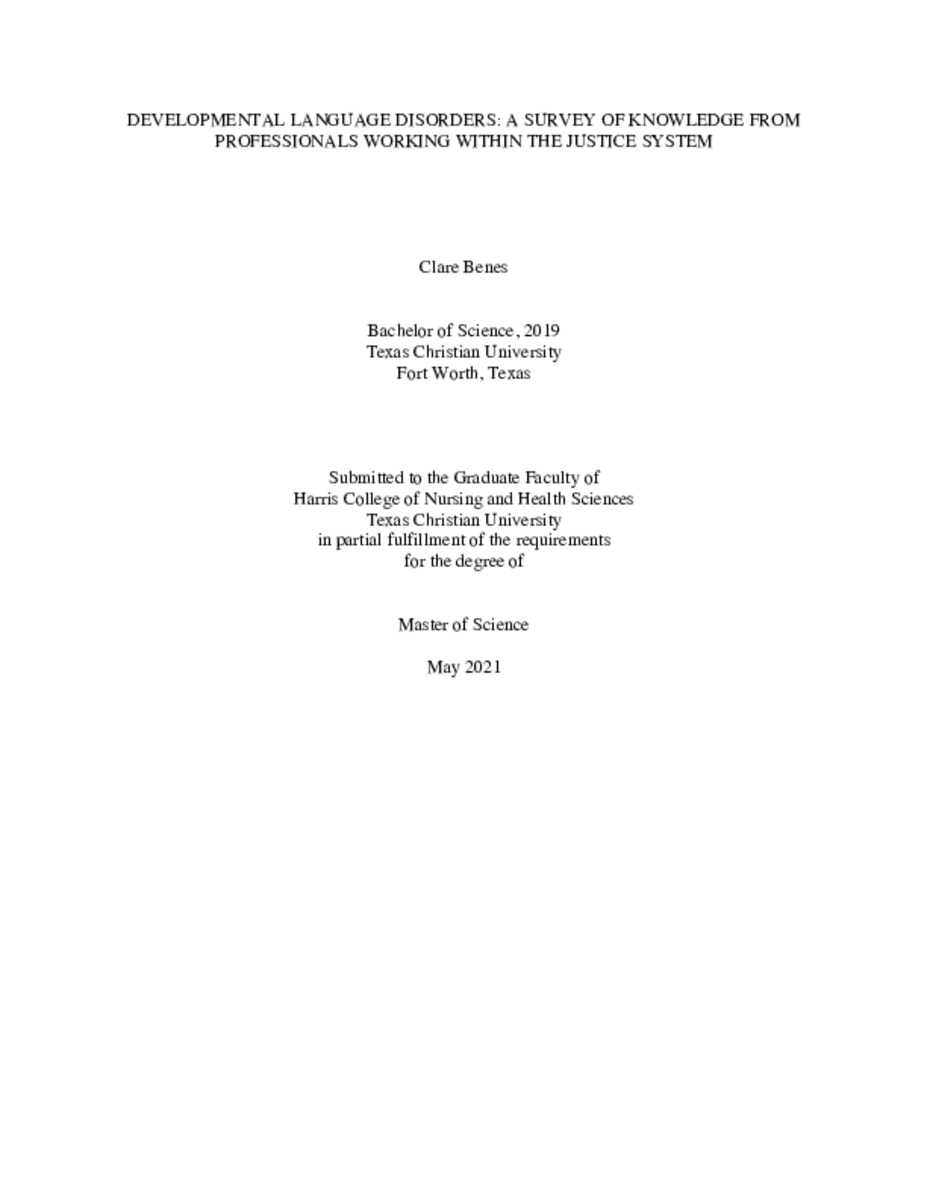 | | |
| --- | --- |
| Title | Developmental Language Disorders: A Survey Of Knowledge From Professionals Working Within The Justice System |
| Author | Benes, Clare |
| Date | 2021 |
| Genre | Thesis |
| Degree | Master of Science |
| Abstract | This study evaluates the knowledge professionals in the justice system have related to Developmental Language Disorders (DLD). One hundred and thirty-six adults in Texas with law-enforcement jobs, primarily police officers, participated in this study. Participants completed a survey consisting of 78 questions about their background, experiences with DLD and beliefs about communication. Results indicate that 69% of law enforcement officers were unfamiliar with DLD or its characteristics. At least 25% of respondents connected a person's credibility with communication, and 30% responded that they were not sure that accommodations should be made for struggles with language. However, 90% of respondents wanted to learn how to better serve people with DLD. This data demonstrates a substantial need for interprofessional collaboration between the fields of speech-language pathology and the criminal justice system. and provide a basis for the development of collaborative training programs. |
| Link | https://repository.tcu.edu/handle/116099117/47957 |
| Department | Communication Sciences and Disorders |
| Advisor | Lund, Emily |
This item appears in the following Collection(s)
Related items
Showing a few items related by title, author, creator and subject.
The focus of this study was to examine how foreign language teachers develop the second language vocabulary of their students in the classroom. The literature on this topic includes a wide variety and large history of ...

The present study aimed to investigate the characteristics of, the relationship between, and the effects of gender, age, and prior schooling on newcomer English language learners (ELLs) academic language proficiency (ALP) ...