Resonances: An Investigation of the Perceived Identity of an HEI Through the Experiences and Values of its NeighborsShow full item record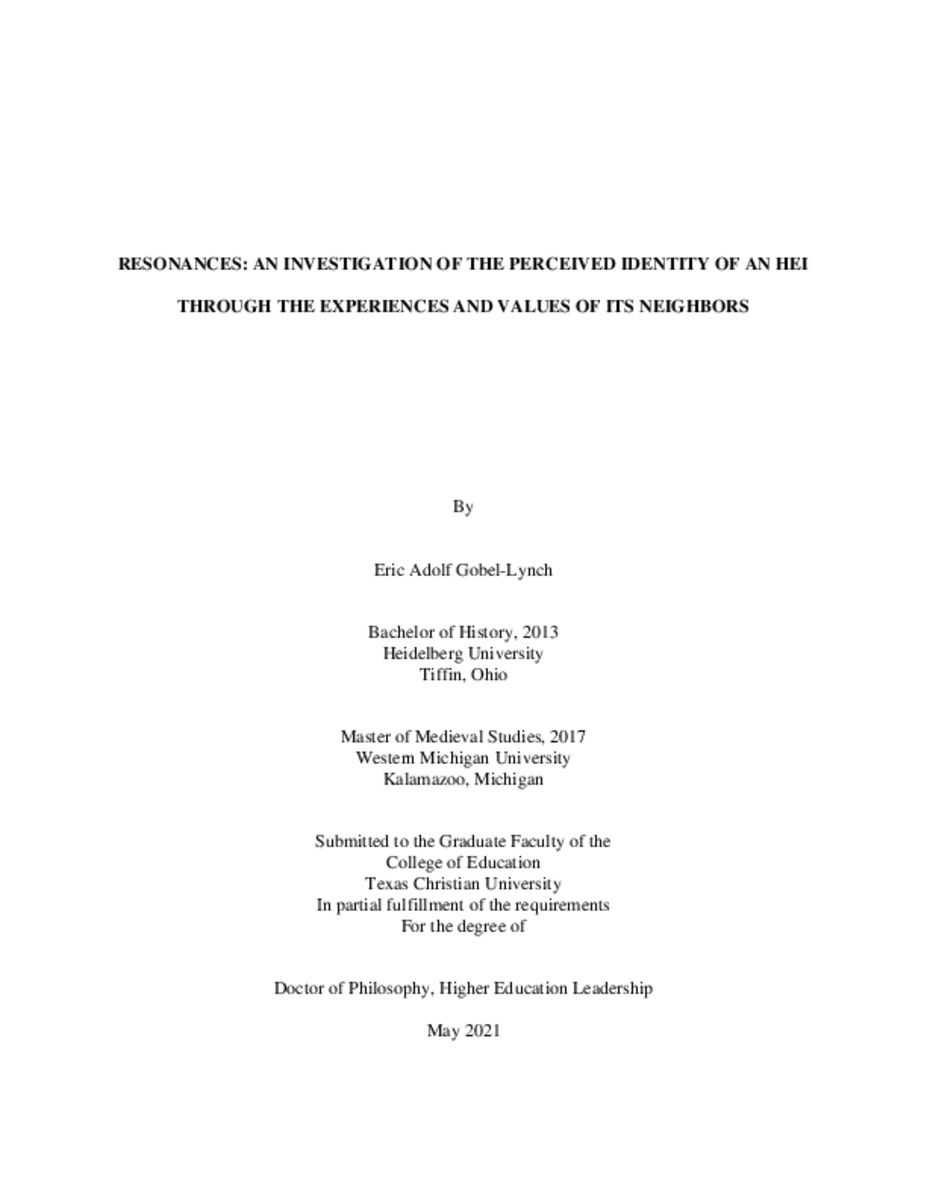 | | |
| --- | --- |
| Title | Resonances: An Investigation of the Perceived Identity of an HEI Through the Experiences and Values of its Neighbors |
| Author | Gobel-Lynch, Eric |
| Date | 4/29/2021 |
| Genre | Dissertation |
| Degree | Doctor of Philosophy |
| Abstract | Higher education institutions and their host communities are necessarily intertwined. Town and gown systems continually interact, influencing and defining one another as they do. For most residents of the broader community, a college's identity is comprised of pieces of information learned through dozens and hundreds of these interactions. This perceived identity may drastically differ from the one intended to be projected out into the world by the institution, which is felt and interpreted within individual contexts. This study used qualitative interviews and quantitative modeling to examine the identity of a specific college, North Texas Private School (NTPS) through the perceptions of residents in its community. Participants saw NTPS as a place of learning, privilege, and surprises. Interactions with the school resonated and had conflict with community members' intrapersonal, interpersonal, and communitarian values. |
| Link | https://repository.tcu.edu/handle/116099117/47958 |
| Department | Education |
| Advisor | Allen, Taryn Ozuna |
This item appears in the following Collection(s)
Related items
Showing a few items related by title, author, creator and subject.
Edwards, Michael Eric

(

4/20/2021

)

Charitable giving has been a critical resource for higher education dating back to the Academy of Socrates and Plato. It continued through the establishment of Oxford, Cambridge, Harvard, and Yale, and in 2020, American ...

In this thesis, I argue for a sufficientarian conception of justice in higher education. I discuss the goods that higher education confers to its graduates, what a just distribution of those goods entails, and some reforms ...

The purpose of this study is to understand the relationship between customer advocacy and brand reputation in a non-profit context, specifically using Texas Christian University (TCU) as a case study. Customer advocacy is ...