Progression, Regression, and Equivalent Exchange: How Fullmetal Alchemist Addresses Coping with TraumaShow full item record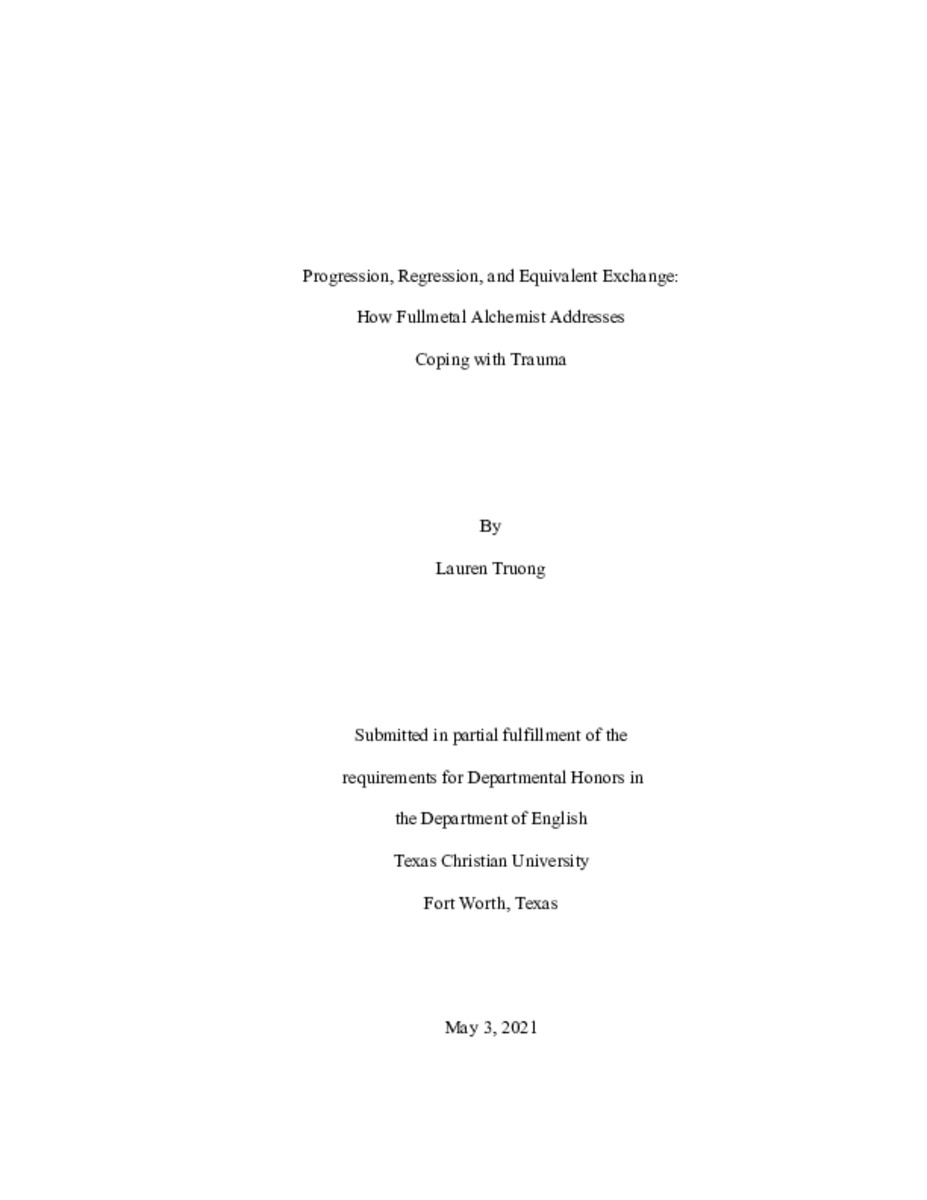 | | |
| --- | --- |
| Title | Progression, Regression, and Equivalent Exchange: How Fullmetal Alchemist Addresses Coping with Trauma |
| Author | Truong, Lauren |
| Date | 2021 |
| Abstract | Trauma is and continues to be an experience that has affected many, if not all, people but has yet to become as well understood as other human experiences simply due to the complexity of its conception and development among a variety of people, environments, and circumstances. Many have attempted to unravel the mystery that is trauma, beginning with analyzing the coping mechanisms that trauma survivors have used, including many with which we are familiar, such as avoidance, denial, or confrontation. While some took to scientific research and analysis, others used different media such as art or literature, one of whom is Hiromu Arakawa in her graphic novel, Fullmetal Alchemist, and its anime adaptation, Fullmetal Alchemist: Brotherhood. This study explores the characters' storylines, trauma, and coping mechanisms in relation to the overarching plot to reveal how Arakawa utilizes trauma theories and explores coping mechanisms to present and comment on the methods that survivors use to heal from their trauma. This analysis is based upon a combination of psychological studies and meta-analyses concerning trauma and its categorical coping mechanisms compared to the characters and their trauma in Fullmetal Alchemist: Brotherhood. Particularly, they will be examined for their relevance in the development of Arakawa's characters, story, and the overarching theme of healing from trauma. By examining both psychological studies and Arakawa's fictional characters, this project will contribute to the movement of coping with trauma through the arts. [Content Warning: images may depict violence, blood, gore, body disfigurement, etc.] |
| Link | https://repository.tcu.edu/handle/116099117/49079 |
| Department | English |
| Additional Date(s) | 2021-05-19 |
This item appears in the following Collection(s)
Related items
Showing a few items related by title, author, creator and subject.
Compton, Catherine J.

(

2014

)

The health literacy of minorities in the United States is of major concern to citizens and healthcare providers alike. Low health literacy, coupled with limited-English proficiency (LEP), leads to poor healthcare outcomes ...

The present experiments were designed to investigate transfer of tolerance to frustration between consummatory (cSNC) and anticipatory tasks (autoshaping and taste conditioning). The initial finding (Experiments 1-2) were ...