New methodologies for the synthesis of chiral phosphorus acids and related compoundsShow full item record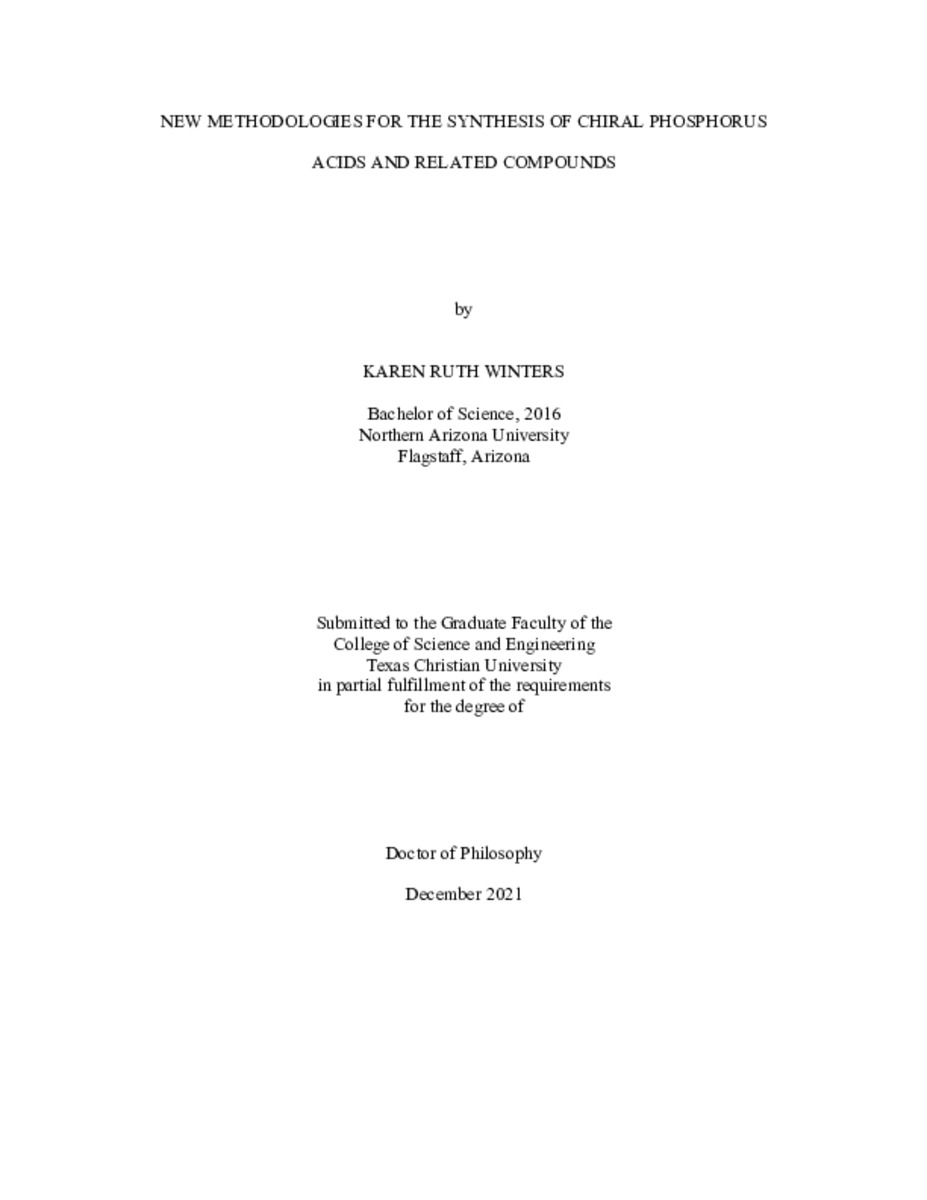 | | |
| --- | --- |
| Title | New methodologies for the synthesis of chiral phosphorus acids and related compounds |
| Author | Winters, Karen |
| Date | 12/3/2021 |
| Genre | Dissertation |
| Degree | Doctor of Philosophy |
| Abstract | Organocatalysis has become a major subdiscipline in (asymmetric) organic synthesis. Among chiral organocatalysts, C2-symmetrical chiral phosphorus acids (CPAs) occupy a rather special place because they can catalyze numerous transformations as Brønsted acids, however, they suffer from serious limitations such as: extremely high cost (they are much too expensive for use on an industrial scale, and often too expensive even on much smaller academic scales), very high molecular weight, inability to access both enantiomers without a significant and separate synthetic effort, difficulty in catalyst-immobilization, etc. In order to solve these problems, which hamper the broader uses and applications of CPAs, our proposed approach is to rely on compounds in which the phosphorus atom is chiral (called P-stereogenic, P-chiral, or P-chirogenic) but the rest of the molecule is not. This dissertation presents our development and research findings for the synthesis of chiral phosphorus acids as well as their application in asymmetric organocatalysis. |
| Link | https://repository.tcu.edu/handle/116099117/49745 |
| Department | Chemistry and Biochemistry |
| Advisor | Montchamp, Jean-Luc |
Files in this item
Name:

WintersKaren_dissertation.pdf

Size:

6.664Mb

Format:

PDF
This item appears in the following Collection(s)
Related items
Showing a few items related by title, author, creator and subject.
The work in this dissertation deals with the continued development of new methodologies for P-C and P-O bond formation using alternative methods that avoid the use of PCl3. A review of the relevant literature that proceeds ...

Berger, Olivier; Montchamp, Jean-Luc

(

2016-07-13

)

Easily prepared menthyl phosphinates of high diastereoisomeric purity provide versatile intermediates for the synthesis of P-stereogenic compounds. Previous efforts starting about fifty years ago have been hampered by a ...

Hasan, Md. Tanvir; Campbell, Elizabeth; Sizova, Olga; Lyle, Veronica; Akkaraju, Giridhar R.; Kirkpatrick, D. Lynn; Naumov, Anton V.

(

2019-08-14

)

Single-walled carbon nanotubes (SWCNTs) can serve as drug delivery/biological imaging agents, as they exhibit intrinsic fluorescence in the near-infrared, allowing for deeper tissue imaging while providing therapeutic ...