The Impact of a Novel Note-Taking Intervention and Lesson Overview on Main Idea Identification in Students' NotesShow full item record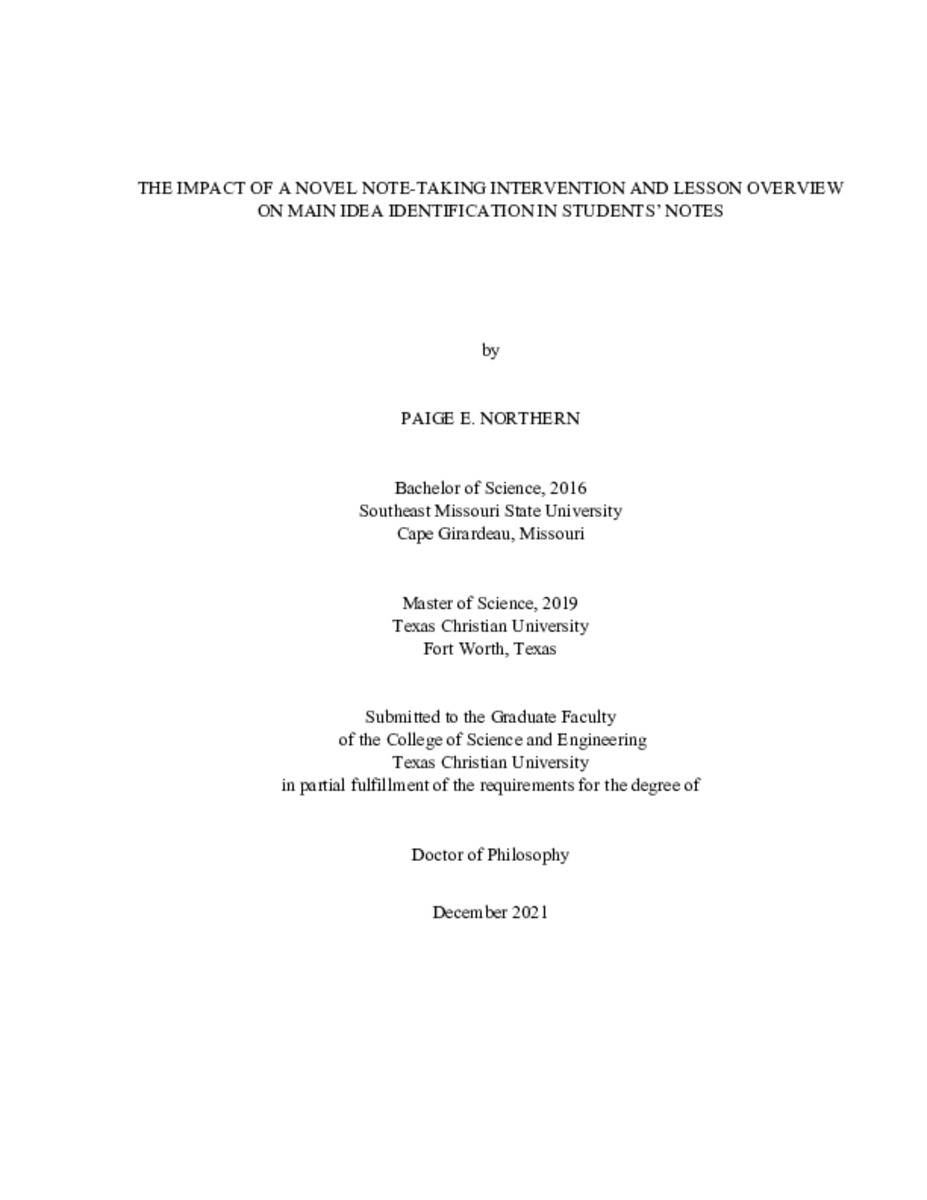 | | |
| --- | --- |
| Title | The Impact of a Novel Note-Taking Intervention and Lesson Overview on Main Idea Identification in Students' Notes |
| Author | Northern, Paige Elizabeth |
| Date | 12/7/2021 |
| Genre | Dissertation |
| Degree | Doctor of Philosophy |
| Abstract | Many students take notes during classes to facilitate their learning of class content. However, students experience challenges during note-taking, particularly with identifying and including main ideas from a lecture in their notes. The goal of the current experiments was to explore the circumstances in which students can successfully identify and include main ideas in their notes. To do so, students in Experiments 1, 2 and 3 received either a novel note-taking intervention aimed at improving their abilities to identify main idea units in their notes or they did not. Then, students watched a lecture video while taking notes, completed a short-answer test, rated the instructor on a series of evaluation items, and answered questions gauging their note-taking beliefs and strategies. Experiment 2 included two groups that watched a lecture video that included a lesson overview at the beginning of the lecture. Experiment 3 further included a group that watched a lecture video with a detailed lesson overview. Of most interest, in Experiments 1 and 3, participating in the note-taking intervention did not impact students' identification of main idea units in their notes. In Experiment 2, students who watched a lecture video with a lesson overview identified significantly fewer main idea units in their notes compared to students who watched a lecture video without a lesson overview, and this was especially true for students who participated in the note-taking intervention and watched the lecture with a lesson overview. Students believed that a lesson overview is beneficial for students' identification of main idea units and test performance and that a conventional note-taking strategy is beneficial for main idea unit identification and test performance. |
| Link | https://repository.tcu.edu/handle/116099117/49751 |
| Department | Psychology |
| Advisor | Tauber, Uma K. |
This item appears in the following Collection(s)
Related items
Showing a few items related by title, author, creator and subject.
Ciesielski, Cami

(

2022-07-08

)

The current experiments examined how an offloading modality may influence cognitive load and performance in a memory task. Based on previous research, it was hypothesized that participants would have lower performance and ...

Gray, Julie; Pankow, Jennifer; Lehman, Wayne E.; Rowan, Grace A.; Knight, Kevin

(

2015

)

During the first 5 years of the Disease Risk Reduction Project, an in-prison intervention curriculum was developed and tested that focused on decreasing risky sexual and drug use behaviors after release. The WaySafe ...

Papini, Mauricio R.

(

2014

)

This review focuses on reward-schedule effects, a family of learning phenomena involving surprising devaluations in reward quality or quantity (as in incentive contrast), and reward omissions (as in appetitive extinction), ...