The Impact of a Novel Note-Taking Intervention and Lesson Overview on Main Idea Identification in Students' NotesShow full item record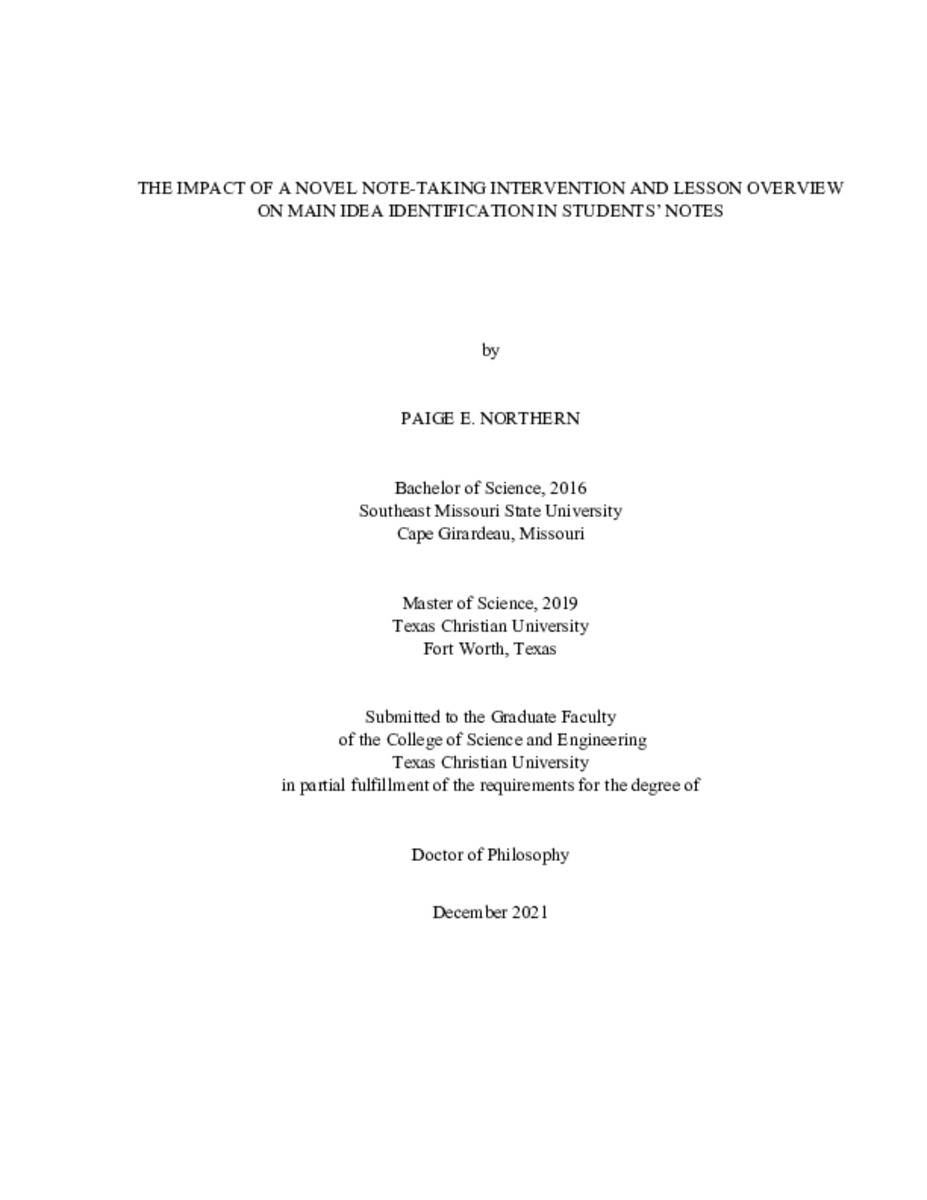 Title
The Impact of a Novel Note-Taking Intervention and Lesson Overview on Main Idea Identification in Students' Notes
Author
Northern, Paige Elizabeth
Abstract
Many students take notes during classes to facilitate their learning of class content. However, students experience challenges during note-taking, particularly with identifying and including main ideas from a lecture in their notes. The goal of the current experiments was to explore the circumstances in which students can successfully identify and include main ideas in their notes. To do so, students in Experiments 1, 2 and 3 received either a novel note-taking intervention aimed at improving their abilities to identify main idea units in their notes or they did not. Then, students watched a lecture video while taking notes, completed a short-answer test, rated the instructor on a series of evaluation items, and answered questions gauging their note-taking beliefs and strategies. Experiment 2 included two groups that watched a lecture video that included a lesson overview at the beginning of the lecture. Experiment 3 further included a group that watched a lecture video with a detailed lesson overview. Of most interest, in Experiments 1 and 3, participating in the note-taking intervention did not impact students' identification of main idea units in their notes. In Experiment 2, students who watched a lecture video with a lesson overview identified significantly fewer main idea units in their notes compared to students who watched a lecture video without a lesson overview, and this was especially true for students who participated in the note-taking intervention and watched the lecture with a lesson overview. Students believed that a lesson overview is beneficial for students' identification of main idea units and test performance and that a conventional note-taking strategy is beneficial for main idea unit identification and test performance.
Link
https://repository.tcu.edu/handle/116099117/49751
Date
2021-12-07
Subject
Experimental psychology

---

Psychology

---

Cognitive psychology

---

Note taking

---

Evaluations

---

Learning

---

Lecture
Medium
Format: Online
This item appears in the following Collection(s)
Related items
Showing a few items related by title, author, creator and subject.
Haynes, Micah Dawes

(

[Fort Worth, Tex.] : Texas Christian University,

,

2015

)

The elements of a persuasive message can have serious implications for its effect on recipients. For purveyors of persuasive health communication messages, the boomerang effect of psychological reactance, during which ...