The strength of association between self-perceived voice handicap and laryngeal function study measurementsShow full item record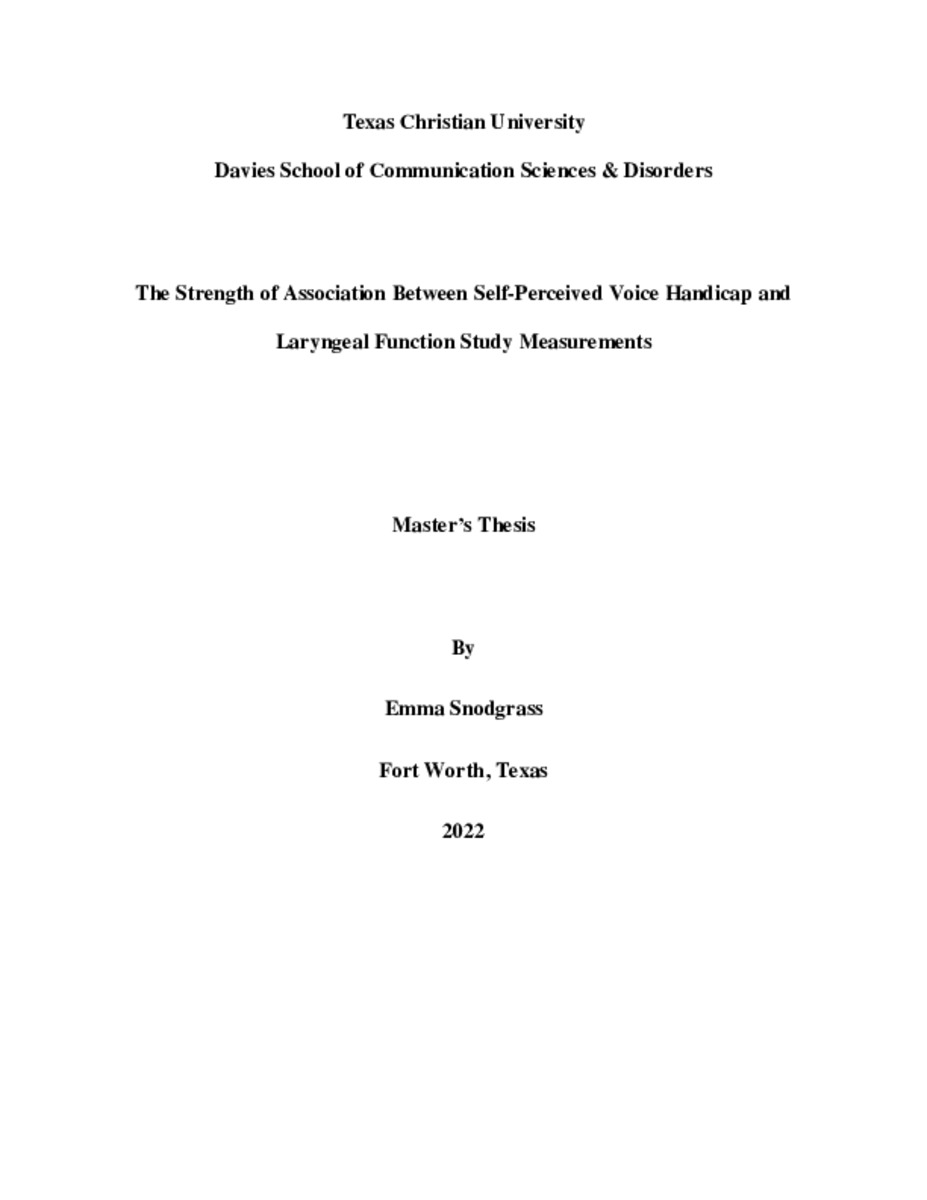 | | |
| --- | --- |
| Title | The strength of association between self-perceived voice handicap and laryngeal function study measurements |
| Author | Snodgrass, Emma Paige |
| Date | 2022-05-03 |
| Genre | Thesis |
| Abstract | Purpose: Historically research has found no significant correlation between clinical measures of voice and patient-perceived voice handicap, or significant but weak correlations between the two. This study aimed to further expand the clinical understanding of the relationship between acoustic, aerodynamic, and auditory-perceptual measures of voice to patient-perceived voice Methods: The following data were extracted from an existing database from a private practice community voice clinic: (1) auditory perceptual ratings of voice quality (Consensus Auditory- Perceptual Evaluation of Voice, CAPE-V), (2) maximum phonation time (MPT), (3) Acoustic Voice Quality Index (AVQI) scores, and (4) Voice Handicap Index scores (VHI-30 or VHI-10). All data represent measurements at pre-treatment, prior to the application of any voice therapy. Because part of the sample was administered the VHI-30 before the practice switched to administering the VHI-10, data was split into VHI-30 and VHI-10 subgroups for all data analyses. ANOVAs were applied to the data set to determine the effect of disorder on each measurement, and bivariate correlation was also performed in order to determine the correlation between pre-treatment measures of voice (AVQI, MPT, CAPE-V) and patient-perceived voice handicap (VHI-30, VHI-10). Results: The results of this study found that objective measures of voice did not correlate strongly with patient perceptions of voice handicap, while subjective measures of voice quality were more strongly associated with the patient's perception of voice handicap. Results also indicated that disorder type affected clinical measures for the VHI-30 subgroup to a greater extent than the subgroup who completed the VHI-10. Conclusion: Future studies may wish to further examine the strength of the relationship between MPT, AVQI, and CAPE-V for both the VHI-30 and the VHI-10, particularly in other languages. Future studies may also examine the effect of demographics such as age, gender, and occupation on the correlation between these measures. |
| Link | https://repository.tcu.edu/handle/116099117/52829 |
| Department | Communication Sciences & Disorders |
| Advisor | Watts, Christopher R. |
This item appears in the following Collection(s)
Related items
Showing a few items related by title, author, creator and subject.
Dumican, Matthew J.; Watts, Christopher R.

(

2020-07-28

)

Background: Dysphagia in Parkinson's disease (PD) is a common manifestation, particularly in advanced disease stages. However, the pathophysiology and time course of dysphagia progression remains unclear in non-advanced ...

Watts, Christopher R.; Dumican, Matthew J.

(

2018-05-08

)

Background: The purpose of this study was to investigate the effect of transcutaneous neuromuscular electrical stimulation (NMES) on the timing of laryngeal vestibule closure during the pharyngeal stage of swallowing in ...

McMullan, Paige Marie

(

2016

)

Purpose: This investigation compared high-cost and low-cost options for obtaining acoustic and aerodynamic voice measures and evaluated differences between males and females for each of the dependent variables. Methodology: ...