Blank spaces: global geographies of moral capitalism in the Anti-Slavery Reporter 1831-1833Show full item record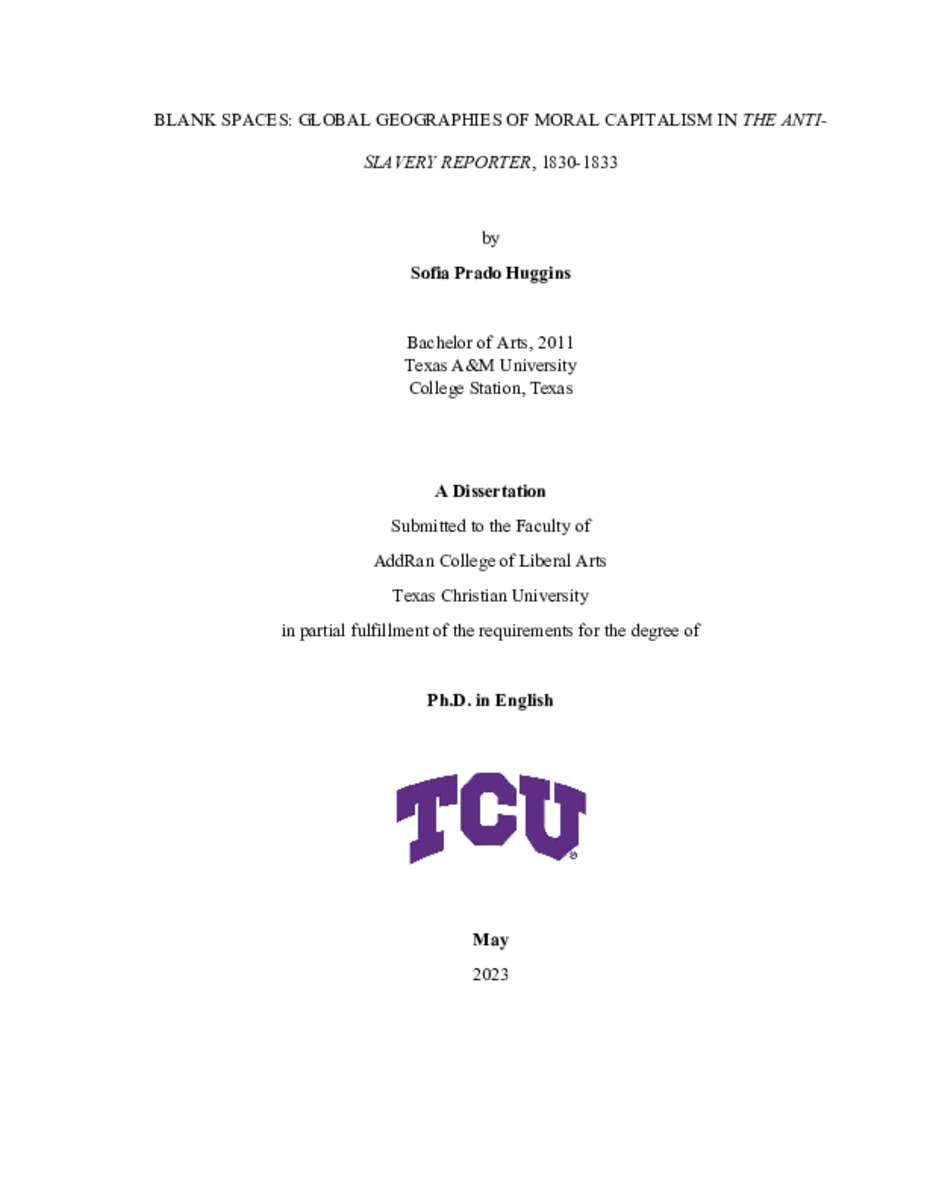 Title
Blank spaces: global geographies of moral capitalism in the Anti-Slavery Reporter 1831-1833
Author
Huggins, Sofia Prado
Date
2023-05-01
Genre
Dissertation
Abstract
I argue that the Anti-Slavery Reporter, the flagship periodical of the British Anti-Slavery Society, contributed to the geographic marginalization of people of color in the British empire by emphasizing the role of white activists, rather than the experiences of Black people, in the struggle to end colonial slavery. While the Reporter has garnered some attention as a product of the religious press in early nineteenth-century Britain, my project is the first sustained analysis of how the periodical crafted a discourse of liberal reform that advanced the expansion of Britain's imperial project. By focusing on white morality, the British anti-slavery movement extended the perceived inevitability of British colonialism as a project of social uplift. This dissertation historizes the centering of whiteness in liberal progressivism, tracing the Enlightenment concepts of sympathy, self-possession, and stadial theory that undergirded the trope of the white savior in the Reporter. In the first chapter, I analyze how layout, footnotes, and descriptions of violence in the Reporter encouraged white British readers to witness Black suffering to reflect on their own sympathetic pain. The second chapter details how the periodical used the concept of the self-possessed individual and stadial theory to reframe the Jamaica Slave Rebellion of 1831 as evidence direct British governance was necessary in the West Indian colonies. I also trace a counter-genealogy of Black political thought which centered relationships rather than property in its conception of political subjectivity. In the next chapter, I demonstrate how the Anti-Slavery Reporter employed stadial theory alongside the emerging conventions of geographic texts in the nineteenth century to suggest that only British colonialism could lift western Africa out of darkness. In the epilogue, I analyze how the Reporter's successor, the British Emancipator, continued to center whiteness in its opposition to the importation of indentured servants from South Asia to the former slave colonies such as British Guiana. Guyanese poet David Dabydeen's poetry in Coolie Odyssey provides insights into the ways the liberal progressivist discourse of the Anti-Slavery Reporter continues to affect those living in the former British colonies, but also how collective memory preserves community in ways that resist colonization.
Description
aleph-7210479
Link
https://repository.tcu.edu/handle/116099117/58227
Department
English
Advisor
Hughes, Linda K.

---

Robbins, Sarah R.
Files in this item
Name:

HugginsSofia_dissertation.pdf

Size:

2.343Mb

Format:

PDF
This item appears in the following Collection(s)