Majority Matters: A Study of Judicial Confirmation Prospects to the U.S. Circuit Courts of AppealsShow full item record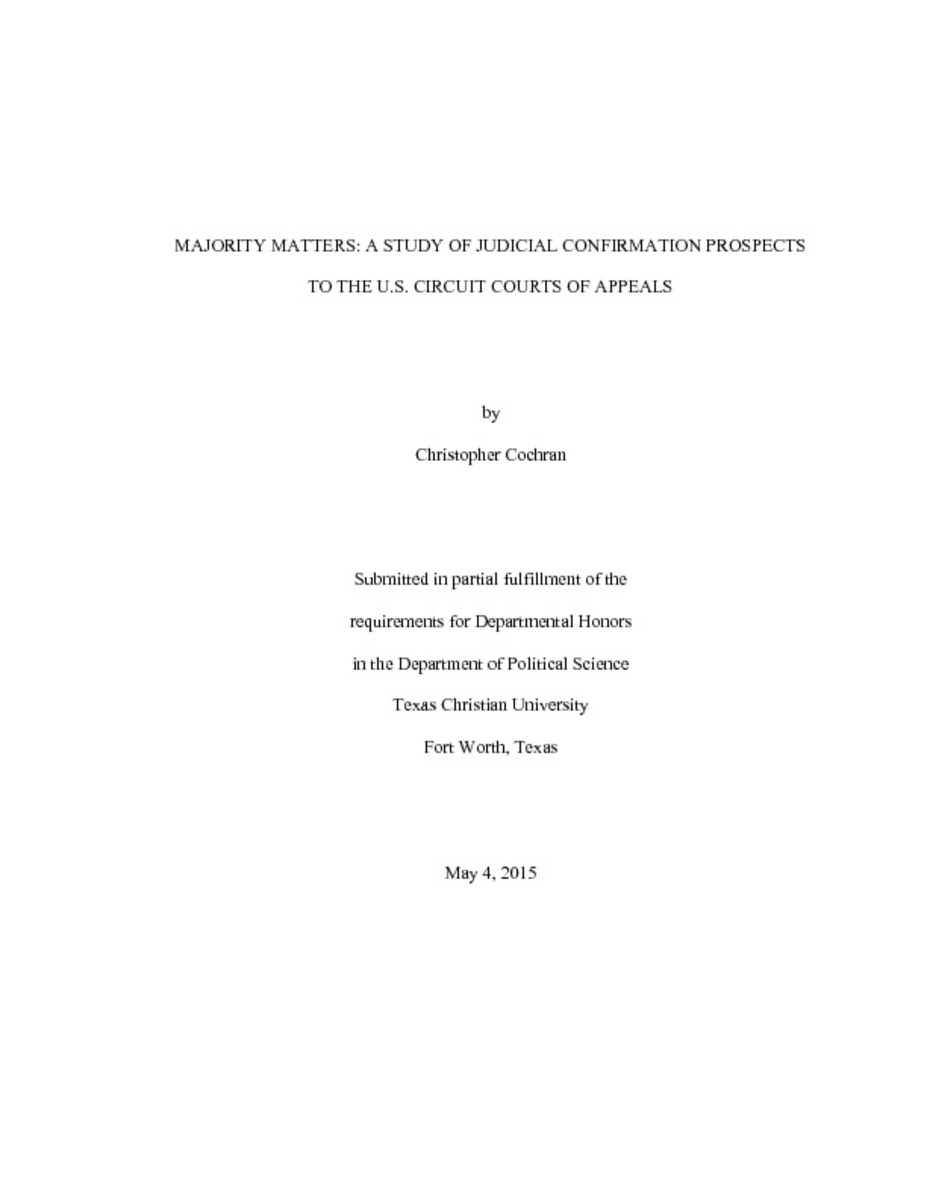 Title
Majority Matters: A Study of Judicial Confirmation Prospects to the U.S. Circuit Courts of Appeals
Author

Cochran, Chris

Abstract
Capturing a majority of seats in congress has become a zero-sum game for the Republican and Democratic parties as they seek to either bolster their parties abilities to pass laws that are favorable, or hinder the ability of their opponents to pass laws that are unfavorable with their political beliefs. While both parties can run candidates to capture such positions in congress, and every four years, the presidency, the one area that escapes this quest is the judiciary. As the President must nominate, and the senate must confirm such judge-hopefuls, this falls outside the direct control of the party, and instead falls into the hands of the parties elected officials. The hope is that the party in office will nominate candidates who ideologically match their views, and will be consistent in making rulings with those beliefs. Should a nominee make it through the Senate Judiciary Committee, confirmation of this candidate, however, may still be blocked if the president faces a strong enough opposition within the senate. Recently, Supreme Court Justice Ruth Bader Ginsberg has stated she will not retire this term due to the inability of President Barack Obama to "successfully appoint anyone [she] would like to see in the court." This situation exemplifies a situation in which the President faces opposition control of the senate, and would be unable to appoint a judge with a matching ideology. While this has been noticed to occur at the highest level of the U.S. court system, much less attention has been paid to the lower courts, particularly the U.S. Circuit Courts of Appeals, which hear and decide upon many more cases in a given year than the Supreme Court.  
Link
https://repository.tcu.edu/handle/116099117/10295
Subject
Political Science

---

Judiciary

---

Judges

---

Circuit Courts of Appeals

---

U.S.
This item appears in the following Collection(s)