Viral Marketing for Nonprofits: A Study of the ALS Ice Bucket Challenge and KONY 2012 CampaignShow full item record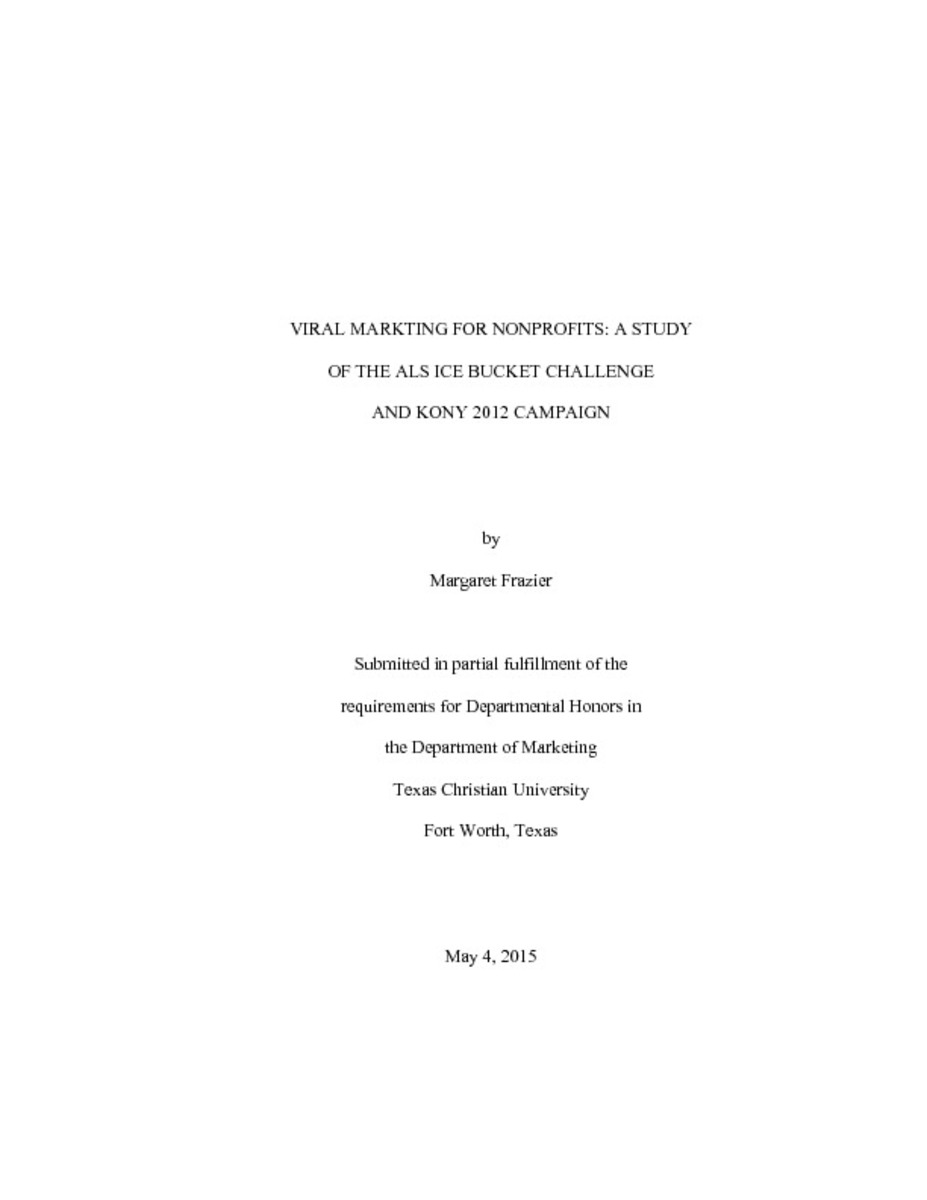 | | |
| --- | --- |
| Title | Viral Marketing for Nonprofits: A Study of the ALS Ice Bucket Challenge and KONY 2012 Campaign |
| Author | Frazier, Margaret |
| Date | 2015 |
| Abstract | The ALS Ice Bucket Challenge and KONY 2012 video campaigns exemplify the extensive amounts of potential that social media marketing can bring to a nonprofit organization. This study explores various elements of social media marketing in the nonprofit context, including factors that influence charitable giving, the social network effect, and the spread of viral content. The ALS Ice Bucket Challenge and KONY 2012 videos are then analyzed according to a framework of virality, mapping out the specific drivers that lead to each campaign's success. Through this analysis, nonprofits can gain a better understanding of the benefits of social media marketing and the different elements that drive a viral campaign. |
| Link | https://repository.tcu.edu/handle/116099117/10324 |
| Department | Marketing |
| Advisor | Baker, Julie |
| Additional Date(s) | 2015-05-01 |
This item appears in the following Collection(s)
Related items
Showing a few items related by title, author, creator and subject.
This thesis focused on the methods that advertisers in the United States use to reach a young, bilingual Hispanic audience. I examined the Hispanic demographic within the United States itself as it transitions from generations ...

As universities within the United States continue to emphasize creating diverse and inclusive campus environments, many researchers and individuals have highlighted the lack of accurate depictions of undergraduate campus ...