Evolving Auction Catalogs: How Auction Houses Convince People To Buy ArtShow full item record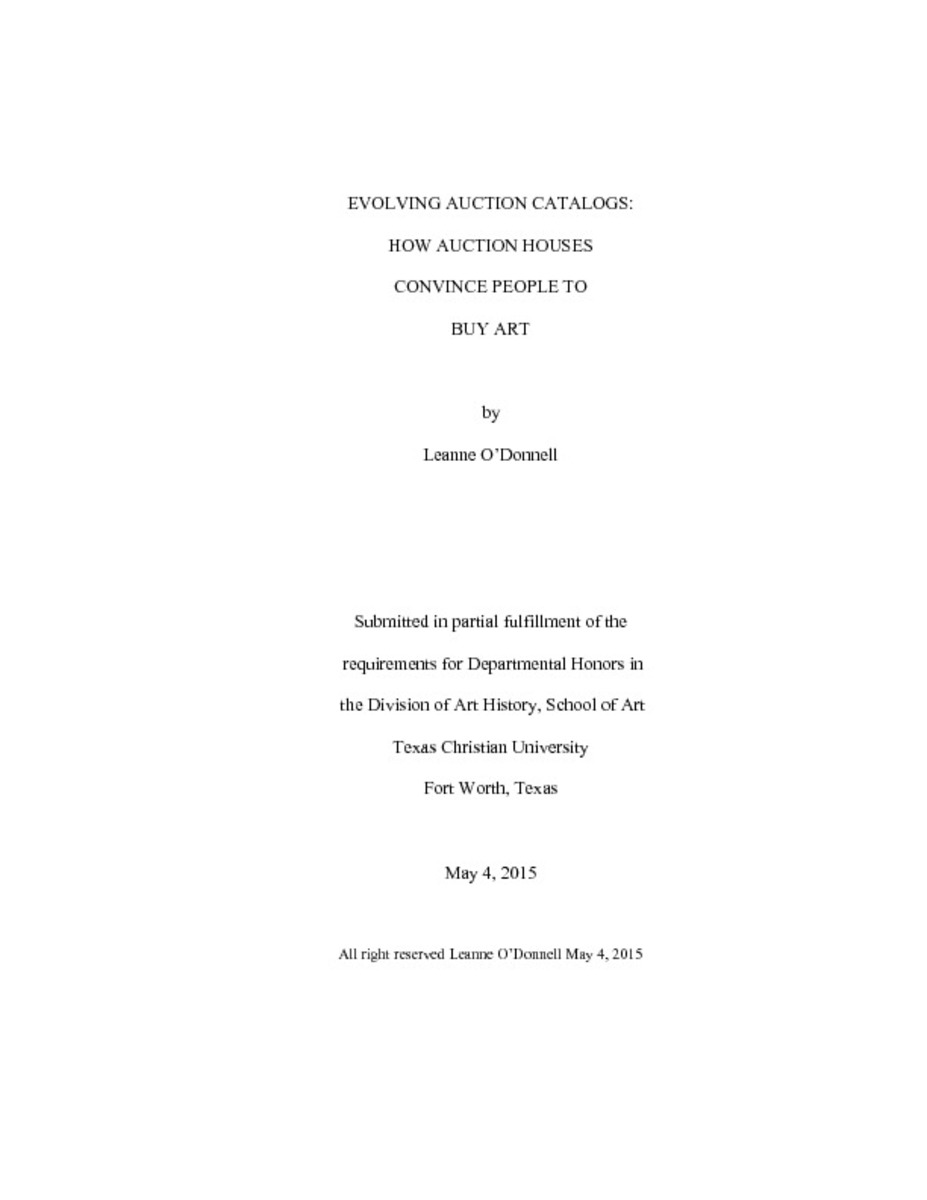 | | |
| --- | --- |
| Title | Evolving Auction Catalogs: How Auction Houses Convince People To Buy Art |
| Author | O'Donnell, Leanne |
| Date | 2015 |
| Abstract | This paper analyzes the changes in auction catalog content from 1990-2014, in specific the content of catalog descriptions for individual lots in Impressionism and Modern Art auction sale catalogs from Sotheby's and Christie's. Auction catalogs are the primary source of marketing that gives the potential client all of the information they need and expect prior to making a purchase at auction. Because auctions are the primary venue for establishing monetary valuations for art on the global market, these catalog lot entries have major effects on standards of art valuation by influencing the buyers that set those standards with their purchasing records. Since 1990, the amount and type of information an auction house feels is necessary to induce a client to buy has drastically changed. Most notably, lot essays have become the norm, and the amount of information included in each lot entry has increased. This paper will demonstrate that the shift to extended content within lot entries was important and necessary to include in catalogs beyond 1990, and will examine how auction houses determined what content should be included in the changing catalog entries. I will then make suggestions for hallmarks of the next phase of the auction catalog genre-- the Internet catalog. |
| Link | https://repository.tcu.edu/handle/116099117/10402 |
| Department | Art |
| Additional Date(s) | 2015-05-01 |
This item appears in the following Collection(s)
Related items
Showing a few items related by title, author, creator and subject.
Li R; Song T; Mei B; Hu C; Li W; Larson M; Cheng X; Bie R

(

2022

)

Spectrum auction is one of the most effective ways to achieve dynamic spectrum allocation in cognitive radio networks, and it provides one effective way to manage the spectrum demands of IoT devices with limited resources. ...

Defined as the participation in an activity for pleasure or recreation, play can serve a greater purpose especially in art forms that express more intangible concepts. I propose the idea of play as a relational tool for ...