The Impact of Attachment, Parenting Attitudes, and Family History on Emotional, Behavioral, and Physiological Responses to Infant CryingShow full item record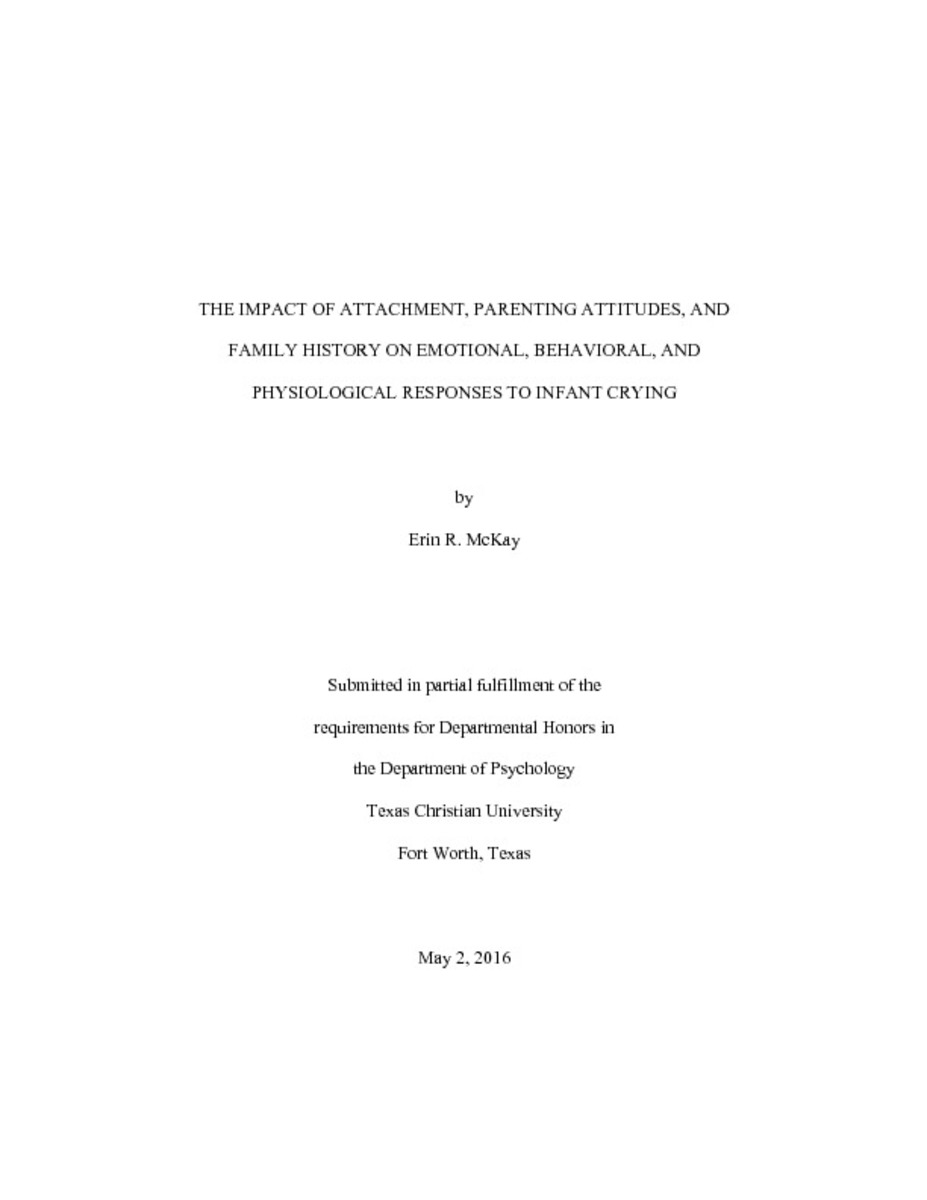 | | |
| --- | --- |
| Title | The Impact of Attachment, Parenting Attitudes, and Family History on Emotional, Behavioral, and Physiological Responses to Infant Crying |
| Author | McKay, Erin |
| Date | 2016 |
| Abstract | An important hallmark of the first year of life is the development of the parent-child attachment relationship (Ainsworth, 1967). As a result of this relationship, children develop working models that impact their representations of future relationships. Research suggests that securely attached caregivers respond consistently and sensitively to infant needs, which results in a secure attachment relationship (van IJzendoorn, 1995). When the attachment behavior system is activated, infants use crying as a means to gain proximity to their caregiver. This crying drives a change in emotion, which affects how caregivers respond to their infants (Leerkes, Parade & Gudmundson, 2011). The purpose of the current study was to examine the influence of attachment history, parenting history, and attitudes toward parenting on the emotional, behavioral, and physiological responses to infant cries in a sample of 120 emerging adults. To accomplish this, we asked participants to attempt to soothe a crying, simulated infant (Rutherford, Goldberg, Luyten, Bridgett, & Mayes, 2013). The simulation lasted up to 20 minutes. Those with greater levels of attachment avoidance displayed greater caregiving behaviors, while those who displayed greater levels of attachment anxiety displayed fewer distraction behaviors. Furthermore, participants with a warm and accepting mother experienced less emotional reactivity. Finally, parenting attitudes significantly contributed to differences in all three categories of response. The simulated infant paradigm is clinically relevant and could be used to identify risky parents-to-be. Keywords: infant crying, attachment, parenting, parenting attitudes, family history |
| Link | https://repository.tcu.edu/handle/116099117/11340 |
| Department | Psychology |
| Advisor | Ekas, Naomi |
| Additional Date(s) | 2016-05-19 |
This item appears in the following Collection(s)
Related items
Showing a few items related by title, author, creator and subject.
Peña, Tirza Genevieve,author.

(

2017

)

The overall purpose of this study was to evaluate the effectiveness of language stimulation strategy training with Spanish-speaking parents of children with hearing loss. One mother-child dyad participated in multiple-baseline ...

This study examined 56 families with preschool aged children. Mothers and fathers completed self-reports of depression, anxiety, and parenting behaviors (CES-D, STAI, and CCNES). The children completed the Lock Box task ...

Rafferty, Deborah Eileen

(

2020

)

Children with autism spectrum disorder (ASD) often display externalizing behaviors, such as aggression and hyperactivity, that impact their adaptive functioning, decrease parental mental health, and adversely impact family ...