Role Of Risk Management In The Oil And Gas Industry: The Effect Of Derivative Contracts Used To Manage Oil And Gas Price Risk On Stock Price Sensitivity In The Oil And Gas Industry During A Period Of Declining Oil And Gas PricesShow full item record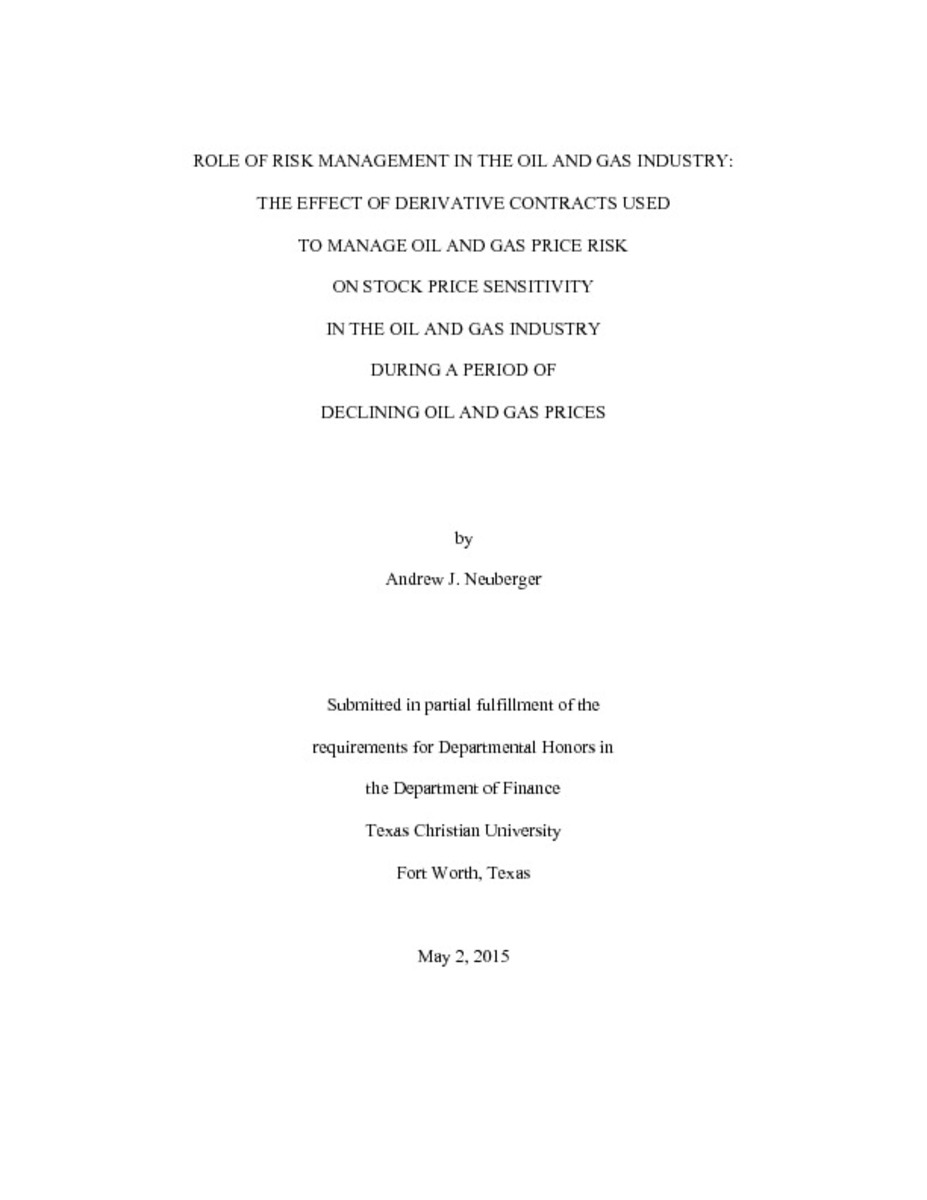 | | |
| --- | --- |
| Title | Role Of Risk Management In The Oil And Gas Industry: The Effect Of Derivative Contracts Used To Manage Oil And Gas Price Risk On Stock Price Sensitivity In The Oil And Gas Industry During A Period Of Declining Oil And Gas Prices |
| Author | Neuberger, Andrew |
| Date | 2016 |
| Abstract | This study focuses on the various risk management policies used by oil and gas producers in the energy industry. Oil and gas producers are highly exposed to commodity prices. Commodity prices are highly volatile and can fluctuate immensely with changing market conditions. Given the most recent commodity price downturn (June 2014-December 2015), this study aims to analyze how different risk management policies can affect the stock price sensitivity of oil and gas producers during a commodity price downturn. This study will focus specifically on derivative instruments used by oil and gas producers to minimize their oil and gas price exposure, and whether or not these derivative instruments have any effect on the stock price sensitivity during a period of declining oil and gas prices. This study analyzes a sample of 50 North American oil and gas producers, their risk management policies and use of derivative instruments, and determines if there is a relationship between stock price sensitivity and use of derivative instruments during the most recent commodity price downturn. |
| Link | https://repository.tcu.edu/handle/116099117/11361 |
| Department | Finance |
| Advisor | Mann, Steven |
| Additional Date(s) | 2016-05-19 |
This item appears in the following Collection(s)
Related items
Showing a few items related by title, author, creator and subject.
Mixed findings have resulted from the analyses of oil price risk as a systematic risk factor. Studies in the past have researched the effects of oil shocks on various macroeconomic variables; however, this paper is primarily ...

The U.S. Oil and Gas business is very cyclical in nature where the price of the commodities can alter the valuation of the varios sectors. This paper analyzes the difference between upstream and midstream company valuation ...