Phenanthridone Alkaloids via Functionalization of 2-Benzyl- 6(5H)-PhenanthridinoneShow full item record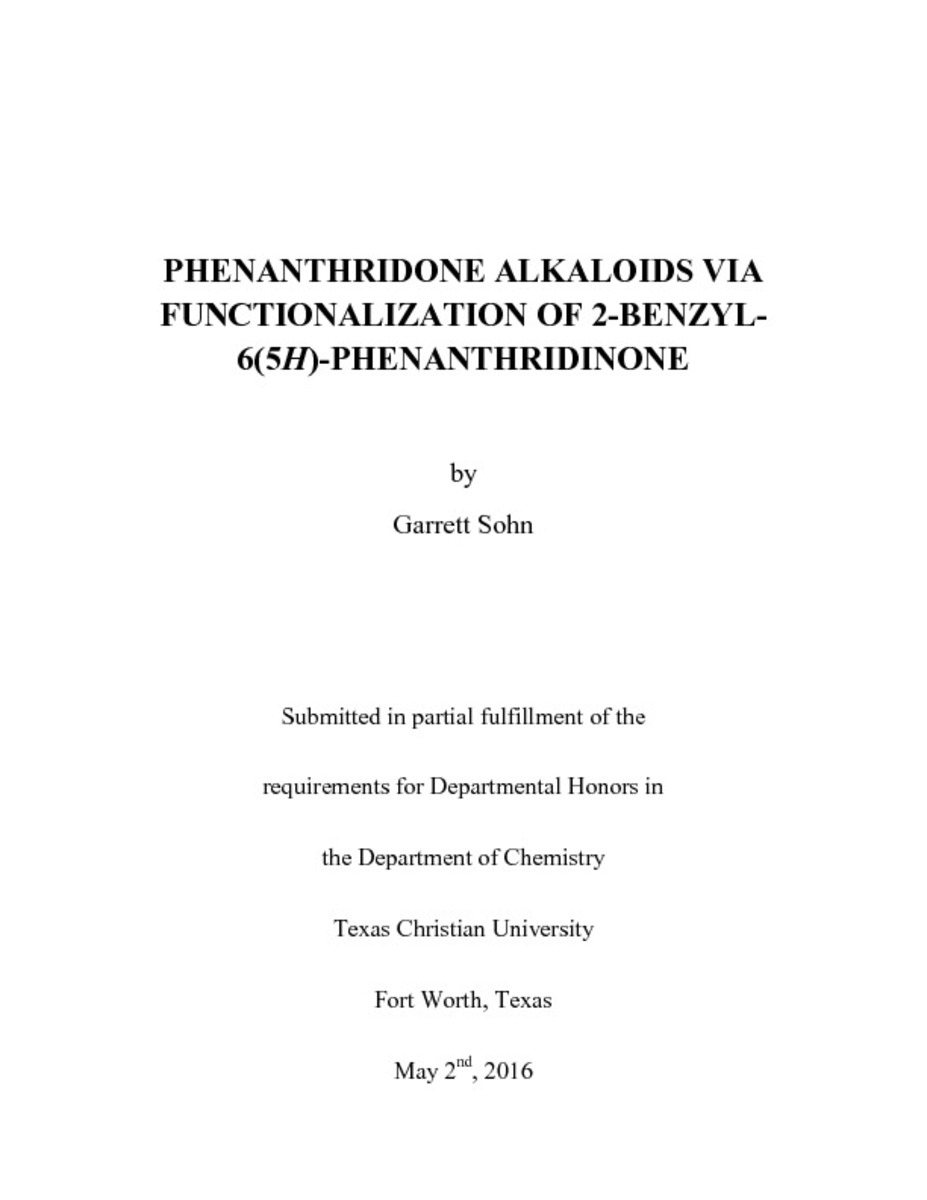 | | |
| --- | --- |
| Title | Phenanthridone Alkaloids via Functionalization of 2-Benzyl- 6(5H)-Phenanthridinone |
| Author | Sohn, Garrett |
| Date | 2016 |
| Abstract | Phenanthridone alkaloids, derived from the Amaryllidiceae family of tropical plants, are a group of natural products that have been shown to exhibit biological activity. In recent decades, this group of alkaloids has sparked interest due to their antibiotic, anticancer, and immunosuppressant properties. Because of their limited natural availability, pharmaceutically-active compounds require laboratory syntheses to provide sufficient quantities for testing. Previous work in this laboratory has provided a general method for constructing the phenanthridinone skeleton from homophthalic acid in high yields. In this research project, our work involves the reproduction of these results as well as establishing a general method for functionalization of the non-conjugated alkene in the phenanthridinone skeleton. This research provides the basis for future syntheses of complex alkaloids that show promise in the development of pharmaceutically-active compounds. |
| Link | https://repository.tcu.edu/handle/116099117/11367 |
| Department | Chemistry and Biochemistry |
| Advisor | Minter, David |
| Additional Date(s) | 2016-05-19 |
This item appears in the following Collection(s)
Related items
Showing a few items related by title, author, creator and subject.
Massingill, John Lee

(

1968

)

A method is given for the determination of alkaloids in fresh bacterial cultures and cactus plants using alkaloid precipitating reagents in conjunction with gas chromatographic analysis. In a screening of 30 species of ...

A practical method for the synthesis of an isoquinoline alkaloid 6,7-dimethoxy-2-methylisoquinoline-1,3,4(2H)-trione and its analogues has been demonstrated. Two new methods for synthesizing substituted phthalonimides from ...

The crinine-type alkaloids are characterized by the presence of the 5,10b-ethano-phenanthridine skeleton and represent an important subgroup within the large family of amaryllidaceae alkaloids. Based on the obvious structural ...