Understanding workplace bullying among staff in higher education /Show full item record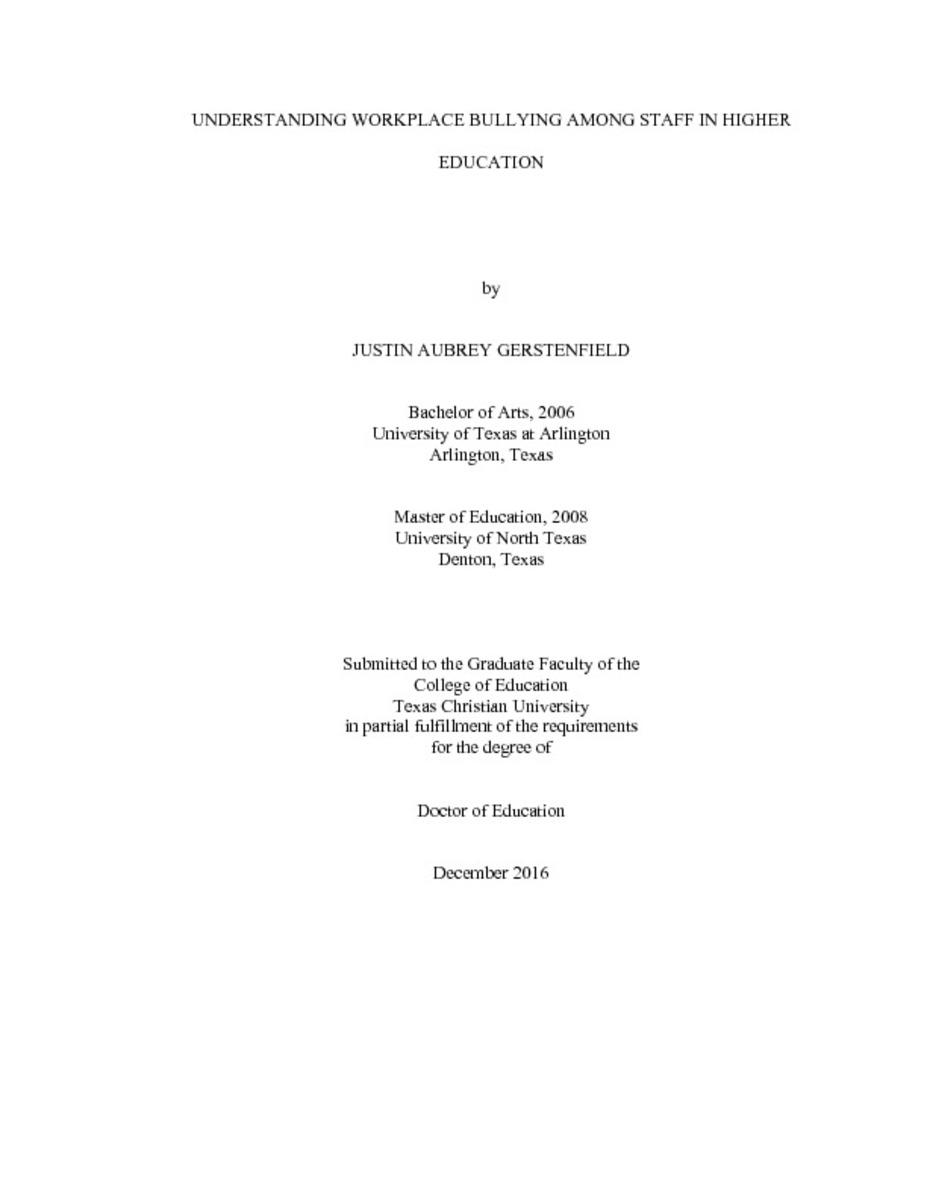 Title
Understanding workplace bullying among staff in higher education /
Author

Gerstenfield, Justin Aubrey

Abstract
he purpose of this phenomenological study was to discover how staff members in a division of student affairs define workplace bullying, whether or not they have experienced workplace bullying, and finally whether or not they have witnessed workplace bullying in higher education. Participants were invited to complete an open-ended online survey where they could define workplace bullying and share their personal experiences with bullying or witnessing bullying in the workplace. The study explored the lived experiences of student affairs professionals with personal and bystander experiences of bullying in the higher education workplace. Social identity theory relating to in-group and out-group formation in the workplace was used to understand the experiences of participants. Data analysis provided details of participants definition of bullying in higher education in addition to their own personal and witnessed experiences. Participants defined, experienced, and witnessed bullying in the workplace the same as faculty and professionals outside of higher education. Participants experiences were similar to faculty and non-higher education professionals in all areas except for the reporting of bullying. Unlike faculty and non-higher education employees, student affairs staff members are more likely to report bullying experiences. Using the results and conclusions, several levels of employee training were recommended to be implemented in higher education to help prevent future bullying experiences of staff members.
Description
Includes abstract.

---

Ed. D.Texas Christian University2016

---

College of Education; advisor, Cornell Thomas.

---

Includes bibliographical references.

---

Online resource; title from PDF title page (viewed May 22, 2017).
Link
https://repository.tcu.edu/handle/116099117/12272
Subject
Bullying in the workplace.

---

Bullying in schools United States.

---

Employees Abuse of.

---

Universities and colleges United States Professional staff.

---

Interpersonal conflict.
This item appears in the following Collection(s)