Money Talks: Evaluating U.S. Disruption of Terrorist Financing NetworksShow full item record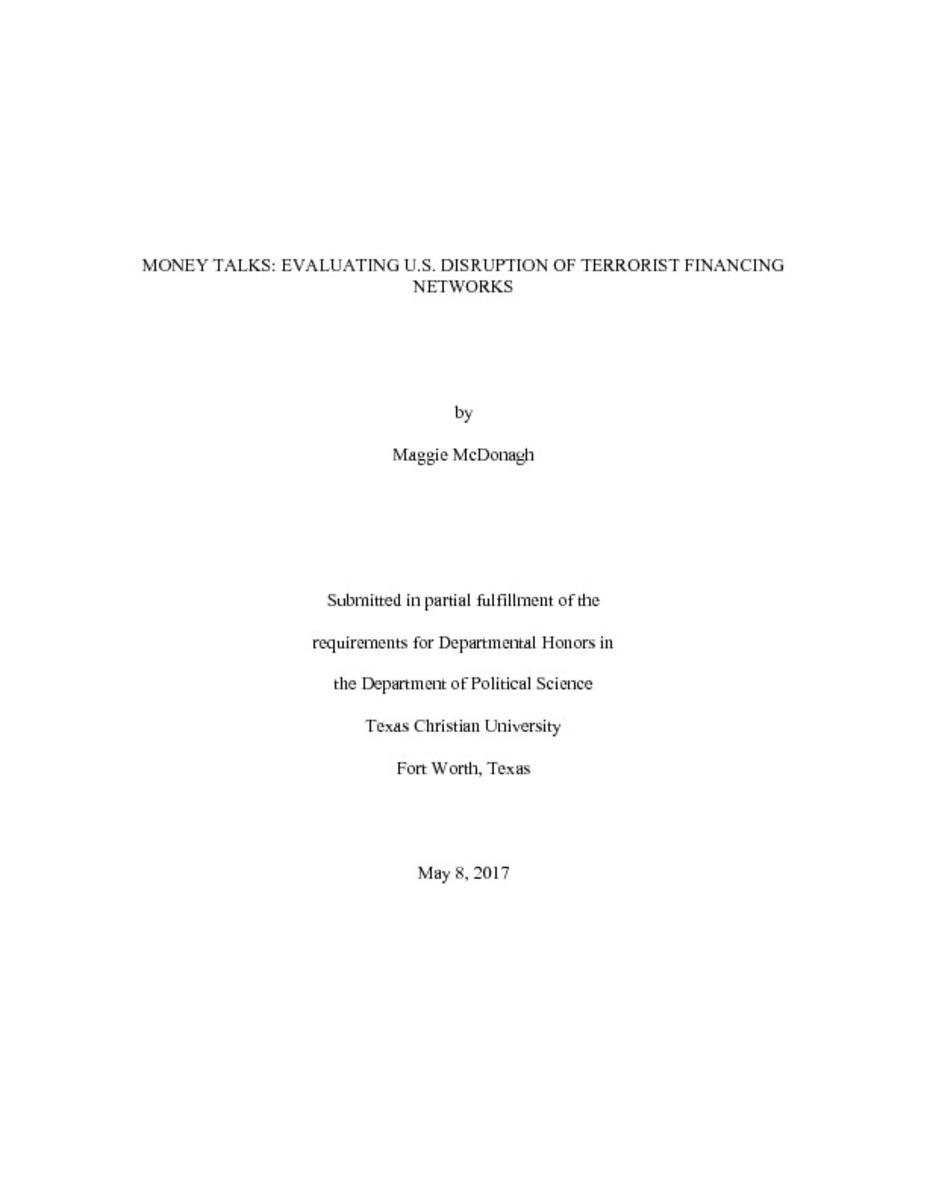 Title
Money Talks: Evaluating U.S. Disruption of Terrorist Financing Networks
Author

McDonagh, Maggie

Abstract
This paper contributes to the understanding of how to respond to the financing efforts of a group like ISIS by answering the question, how have the USA PATRIOT Act and other U.S. policies disrupted the financing of ISIS? The scope of this research relates to the terrorist group ISIS and the efforts by the United States to combat its financing operations. Terrorist groups can only carry out as much activity as they can afford. As a nation at the forefront of the War on Terror, the U.S. has the responsibility to frequently analyze and evaluate current policy and whether or not it is adequately addressing terrorist threats. This study claims that current policy requires revision in order to adequately address the financing mechanisms used by ISIS, specifically the financing mechanisms tied to the organization?s control of territory. It concludes with policy suggestions for improvement and implications for the future of terrorism and terrorist policy.
Link
https://repository.tcu.edu/handle/116099117/19825
Date
2017-05-19
Subject
terrorist finance policy

---

ISIS

---

Islamic State

---

Finance

---

Terrorism

---

PATRIOT Act
This item appears in the following Collection(s)
Related items
Showing a few items related by title, author, creator and subject.
Byron, Michael

(

2016-05-19

)

This paper serves to explore the performance of students at TCU as it pertains to the measurement of financial literacy. This paper further examines a subset of the American population that has not received much focus under ...

This study focuses on discovering the nature of the relationship between the degree of economic freedom and the level of access of credit in a country. It tests the hypothesis of a negative association between greater ...

This thesis investigates the various factors that contribute to a successful merger or acquisition through the case studies of companies in various industries since 1999. The thesis first provides a brief history of mergers ...